Theatre Reviews
Theatre Reviews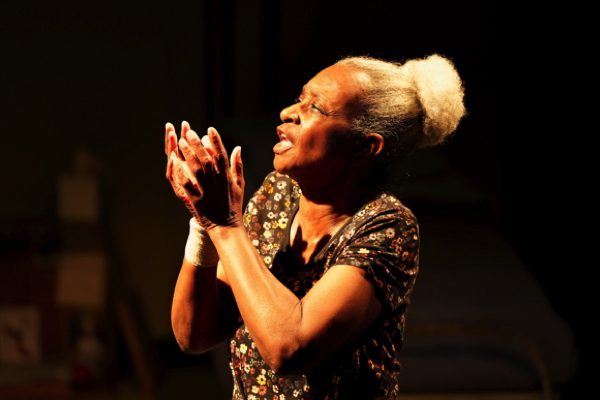 Review: Three remarkable women combine to make powerful, beautiful 'Chef'
By Ronnie Wisdom
Upstream Theater continues to bring us quite wonderful plays from around the world. Their current production is called simply "Chef."  It's by Sabrina Mafouz, a British Egyptian playwright, poet, novelist, essayist, actress who has degrees in both English Literature and Classics and International Politics and Diplomacy. She also served a little time in a strip club. She's bespangled with awards.
In the Upstream production this multi-faceted playwright is united with an equally astonishing actress – in the person of Linda Kennedy. All of this is under the direction of Swiss-born Marianne de Pury. In her long career Mme. de Pury has been a composer, managing director of the Open Theatre, translator (and landlady) for absurdist playwright Jean Genet—and now she's a busy theatrical director.
These three remarkable ladies combine to make one powerful, beautiful evening of theater.
In an uninterrupted 90 minutes or so Linda Kennedy gives us the story of a woman we know only as "Chef."  She's the cook in a women's prison. In a narrative decorated with descriptions of blissfully delicious-sounding recipes we learn of her impoverished childhood, of her conflict with her brutal father. ("He was not a family man," she tells us again and again.) She tells of her culinary mentor who brought focus to her life.
Chef is a trustee in this prison, so she's allowed to use kitchen knives. And, of course, the appearance of a large knife on stage in a drama pretty much ensures that before the end of the play somebody's gonna get stabbed.  
Yet the very first moment we meet Chef her white jacket is drenched in blood. Whose? Miss Kennedy adroitly leads us back and forth in time. She first served as a cook on her father's fishing boat – a grim experience from which she escapes. Her life seems to be ever surrounded with violence and faithless men. Only cooking brings solace. And love? It's nowhere in sight—until she meets Candice, one of her young assistants in the prison kitchen. But Candice is suicidal. 
Chef had briefly been with her father as he was dying a miserable death. He begged her to kill him but, she says, she didn't love him enough to do that. But with Candace? Is her bloody death an accident? ... or suicide?  or ... ?
Linda Kennedy fills the evening with power, with touches of humor, with beauty and grace. And, like the dancer she's always been, she fills it with grace. She's a fearsome presence on that stage.  
With this performance she has become, I think, my favorite actress in St. Louis.
(And those recipes! You'll spend the rest of your life trying to trace down those dishes.)