Theatre Reviews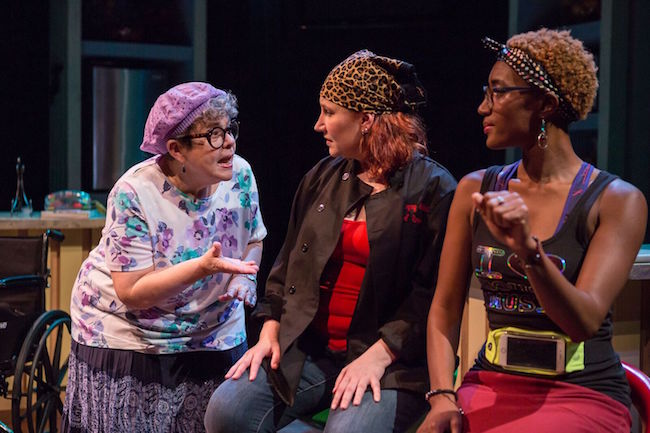 'Raging Skillet' is a tasty treat of a play made better by captivating performances
Written by

Tina Farmer
If the New Jewish Theatre were a television station, "Raging Skillet" would be their highest rated show, with a spin-off in the works and appearances at Coachella by DJ Skillet. The play is presented on a studio kitchen set during a live appearance by Chef Rossi to promote her recently published memoir. Naturally, there are plenty of sensational stories as well as appetizing bites and sparkling cocktails and mocktails to be enjoyed by all members of the audience.
The spirited play, written by Jacques Lamarre and based Chef Rossi's memoir, is full of personality and sass, but there's self-reflection and an unexpected visit from Mom that gets you right "in the feels," as well as a tidy character arc. A strong-willed and rebellious child, Rossi always did things her own way – she's even a self-taught chef. Her mother was an accomplished, educated and frugal woman, but cooking was not her forte. After the introduction of the microwave oven to the family kitchen, dinners became even more bland and boring so one day, Rossi decided to take things into her own hands. The rest, they say, is history – with twists and turns to amuse us along the way.
Sarajane Alverson is completely natural as Rossi, deftly employing her impeccable comic timing to keep the audience laughing and involved. The stories she tells – of running away and getting into trouble, of busting her butt to learn how to cook on the job, of confronting sexism and promoting women, and of her big break catering for Eve Ensler – are completely internalized and believable. She glibly gabs with the audience at one point and bickers with Kathleen Sitzer, as her mom, the next, then drops a witty punch line as she details how she came up with one of her favorite recipes.
Erin Renée Roberts, as DJ Skillet, creates the soundtrack for the show while providing ongoing commentary with effortless ease and a charismatic personality that nicely counters Alverson. Vivacious and perceptive, she's constantly moving from her DJ booth above the kitchen to the floor, keeping the energy in the room high and acting as emcee and ringmaster when trays of food are brought out for the audience to sample. One of the most satisfying aspects of the play is the friendship between Rossi and Skillet; it is genuine, supportive and real enough that they can call out each other's bull. If Alverson's Rossi is the rage, and she is, then Roberts' Skillet is the sherpa she needs to take that rage somewhere tasty.
Another satisfying storyline in "Raging Skillet" is Rossi's evolving relationship with her mom, who died many years ago. Sitzer is meddlesome, opinionated and tight fisted, but giddy and outgoing, with a curiously inspired joie de vivre. She avoids caricature and stereotype while creating a funny, vibrant and immediately recognizable character. Her ability to maximize her dollar and coupons by buying large quantities of the same canned vegetables only adds fuel to Rossi's culinary fire, and is just one of the many laugh out loud threads in the well-crafted script. Director Lee Ann Matthews confidently guides the cast, allowing them the freedom to incorporate their personalities with the characters in ways that are relatable and authentic.
But back to the live cooking show. Actual cooking is one thing that's lacking in the show, and more chopping and prepping would really send the production into "Food Network" territory.  But Dunsai Dai adds all the right touches to the fully functioning set. The kitchen has a retro diner feel, with swiveling bar stools at the counter, chalkboards decorated with punk rock band logos and personal touches that reinforce our understanding of Rossi's story.
Michael Perkins expertly provides sound and projections that emphasize the live television show format, while Michael Sullivan's lighting design helps guide our focus. Michele Siler's costumes serve to further define the characters through their go to outfits – the sartorial sense is punk and indie rock chic, well-worn with pride and aging earth mother. There are layers of interest to the set, images, graphics and costuming, but nothing feels overdone or forced.
Rossi's climb from delinquency and a troubled relationship with a nonetheless beloved parent to success and inner peace on her own terms is fairly straightforward, with no real surprises. There's plenty of insight here, which occasionally slows the pace and works best when revealed through Rossi's personal stories rather than platitudes or generalizations. Additionally, there are a few moments when the script pushes the reconciliation of Rossi's feelings towards her mother too hard, but once the pot has been sufficiently stirred everything comes together. And, though it feels a bit emotionally manipulative, you may find yourself shedding a tear or two by the final curtain.
To borrow from the culinary arts, the recipe for a good play includes strong performances, interesting characters and stories with enough heat applied to bring all the flavors together. "Raging Skillet," continuing at the New Jewish Theatre through October 21, is a tasty dish with many different spices simmered just long enough to create something delightful and delicious.
Related Articles