Theatre Reviews
Theatre Reviews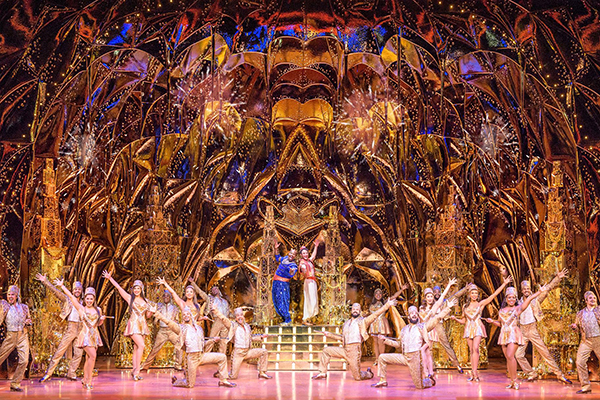 I Dream of Genie: Disney's 'Aladdin' Sparkles
By Laura Kyro
It was a frigid night outside in St. Louis, but inside, on the Fabulous Fox stage, a production of Disney's 'Aladdin' was hot, hot, hot.
The animated film of Disney's 'Aladdin' was released in 1992 and won Academy awards for its score -- as well as for the song, "A Whole New World," as composed by Alan Menken and lyricist Howard Ashman. For the stage adaptation, Tim Rice and Chad Beguelin added lyrics for several new songs. And Beguelin also wrote the book of the stage musical.
I've not seen  'Aladdin' on Broadway -- where it opened in 2014 at the New Amsterdam Theatre -- but I did see the MUNY production in 2012 and was impressed with the results. However, after having seen the fully "Disneyfied" current production at the Fox, my mind was completely and thoroughly blown with the spectacle: the talent, the dancing, the lights, the music, the sets, the sequins, the topical humor, the magic carpet (how did they do that?), Jasmine's bouncy wig! I thought its Cave of Wonders to be the single most impressive set I've ever seen on stage at the Fox.
Winning performances were turned in by Clinton Greenspan as the street-rat turned prince, Aladdin; Lissa deGuzman as the liberated princess, Jasmine; and a suitably evil Jonathan Weir as the sorcerer, Jafar. Also noteworthy were additions Jay Paranada, as what in the movie had been Jafar's talking parrot, Iago, and the Aladdin's-friends trio of Philippe Arroyo, Zach Bencal, and Jed Feder, as what in the movie had been a monkey. The ensemble, usually background fluff, were entertaining and, as a whole, a major character throughout. But the night was stolen by Michael James Scott as the larger-than-life Genie. He exploded vocally and physically around the stage, the only character to break the fourth wall and invite the audience into the fun. We all went, gladly.
Disney's 'Aladdin,' in all its glorious Technicolor, blinding bling, and streamer cannons, will be on stage at the Fabulous Fox through November 25.