Theatre Reviews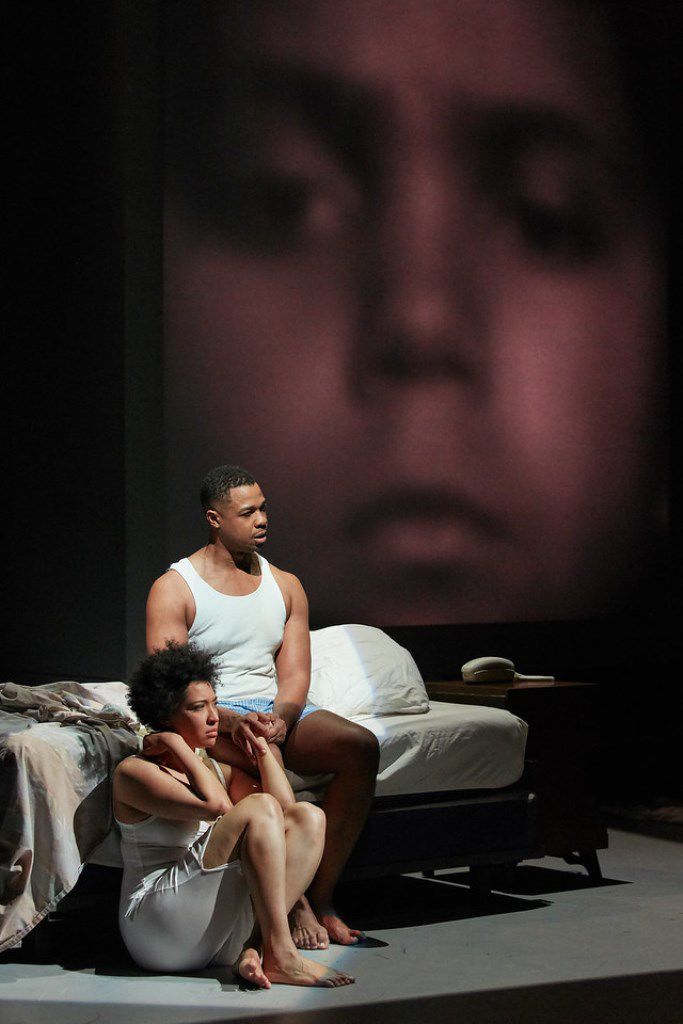 'Fire Shut Up in My Bones' doesn't shy away from harsh reality in a powerfully moving production
Written by

Tina Farmer
Opera Theatre of St. Louis presents the world premier of a compelling contemporary opera that chronicles Charles M. Blow's experiences growing up in a poor Louisiana family. "Fire Shut Up in My Bones" takes audiences inside Charles' mind, showing us the ghosts from the past that haunt his sleep and nearly keep him from reaching his potential. The opera is told via allegory and direct action, with a mix of mythical elements - most notably the characters Destiny and Loneliness - adding emotional weight and relevance to the purposefully uncomfortable coming of age story.
The youngest of five boys, Charles is bright, kind and also known as the neighborhood baby. His patient and determined mother works hard to create a stable life for her family while her husband spends his time playing in a popular but not financially successful local band. Unfortunately, long hours at the chicken processing plant are not enough to raise the family from poverty and her husband's philandering and drinking prove too much to bare, so she and her sons move in with their Uncle Paul. The uncle is kind and nurturing, but Charles' cousin Chester is not. A small time criminal fond of petty theft, he sexually abuses the young boy, leaving deep scars made all the worse by the fact that Charles can't find anyone to talk to about the incident.
Though Charles matures and finds success in school, the past lingers heavily on his spirit. He tries to talk to his brothers about Chester; they brush him off with a reminder that boys don't cry or tattle. One gets the impression that they know what he's going to say, though that's not made clear in the opera. Charles finally tells the woman he's fallen in love with about the incident; though sympathetic, she rejects his love as she's promised to another. Despondent and dejected, Charles decides there's only one way for him to move forward – Chester must pay in blood for the pain and confusion he's caused.
The opening scene frames the production by introducing Charles as he's driving the Louisiana back roads, a gun at his side and a plan to return home and shoot Chester on his mind. During the journey he's confronted by Destiny, she takes him back through his past, preparing him to finally open up to his mother.
Davone Tines is powerful as Charles, with a barely controlled rage adding urgency to his songs, and Jeremy Denis provides a moving counterpoint as the young Charles, his fine slightly reedy voice a perfect complement to Tines warm, resonant tone. Julia Bullock is spectacular as Destiny, Loneliness and Greta, she easily shifts from ethereal and otherworldly, beckoning Charles with soft words and gestures, to a woman with her own very real issues. Karen Slack is warm, but never a pushover, as Charles' mother Billie and her voice fills the room with power and grace that's always nicely restrained and well balanced. Michael Redding, Chaz'men Williams-Ali and Markel Reed are strong in supporting roles and lead the ensemble in the group numbers.
The music is textured with refrains of jazz, blues and gospel music interweaving with more traditional operatic structure. A high-stepping stomping number, set at Charles' college, adds interest and a sense of the influences in young Charles' life. Additional references in both the music and book incorporate the African American experience in the southern states during the period of Charles' youth. Though the majority of the show appears to take place after the height of the Civil Rights movement, the story and attitudes displayed don't downplay ongoing racial strife.
It is often hard to reconcile our selves with our past, but "Fire Shut Up in My Bones" effectively explores one man's efforts to find peace and comfort. The first act is quite evocative, telling a compelling if at times disturbing story with great sympathy. The second act lacks the depth of the first, but the score builds in ways that more than make up for the somewhat predictable plot and the resolution, though brief, is satisfyingly tender. Additionally, the acting is somewhat uneven, creating scenes where the show loses energy and focus, weighing the opera down and causing it to lag a bit. Still, the powerful story is quite compelling and unfolds as a memory play, a device that works spectacularly while enabling duets between the nearly grown Charles and the Boy in his memory that are captivating and effective.
"Fire Shut Up in My Bones," based on the novel by Blow with music by Terrence Blanchard and libretto by Kasi Lemmons, chronicles one man's efforts to reconcile the pain of his past with his hopes for his future. The evocative opera, which closed June 29, reveals its story in layers accompanied by deeply affecting music that strikes a contemporary chord with an operatic score. Opera Theatre of St. Louis is encouraged to continue supporting new opera through commissions such as this stirring and emotionally gripping production.
Related Articles