Theatre Reviews
Theatre Reviews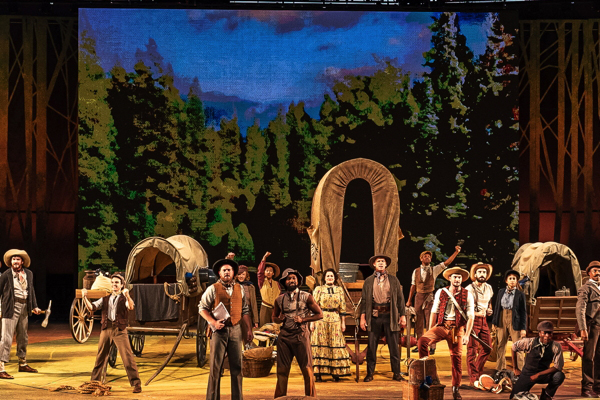 A Whitewashed Paint Your Wagon
By Ronnie Wisdom
In my teens, I cut my musical comedy teeth with Broadway songs from musicals such as Lerner and Loewe's 1951 Paint Your Wagon. I thought the songs, "I'm On My Way," "Wand'rin' Star," "I Talk to the Trees," and "They Call the Wind Maria" beautiful examples of melody and storytelling. But I'd never seen Wagon staged because I don't believe it HAS been staged in St. Louis in the last 50 years. Indeed, because of my love of those songs, I was prepared to start my review of the current Muny production by questioning, "Why isn't this little gem of a show performed more often???" Well, now I know why.
According to notes in the Muny program, this revised version of the show was created five years ago by Jon Marans, who adapted the "amiable mess" that was the original 1951 production (throwing in the failed 1969 film version and some previous attempts at revision), changing songs, story line, and characters. Now, while I applaud the Muny for pulling out all the technical stops to do right by it, I believe the foundation of this "new" Wagon, has its flaws. Lots of them. I dropped my jaw over some especially egregious issues that make this version feel derivative, gratuitous, confusing, and shoehorned. The essential features of story, characters, and songs do not harmoniously "fit" as a whole.
But my job here is not to pick the show apart in detail, so I must say that the Muny has, indeed, created a "silk purse" production worth seeing, if only for those four songs, a couple of live Clydesdales, and an enthusiastic cast who are winners in both singing and dancing.
The setting for Wagon is the California Gold Rush of the 1850s. Matt Bogart has a booming voice befitting Ben Rumson, here a recent widower who sets off west as a trapper, but ends up finding a fortune in gold and starting a boom town. The two principal women in this version of the show, Mamie Parris as Cayla Woodling, Ben's wife and Maya Keleher, as Jennifer Rumson, Ben's daughter, have strong and beautiful voices. Omar Lopez-Cepero is a delight as Armando, and Rodney Hicks strong as H. Ford.
Director and Choreographer Josh Rhodes has done an excellent job with the large ensemble and the dancing is a pleasure to see. Technical sound problems – as usual for at least an opening night – I hope will be ironed out in the week to come.
Paint Your Wagon will be performed at the Muny in Forest Park through August 2nd.