Theatre Reviews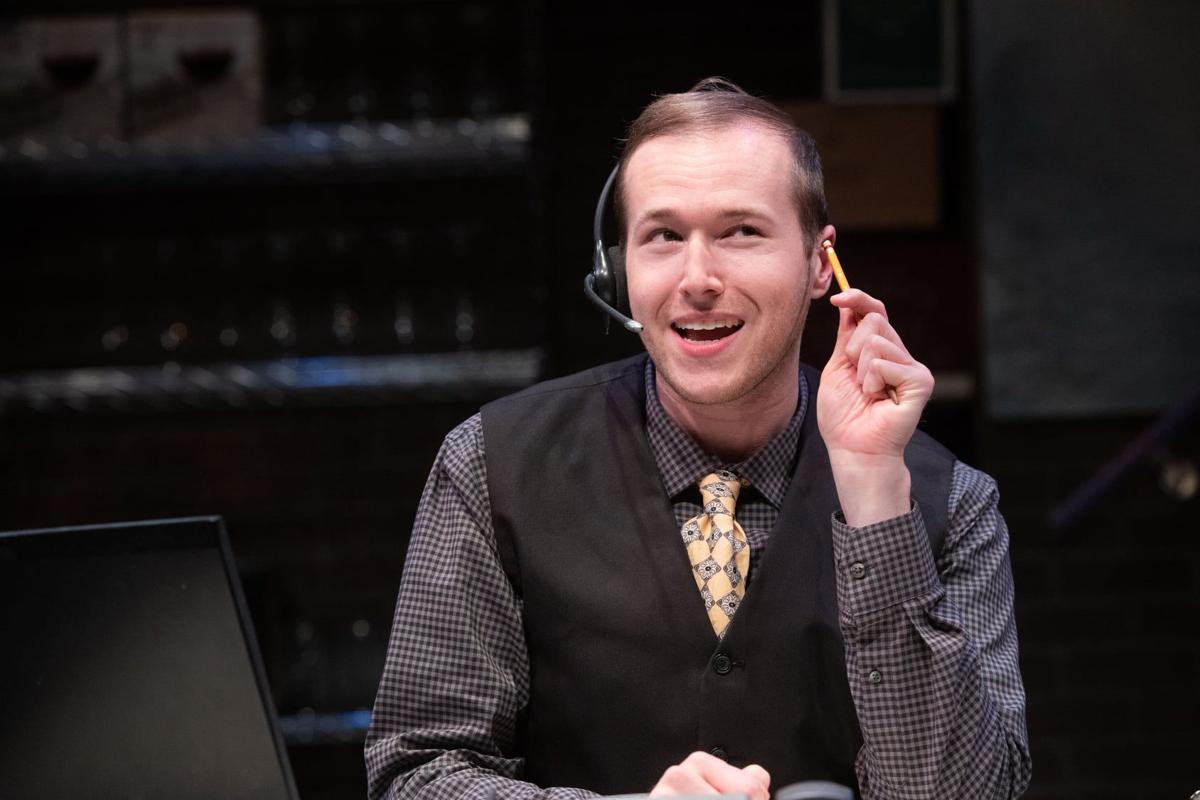 Will Bonfiglio is 'Fully Committed' to character and comedy
Written by

Tina Farmer
The New Jewish Theatre closes out 2019 with an incredibly funny and relatable one man show, "Fully Committed," starring the irrepressibly talented Will Bonfiglio as Sam, a struggling actor and employee of a popular restaurant, and about forty other characters. Directed by Ellie Schwetye, the quick moving one act comedy is a tour de force for the talented Bonfiglio that exceeds, in character number and complexity, his previous solo work and establishes him as among the most consistently compelling and capable actors in the region.
"Fully Committed" is, essentially, a day in the life piece about the intricacies and obstacles of running the house at an incredibly successful and, therefore, outrageously in demand restaurant. The reservation desk phone is ringing off the hook from the moment Sam enters and, though he's a little frazzled, his physical demeanor and attitude suggest that this is just another day at the office. With a polite and cheerful tone, Sam begins fielding calls from celebrity assistants, long-time patrons and demanding wannabe regulars, as well as tourists and foodies trying to get around the restaurant's three-month wait for reservations. Sam also has to contend with an earthy and mercurial celebrity chef, a fussy maitre de, an impatient magazine editor whose photographer has been waiting for hours, the loss of his staff meal by someone in the kitchen, and the alleged breakdown of his co-host's car. To top the day off, the chef's mentor shows up for lunch but his reservation is missing from the books and Sam is eagerly waiting on a call back, with hopes for a second audition.

To the delight of the audience, we see and hear both sides of every conversation as Bonfiglio deftly and comically portrays each character. The actor moves between characters with deceptive fluidity and ease, and he is simply captivating to watch. Each character is distinct, with unique and funny ticks and eccentricities that make them more fully human – and often hilariously recognizable. These transitions are more than simply a change in vocal tone or accent, Bonfiglio's posture, gestures, even his facial expressions are distinctly, and often hilariously, varied. The chef, who's as concerned about his cookbook sales as he is running the restaurant, is constantly scratching and manspreading; Sam's over-confident co-host Bob is corpulent and a touch frat boy, while the assistant to a famous actress flays her hands and walks with a snap that's precise, but also obviously harried and demanding. Even the features of Bonfiglio's face seem sharper or more flaccid, depending on the character he's portraying, and his skill is particularly noticeable when Sam has a quick fire negotiation with a demanding patron – Bonfiglio shifts between the characters' one-syllable replies at lightning speed while keeping the voices distinct and arched eyebrow precise
The show is a laugh out loud funny joy to watch with plenty of visual interest as scenic designer David Blake has created a realistic, slightly chaotic basement set that gives Bonfiglio plenty of space to play, ensuring the show is filled with energy and movement. A red phone with a flashing light that connects Sam to the chef, the autographed celebrity photos on the board, even the extra serving ware and mop and bucket, evoke the feeling of a restaurant storage and break space. The fact that Bonfiglio's Sam has to walk to a certain spot in the corner of the space to get cell reception for his personal phone is an added realistic touch. Costume designer Michele Friedman Siler ensures Sam is nicely, but simply dressed, an appropriate look for an actor doubling as the concierge in a popular restaurant that reinforces his everyman appeal. Lighting designer Elizabeth Lund defines the playing spaces and subtly directs attention and Kareem Deanes adds complimentary sound design, with the incessant bell on the chef's private line adding a comically annoying final touch.
Playwright Becky Mode succeeds in creating a raucous bit of fun with the many characters, but never forgets the person behind the employee, which adds a heartwarming touch of realism and humanity while ensuring that the audience likes Sam, and they really do like him. In nicely nuanced scenes, Bonfiglio reveals Sam's essential kindness and genuine concern through his conversation with his father, whose replies are layered with sadness and a hint of disappointment without losing their cheerful, supportive tone. Sam also gets in a few snarky comments directed towards a fellow actor frenemy that are both satisfying and relatable to anyone who has had to compete with a friendly coworker. Where Sam's restaurant conversations are wildly varied and comic, his interactions with his dad and his uncertainty about his future as an actor allow the audience to see Sam as a whole person, one with hopes and disappointments just like most folks.
"Fully Committed," continuing through December 22, is a laugh out loud funny and, at times, completely relatable show that touches on universal truths for anyone who's ever worked a service job. Director Schwetye and Bonfiglio introduce us to a fully realized and deeply connected character in Sam, a genuine and hardworking guy that's impossible to dislike, then surround him with dozens of other interesting and comically diverse characters. Grounding Bonfiglio's work in a solid central character ensures the audience remains involved, while the introduction of each additional character layers on the laughter. The New Jewish Theatre production is not a holiday show, per se, but the quick moving one act play is a treat that will leave you with a warm feeling and perhaps a few tears of laughter, and that's a gift we can all use.