Theatre Reviews
Theatre Reviews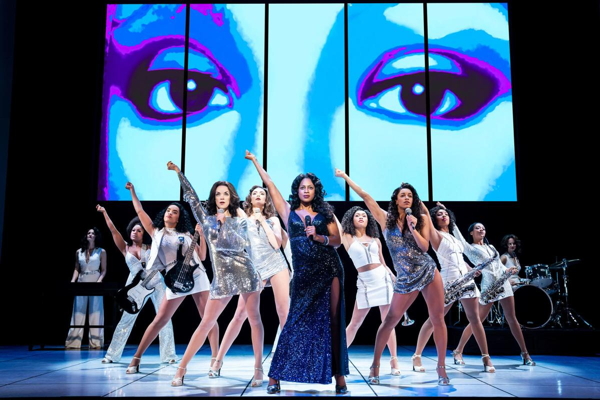 At the Fabulous Fox, 'Summer - the Donna Summer Musical' recalls the Disco Queen's career
By Chuck Lavazzi
LaDonna Adrian Gaines, better known as Donna Summer to music fans around the world, was born in Boston to hardworking, churchgoing parents. From an early age, and despite parental misgivings, she knew she wanted to be a singer and actor, so she started skipping classes and going to New York to audition. But it wasn't until she moved to Germany to perform in the musical 'Hair' that the disco queen (and OG pop diva) Donna Summer came to life. 
Under the guidance of songwriter/producers Giorgio Moroder and Paul Jabara, Summer helped to launch and propel the disco era with her extended dance single "Love to Love You Baby." She was a force on the charts and in clubs around the world as disco ascended to its zenith. Even today, long after the genre faded, Summer's music continues to thrive in dance clubs and parties around the world.  
The touring jukebox musical about her life hits all the highs of her music while glancing off the lows of the performer's personal and professional life. The musical is generally appealing with a bubbly, can do vibe that's designed to lift spirits and may linger beyond the final curtain. The script, though a bit lacking in detail, is a smartly constructed biographical sketch interspersed with a strong performances of the singer's biggest radio friendly hits, including the suggestive "Love to Love You Baby" and "I Feel Love," as well as "Bad Girls," the enigmatic "MacArthur Park," and a too short "Last Dance" closer. 
Summer's personal story is hastily glossed over, however, and reflected through a favorable lens that projects the picture of success the producers clearly want us to recall while sweeping away any pain or controversy. The resulting show is upbeat and energetic, if a bit scattershot in biographical detail, but still does a credible job of delivering the contextual history behind some of Summer's best known songs. And while I still don't quite understand the meaning of "MacArthur Park," I better appreciate the vocal dexterity required to perform the song and see the ways it showcased Summer's range and control. There is also surprising emotional weight in several of the renditions, though at times it feels manufactured by the talented performers rather than derived from the material.
Under the effective direction of Des McAnuf, three performers, Dan'Yelle Williamson, Alex Hairston and Olivia Elease Hardy, share the role of Donna as Diva Donna, Disco Donna and Duckling Donna, respectively. Williamson also plays Summer's mother, Martha, and Hardy her daughter, Mimi, creating a seamless connection between characters of different generations. The three harmonize beautifully, creating a layered sound that is pleasing even if not just like the original recordings.
The Donnas are supported by Erick Pinnick, as Summer's father, and Steven Grant Douglas, as second husband Bruce Sedano, as well as a large, almost exclusively female ensemble that play a variety of roles of both genders. The casting feels fresh and thematically relevant to Summer's story without coming across as overtly gimmicky or contrived – it simply plays well.
McAnuff, Colman Domingo and Robert Cary wrote the book, which is well researched and essentially factual, though lacking depth. Summer's story doesn't completely shy away from the struggles and dark periods Summer faced, but dispatches them with quick efficiency and a light touch that doesn't allow for introspection or acknowledgement of criticism. Scenes that should receive more attention, such as early sexual and physical abuse, are treated like filler and disparaging comments about the LGBTQ community are given a disingenuous reinterpretation.
The story here is about the music, with choreography by Sergio Trujillo and music supervision and arrangements by Rob Melrose that keep the focus on the feel good empowerment of Summer's songs, inspiring some of the audience to sing and dance along in their seats or the aisles. It makes for an uneven and rather flat story arc, but it's the music that matters and in that respect "Summer" is an entertaining review of her 20-year career.
If you're a fan of disco, divas or songs you can dance to, "Summer - the Donna Summer Musical," which closed January 26, is a good time groove that will likely put a smile on your face. Next up at the Fabulous Fox Theatre is "Jersey Boys" a show that more effectively combines story and song, providing a good comparison for fans of biographical musicals.