Theatre Reviews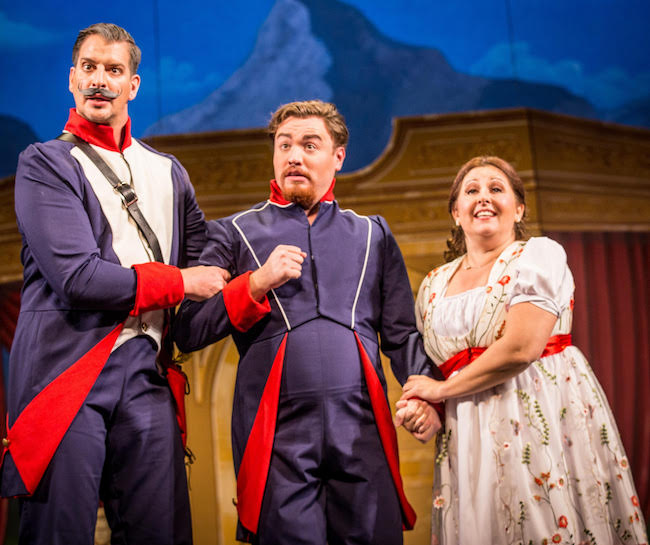 'La fille du regiment' offers a spirited lift for your mid-winter blues
Written by

Tina Farmer
Winter Opera St. Louis treats audience to another delightfully accessible and engaging opera with their production of "La fille du regiment," by Gaetano Donizetti. In the midst of their 13th season, the company has once again managed to bring cheer to a dreary January while producing high-quality, entertaining opera with a well constructed, if fancifully sweet, story that's easy to follow.
As the Marquise of Berkenfield and her butler are traveling from their home towards Austria, they are interrupted by a battle between the French and the Tyrols. Luckily, Sergeant Sulpice soon appears and the two are assured that all will be well -- the 21st French Regiment is in control. Among the regiment is a young woman named Marie, whom the soldiers have raised as their own since they found her, a swaddled infant with a note pinned to her blanket, on the battlefield. Marie cooks and cares for the soldiers, but is more one of the boys than girlish, although a chance meeting with a local named Tonio has set her heart aflutter.
The story unfolds in genial fashion with lively singing and plenty of comedy. The soldiers reject Tonio as an appropriate suitor, so he joins the regiment to prove himself. Marie is revealed to be related to the Marquise, and goes to live with her, and to be trained in art and culture and betrothed to an unseen Duke. Marie loves Tonio, the regiment wants their daughter's happiness and even the Marquise comes around to ensure a happy ending.
Soprano Gina Galati, a featured company member, is vivacious and energetic as the young Marie, and she remains engaging throughout the show. Her voice effortlessly covers the melodies, and she has a lot of fun during the back and forth of the regiment songs while still showcasing her control and command. Isaac Frishman is a convincing counter as the young Tonio; his voice is smooth and rich in the mid ranges, though he has no trouble reaching the higher notes. As a plus, Galati and Frishman create believable chemistry, their flirtations are amusing and, for the most part, avoid becoming distracting.
Andrew Potter is endearingly tall and obsequiously in command as Sergeant Sulpice, with a deep, warm voice that provides balance and gravitas to the lighthearted show. He treats Galati's Marie with genuine fondness and fatherly concern, but is never overbearing, in action or voice. Joy Hermalyn hits all the right notes as a grumpy old Marquise with a heart of gold; she's somehow querulous and agreeable at the same time. Finally, Gary Moss, Aleksandar Dragojevic, John Richey and Liya Khaimova make the most of their supporting roles adding bright touches to the light, comedic feel of the buoyant opera.
The opera itself feels designed to please a broad audience, even the arias and runs are purposefully light and brief, and the company ensures their execution is breezy but precise. Quick touches add a final flourish to highlight the songs, and there are few long, sustained sections. The lovers harmonize pleasantly, almost seamlessly, creating a melodic duet that is easy to listen to, though it lacks somewhat in intensity. As part of the spirited and enjoyable show, the company always finds a way to reference St. Louis in its productions, which creates a fun moment of recognition that ripples through the audience and is an enjoyable touch. The production delivers a sense of place and period with its technical design and Felia Davenport's costumes stand out, particularly Marie and the regiments' patriotic color matching.  Though the show never hits any soaring highs or devastating lows, it thoroughly entertains and conductor Edward Benyas, stage director Audrey Chait and technical director Joseph Novak have much to be pleased with in the amiable, audience friendly opera.
The cheerfully glib "La fille du regiment," ran the weekend of January 24th at Winter Opera St. Louis. The up tempo opera, with dialogue in English and lyrics in French, was pleasantly melodic without being too complex, and the company's production quite appealing, with quick pacing and strong voices that fully engage. Art patrons with an interest in opera, no matter their experience level, may wish to add the company's season finale, "La Fanciulla del West (the Girl of the Golden West)," produced March 6 and March 8, to their calendars.
Related Articles