Theatre Reviews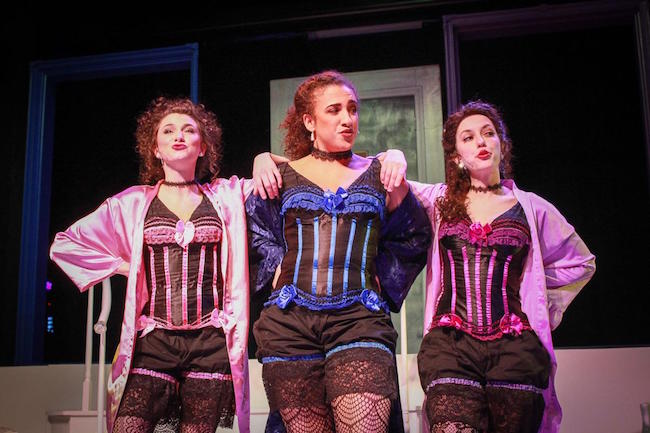 'Madam' is a rollicking good-time musical about lust, power and sexism
Written by

Tina Farmer
Colin Healy's newest musical, "Madam," is an engrossing, fact-based story filled with sex, early feminism, and a sometimes elating, other times devastating sense of power. Produced by Fly North Theatricals, the musical's songs are a pleasing mix of influences, including touches of ragtime and blues associated with St. Louis in the Reconstruction era, and the performances are well connected, vocally compelling showcases for the actors.
By 1870, Eliza Haycraft, of the Hannibal Haycrafts, was the richest woman in St. Louis. Successful despite a lack of formal education, she was the owner-proprietor of one of the city's most popular brothels. Strong-willed and fiercely independent, Haycraft held firm to her principals and stood up to the men who sought to take over her business even as her health was quickly failing.
Madam, as Haycraft is known, runs her business by three important rules: respect, pay upfront and consent. Those rules and her refusal to sell her property to a greedy client with a mean streak cause the powers that be (all male, all white) to take action against the Madam resulting in the legalization of prostitution in the city, though the law was repealed after Haycraft's death. The detail is just one of the many interesting twists in the highly entertaining plot.
Kimmie Kidd Booker is steely and determined as Madam. Though illiterate, she's smarter than most, even as illness and alcoholism ravage her body. Cameron Pile coos, purrs and bares her claws as the fading favorite Calista. Eileen Engel prattles pleasantly as the sexually flexible, eager-to-please and perpetually cheerful Tennie. Gracie Sartin grabs a piece of your heart as the ambitious and intelligent Ripley, saving her earnings to go to a women's medical college. Marta Bady commands attention as the resilient and outspoken freed slave and former Union soldier Billie, earning cheers of appreciation from the audience and the women in the story. Together with Booker, the working girls captivate, providing a caring response to the trials of being human that drive the musical's appeal.
Abigail Becker surprises as Mercy Jones, the mysterious woman who seeks refuge with Madam. Mercy has an ulterior motive for her actions though she finds herself questioning that purpose. Becker ensures Mercy remains authentic, even in the moments when she's not forthcoming or sympathetic. The audience may not trust Mercy, but Becker puts forth a compelling case for her second chance. Phil Leveling pointedly counters the women's camaraderie as the Benefactor. Played with a menacing and offhandedly cruel air, Leveling's Benefactor, along with Becker's Mercy, becomes the catalyst for change in the story. By avoiding caricature without stepping back from greed and presumption, Leveling gives us a villain we can root against but not hate.
The score is filled with memorable numbers, "Empire" starts the show off with a big hook and is quickly followed by "A Man with Money," "All You Need to Know" and "It Feels So Good," three songs that deftly reflect Madam's business model. There are a number of wistful tunes, notably "Special" and "I Want to Be a Star," a song that's not optimistic or hopeful but still somehow comforting. "Grow Up," "Another Fence" (the Baseball Song) and "The Unfortunate Song" offer varying degrees of comic relief while showcasing multiple voices. Healy gives us predominantly sharp-tongued songs about power, greed and lust, leaving any sort of love to the story's actions, and it plays extraordinarily well.
On the technical side, Eileen Engels costumes and the use of color matching are smart, appealing choices while the grand chandelier visually reinforces the idea of grandeur and luxury in Haycraft's establishment. Unfortunately, the sound quality suffers at times in the space, both from a synchronization and sound balance perspective. I encourage producing companies and management of the .Zack to continue working together to solve this ongoing issue. Additionally, I encourage Healy to find a writing partner and keep working on the book. The music is genuinely catchy with relatable, hummable lyrics and this is a compelling story, but there are a few holes that should be filled in or smoothed out, though it's certainly a good sign that I want to know more of the story.
By virtue of its juicy backstory and era, "Madam," continuing through February 2, is an intriguing musical with legs to travel beyond the Midwest. Writer and composer Healy's layered melodies and complex harmonies are infectious; his work and star are clearly in ascendance. The result is a show that instantly grabs audience attention and a talented cast that reels them in with engaging performances. Fly North Theatricals is much more than a fly by company. If you catch one of the remaining performances of "Madam," and stay on the lookout for Healy's other new show "Forgottonia," you can say you knew them when.
Related Articles