Theatre Reviews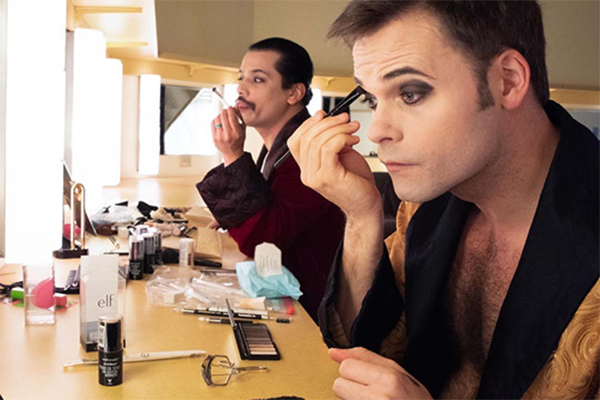 Despite gallant attempts by the cast and creative staff, 'Irma Vep' never quite comes together
Written by

Judi Mann
The St. Louis Repertory theater presents "The Mystery of Irma Vep, A Penny Dreadful" by Charles Ludlam. Directed by Nelson T Eusebio III. 
New artistic director Hana Sharif has marked her inaugural season at the helm of the Repertory Theater with bold artistic choices. Her current show, "The Mystery of Irma Vep" is a fine example. I applaud and support any artist who does that. 
Regarding this production of "Irma Vep," I had the rare opportunity to see this show knowing very little about it. Having been in and around live theater for roughly four decades, that doesn't happen often. I rather enjoy entering a theater, with no expectations, preconceptions or prejudice. Full disclosure. I did know of Charles Ludlam, the show's creator, from my days studying theater and living in New York.  Ludlam was a revered queer artist, renowned for drag, high comedy, melodrama, satire, gender politics and sexual play. So, of course, I did expect a bit of that in this show and I was proven right. Likewise, I was aware that the cast of characters would be performed by only two actors, and that there were many wig and costume changes involved. 
My initial impression was of the enormous looming green set by Michael Locher, a stylized homage to a 1950's gothic film set. Featuring a dangerously steep, menacing curved staircase, topped with a rose-covered portrait of the estate's former mistress, it hints at the promise of mayhem and campy comedy. 
Actors Esteban Andres Cruz and Tommy Everett Russell, who inhabited all the characters, were quite skilled and attacked the material with zest and a wink and a nod to all the inside jokes and archaic film references.  As expected, there were numerous quick changes of clever costuming and wigs. (Kudos to the costume design and the backstage wardrobe crew!) 
This play is more than just a nod to B movies, high camp and Hollywood's underground gay culture. It was born of a time when there was a monster, deadly and savage that was killing off the men in our village. This was the time when AIDs was no longer a dark, shrouded mystery. We knew what it was and saw the swath of terror it created. In the 30 years since this play was written, there have been great medical advances, more successful treatment of people 'living with', and some even beating the monster.
Irma Vep, (the play's namesake, which re-arranged spells Vampire) leads with lycanthropic mythology but, devolves into twists and turns, that confuse the story. I couldn't help but wish the actors and the audience had more to sink their teeth into. In spite of the obvious challenges facing the 30-year-old play, the actors did capture my attention with their often zany, oversexualized, silly, yet fully committed performances. For a time. However, the overall pacing lacked urgency and immediacy and made the evening seem longer than it actually was. Many of the originally provocative characters and cultural references are no longer edgy or dangerous by modern standards. In this instance, they just feel somewhat dated and cliché. The resulting performance was a mash up of styles and genres that were never quite clear and failed to merge into a cohesive piece, in spite of gallant attempts by the cast and creative staff. "The Mystery of Irma Vep" plays at The Repertory Theater on the Mainstage through March 8th.