Theatre Reviews
Theatre Reviews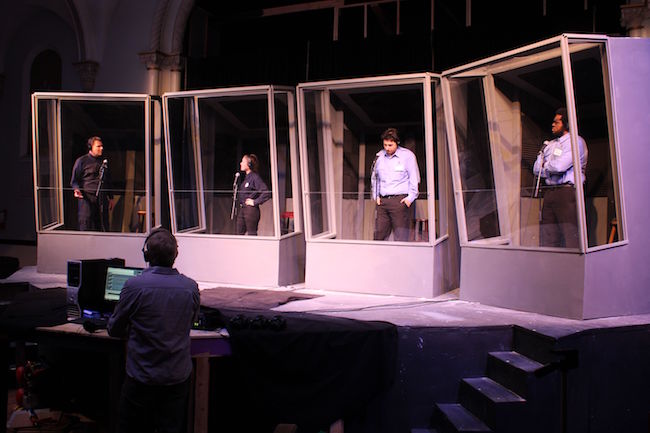 'Lobby Hero' explores the corners and shadows of contemporary American morality
By
The recent health pandemic has kept theaters closed for months now, leaving many without work. The closures also haven't stopped theater artists and companies from devising and trying to continue making art and connecting with their audiences.  Kenneth Lonergan's "Lobby Hero," a play presented digitally and available for streaming through July 31, is Stray Dog Theatre's first foray into virtual theater.
Jeff, your prototypical underachiever, is smart, nice, and stuck working nights behind the security desk at a high rise in the city. Disarmingly loquacious and unrefined, he's plugging way at a debt he owes his brother and dreams of getting a nice place of his own. He'd like to do more with his life, if that didn't mean actually doing more.  Jeff's nights are broken up by visits from his supervisor William, whom he admires, local police officer Bill, whom he fears, loathes and envies, and Bill's new rookie partner, Dawn. In just a few nights, the four characters lives intersect with meaningful consequences that reflect contemporary morality and its nuanced meanings.
Jeremy Goldmeier is sympathetically broken as Jeff, effectively sliding into the awkwardly genuine character. Clearly an anti-hero, Jeff could easily come across as whiny, privileged and selfish, and he tops that off with laughably inappropriate come-ons to officer Dawn. When given the choice, Jeff would rather not choose; but when pressed he shows more intelligence and perception than expected. To soften his veneer, director Gary F. Bell take pains to ensure that Goldmeier finds and leans in to the decency in Jeff's character. Still, his last line cuts deep, poignantly and succinctly summing him up.
Abraham Shaw embodies hard-working, stay out of trouble determination, while wearing his kindness and conflict on his sleeve. A Black man trying to better his life through perseverance and self-improvement, William recognizes racial and economic injustice and understands all too well why Jeff asks the race of a crime victim.  With a deft touch, Shaw makes sure we see the weight and relevance of both his experience and race making William a little pushy, but not preachy. As officers Bill and Dawn, Stephen Peirick and Eileen Engel are straddled with more one-dimensional roles, though each brings effective commentary through their performances. 
All four create believable, mostly likeable characteristics with real flaws, and issues of misogyny, sexism, cronyism, and racism provide meaningful context. Even hard-boiled veteran cop Bill has moments when he seems sincere and caring, though he just as quickly belies our hope in the next beat or two. Officer Dawn surprises with a vicious revelation, but comes back later to acknowledge her mistake. These touches add dimension, though the show lags a little in the middle, making it feel about 15 minutes too long. More importantly, the entire cast is well connected and convincing -- even through the challenges of technology.
The staging, as it were, is a bit odd at first glance, but proves impactful. Four large Plexiglas and baffled sound boxes, actor "pods" (designed by Josh Smith) as production and artistic director Gary F. Bell explains in a brief introduction, enable the actors to maintain a safe distance but still be able to interact with each other. The use of music, multiple camera angles and a few slow fade light cues designed by Tyler Duenow enhances the movement of the show, helping to break up and frame each scene. This cinematic-like approach is quite effective in developing conflict and tension, and the scenes featuring just two actors come across as particularly well connected and natural.
Lonergan's script feels relevant 20 years after its debut, candid and sometimes cavalier mentions of sexism, harassment and racism ringing as true as ever, and Stray Dog's production doesn't hesitate to emphasize those beats. Director Bell and the cast find ways to build tension and use character to deliver an engrossing show, helping the transition from live staging to performing to each other without an audience. Originally planned as the company's June show, "Lobby Hero" continues through July 31. There is no charge to see the production, but reservations must be made in advance and those who are able are encouraged to make a donation to the company.
Related Articles