Theatre Reviews
Theatre Reviews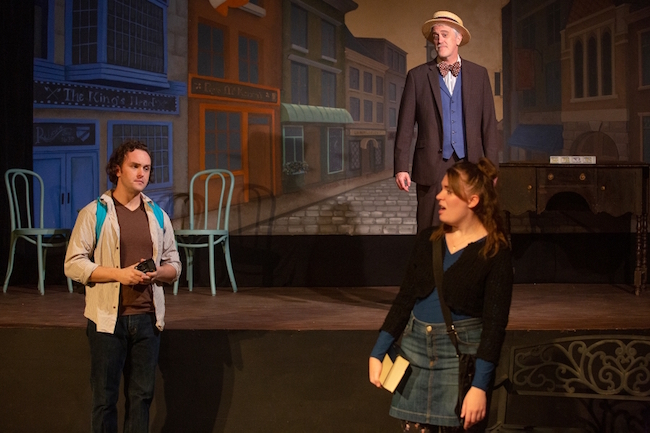 Funny and filled with affection, 'Bloomsday' charms with lots of heart and a little magic
By
Steven Dietz time-traveling romantic comedy "Bloomsday" offers theatergoers a lovingly skewered tribute to the most famous work of James Joyce, "Ulysses."
The book is set in Dublin on June 16th -- a day that's come to be known as Bloomsday by literary fans. The West End Players Guild's current production draws audiences in one laugh at a time, and then tugs at your heart strings with a warm, hopeful tale of love lost, with a chance of redemption.
Thirty-five years ago, Robbie, an American student, met the love of his life, Caithleen an Irish tour guide, when he spontaneously agreed to tag along on her walking tour of Leopold Bloom's journey through Dublin, as chronicled in Joyce's book. She's not fond of groups of 13. He's quite smitten with her. So, there isn't much arm-twisting involved. Not an auspicious beginning, and it may not be a surprise that things don't quite work out. Today, a wiser and older Robert has returned to the same spot where he first met his dream girl. Can he invoke the magic needed to change his fate?
Director Jessa Knust leads a talented cast through the briskly paced, romantic comedy. The story unfolds much like the tour, stopping here and there, occasionally distracted, but always adding another important detail. Sarcastic takes on Joyce are interspersed with a real reverence for scenes and characters he created, and the resulting show is thoroughly delightful and fantastically entertaining. When the tour is concluded and the story fully connected, you might even find yourself dabbing away a tear or two.
The outlandish premise is delivered in beguiling performances from Megan Wiegert, John Moore, Jeff Lovell and Colleen Heneghan. There's a warm, authentic rapport between the four and Knust finds ways to effectively use mirroring and the scripts twists to heighten the fun. Wiegert and Lovell skillfully carry the bulk of the storytelling. Their back and forth banter is well timed and fun to watch, particularly as Wiegert moves from skeptical to interested.
Moore is sincere and sympathetic as the eager American student whose recent broken heart may contribute to his hesitance. Heneghan is wise and gracious as the older Cait. Though her journey was different, less easy than Robert's, she too seems genuinely pleased by the prospect of a second chance. Dietz's clever script teases out all the information, leaving the audience to choose how the final scene plays out, and Knust and the actors create a picture perfect "maybe" that delivers a satisfyingly hopeful ending.
Jacob Winslow designed the mood setting lighting and was the set carpenter. Ted Drury designed the sound; effectively mixing Irish folk tunes in both Irish and English. Set painters Marjorie Williamson and Morgan Maul-Smith recreation of a neighborhood street scene in Dublin is charming and filled with personality. It's worth your time to take a few minutes to appreciate the lively details. Tracey Newcomb's costumes for Robert, Cait and Robbie seem spot on and true to the period they reflect, and although Caitlin's outfit felt a little too contemporary, it doesn't distract.
Maximizing limited resources and the confines of a small venue, director Knust and the company create just the right atmosphere to draw the audience into the story. And the fanciful story merits your attention. Dietz's play requires a major suspension of disbelief, but please allow yourself the pleasure! You'll be rewarded when Irish folklore overcomes jaded pragmatism with a satisfying uncertainty. "Bloomsday," continuing through September 26, is delightfully literary and flirtatious, and the ending full of possibility.
Related Articles