Theatre Reviews
Theatre Reviews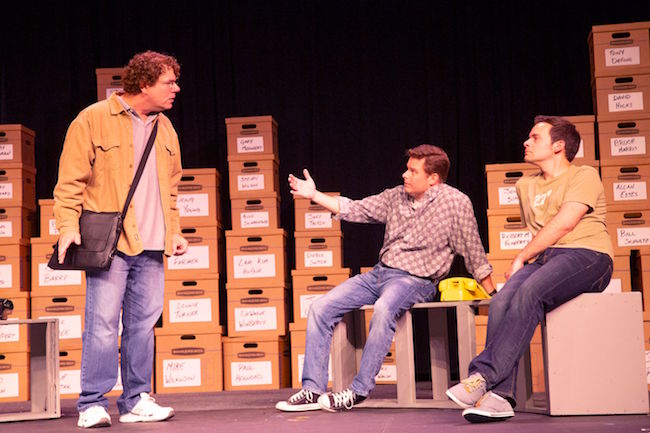 'The Normal Heart' is evocative, provocative theater that is still needed
By
Larry Kramer's deeply personal play "The Normal Heart," takes audiences back to the earliest days of the HIV/AIDS crisis. Stray Dog Theatre's unflinching production is compelling, emotionally grounded, and thoughtfully performed. In today's pandemic disrupted world, the show is a poignant reminder that willful ignorance costs lives.
Ned Weeks, a young Jewish man, is a writer always looking for a story that will help him make a name for himself in the industry. He's also a single gay man living in New York City in the early 1980s. Naturally, when he starts hearing about this mysterious illness in the gay community, he sees an opportunity to sell a story and starts looking deeper.
His queries lead him to Dr. Emma Brookner, a polio survivor and doctor treating many of Ned's friends and acquaintances. Most seek her out after noticing growing lesions on their bodies, the tell tale symptom of the as yet unnamed condition. As her number of patients grows, Brookner explains, other doctors and politicians do their best to minimize and ignore the disease and its impact. This initial conversation leads Weeks on a life-changing journey into social activism that will change the world, though a cure has yet to be found.
Stephen Peirick, as Weeks, turns in his best work to date, adding perspective and insight into an often brusque, demanding and at times unrelenting character. Peirick resists any inclination to make the character likeable and instead creates a man we care about deeply despite and because of his direct, action first persona.
Jeffrey Wright delivers another sterling performance as the more polished and politically savvy Bruce Niles. Jonathan Hey, a Mickey Marcus, unsuccessfully tries to find compromise and all hope seems lost until Stephen Henley's Tommy Boatwright sails in with southern charm and persistence, forcing the men to work together in the hopes that lives can be saved. Henley finds just the right balance of big personality and tender heart to keep Boatwright from becoming a caricature in a role that allows him to show more of his dramatic ability.
Joey Saunders is funny, witty and heartbreaking as Felix Turner, there's an ease between Peirick and Saunders that helps the audience see Weeks gentler, tender inclinations, even if only in brief moments and concerned glances. SaraJane Alverson is nicely understated as Dr. Brookner. Though the character is often frustrated, angry and concerned, she's never jaded or sarcastic. David Wassilak is effective as Weeks' stiff and uncomfortable older brother, delivering his lines with a dismissive, patriarchal air. Michael Hodges and Jeremy Goldmeier round out the strong cast and the commitment to the telling the truth of the characters and story is quite effective.
The truth is important, even central, in "The Normal Heart" and with good reason, the character and incident retold in the play are based on real people, real events, and a very real illness that still doesn't have a cure. This truth is underscored by Justin Been's simple, powerful stage design, which creates a visual testament to the lives lost.  It isn't always easy to watch and the heaviness and truth of the crisis may bring tears to your eyes.
Director Gary F. Bell guides the show with a firm hand, authentic emotion, and an intimate gaze. Bell lived and worked in New York City at the timeline covered in the story and clearly tapped into his experience. The result is a thoroughly engrossing story that resonates deeply. When a disease is ignored because it hits a certain segment of society those in power deem "less than," the cost is nonetheless catastrophic, personal and very real to actual patients and everyone who knows them.
"The Normal Heart," at Stray Dog Theatre through June 25, is a heart wrenching reminder of a dark time for America's LGBTQIA+ community and those who loved and cared for them. The drama is a tribute to the voices who spoke out and the patients and caregivers who fought together to be seen and treated. Most of all, it is an exceptionally well-performed play about the persistence of love and the will to survive against the odds.
Related Articles