Theatre Reviews
Theatre Reviews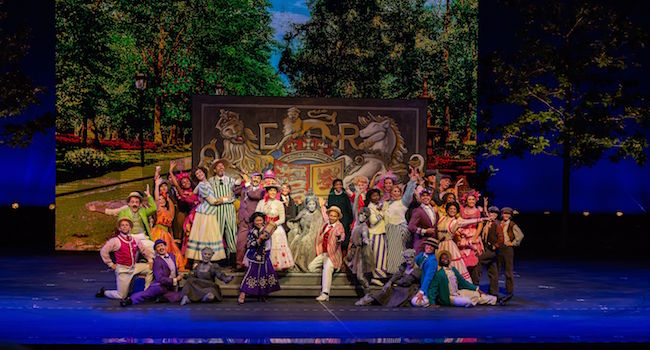 'Mary Poppins' flies in to deliver Muny magic in a practically perfect production
By
Audiences of all ages are likely to enjoy the Muny's lively and very entertaining production of Disney and Cameron Mackintosh's "Mary Poppins," a delightfully upbeat and engaging show. The songs are memorable and quite catchy, the dancing is mesmerizing and athletic, and there's an abundance of clever video, lighting and stagecraft that adds lots of magic touches to the story.
As the show opens, the Banks children, Jane and Michael, are in the process of terrorizing yet another Nanny until she quits on the spot. Their parents, George and Winifred Banks, are at their wits end and exasperated by the prospect of finding a suitable replacement. Jane and Michael present their ideas about what a Nanny should be, Mr. Banks scoffs at them and throws their advertisement into the fire. Nonetheless a gust of wind deposits the mysterious, and practically perfect, Mary Poppins at their doorstep, responding to the ad.
The Muny's faithful retelling, under the sure direction of John Tartaglia, sparkles with kindness and possibility, even as it conveys subtle but important lessons on classism. A walk in the nearby park turns into an adventure filled with dancing as statues come to life in the rousing "Jolly Holiday." A visit to a secret confectionary, teaches us the delightful "Supercalifragilisticexpialidocious" while sparking a thirst for knowledge. And a late night "Step in Time" with the chimney sweeps us exposes a new perspective.
All the while, the gentle and firm but kind Mary Poppins is there, offering a cheerful bit of wisdom while slaying a few figurative dragons of her own. With her umbrella, bag full of surprises and faithful friend Bert by her side, life is an adventure filled with possibility.
Jeanna de Waal and Corbin Bleu are flawless and well matched as the Nanny and her trusted friend Bert, every note they sing is true and perfectly harmonized and there's a sense of genuine affection that lights up their interactions. Laila Fantroy and Gabe Cytron are wonderfully impish as the mischievous Banks children. Their voices are strong and the delivery natural, not forced. The pair also show considerable skill in the impressive "Step in Time," a tour de force tap number that captivates the crowd, garnering enthusiastic applause. Nehal Joshi and Erin Davie add humor and affection as George and Winifred Banks, Barrett Riggins is a constant comic presence as Robertson Ay.
There's an abundance of familiar, local talent in the cast in featured supporting parts as well as the Muny ensemble and the sizable and expertly choreographed youth ensemble. Debby Lennon's Queen Victoria is as regal as her Miss Andrew is vile and Jerry Vogel's Park Keeper evolves with childlike joy. Zoe Vonder Haar and Whit Reichert display excellent comic timing, with Vonder Haar's Mrs. Brill a witty, chippy foil for Riggins and Reichert's Admiral a well matched, off-kilter companion to Lynn Humphrey's delightfully flighty Miss Lark.
All the best songs from the beloved movie are delivered with energy and optimism that truly captivates the crowd. From "Chim Chim Cher-ee" and "Practically Perfect" to "A Spoonful of Sugar," "Let's Go Fly a Kite," and "Anything Can Happen," the audience is easily caught up in the fun, and even the more somber songs, such as "Feed the Birds" and "The Winds May Blow" are well executed and heartfelt. Music director Brad Haak leads an excellent orchestra, consistently keeping the pace while emphasizing the tension and emotional context of each song.
The show is a stand out from a technical standpoint as well. Even the one glitch with a malfunctioning wireless mic was fluidly and efficiently handled by a stagehand, Riggins and Lennon. Paige Hathaway's inviting scenic design literally transformed from an empty stage, to a busy household, a limitless park grounds, and the streets and the rooftops of London, all the while incorporating visual illusions and "magic". Costume designer Robin L. McGee and wig designer Kelley Jordan get every bow, button and cap just right, setting the tone and reinforcing the period. A number of quick-change moments happen right on stage, adding to the sense of magical possibility. John Shivers and David Patridge do their usual standup work with the sound design, subtly enhancing and directing focus.
The special effects are their own character in "Mary Poppins," and lighting designer Rob Denton, video designer Alex Basco Koch, puppet designs by Puppet Kitchen and Eric Wright and flying effects by ZFX, are spectacular. They add the perfect finishing touches that ensure the production delivers the magical moments that create lasting memories.
"Mary Poppins," continuing through July 13 at the Muny in Forest Park, faithfully recreates the whimsical, anything is possible sensibility of the movie many audience members grew up watching. Family friendly and delightfully entertaining, the show is the summer musical event for the whole family, featuring excellent leading and supporting performances.
Related Articles