Theatre Reviews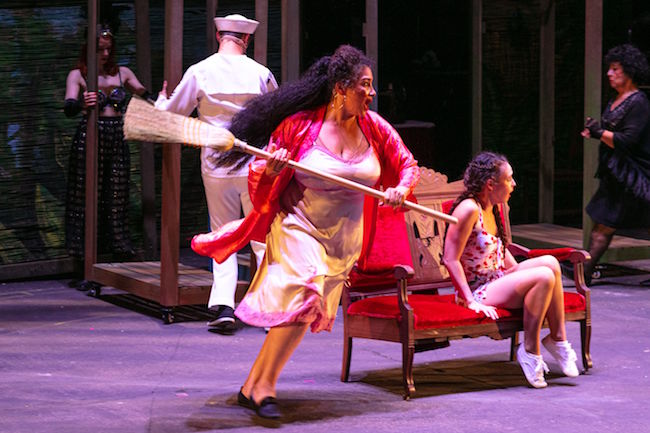 'The Rose Tattoo' at TWStL: A gorgeous, evocative dream of love, loss and hope
Written by

Tina Farmer
Set in a New Orleans neighborhood filled with a mix of immigrants, including a large Italian American population, "The Rose Tattoo," the feature of this year's Tennessee Williams Festival St. Louis, feels as much a part of the old world as the new. Staged in the center of a circus ring, with circus animals and performers weaving in and out of the story, the play feels as much of the mind and imagination as it does the real world. Strong performances add the final touch to a thoroughly captivating show.
Serafina Delle Rose a wife, mother and seamstress, comes from the old country but is working hard to adjust and adapt to the new. A passionate woman, she has dreams and visions she can't always explain – sometimes merely because she doesn't want to. After her husband is violently killed, her grasp on the real world loosens and we enter the somewhat hazy, frequently surreal realm of grief, longing, and a stubborn clinging to a vision that was never fully real.
Serafina's daughter Rosa is maturing, about to graduate from high school and falling in love, for the first time, with a young sailor named Jack. The older brother of one of Rosa's high school friends, he nonetheless is a threat in Serafina's eyes. When Alvaro Mangiacavello, a truck driver just like her husband, unexpectedly enters Serafina's life, she must confront her past, attend to the present and choose her future. All while dealing with gossips, witches, visions, neighborhood livestock, the dresses she must finish and deliver for graduation and a sad malaise of relentless ferocity. As always, she turns to the Virgin Mary figurine and waits for her response.
Rayme Cornell is enchanting as Serafina, drawing us into her dreams, and then startling us when her fierce, stubborn beliefs drive her to strike out. Bradley Tejeda proves an excellent counter as truck driver and suitor Mangiacavello, calming her anger while igniting long dormant passions. Valentina Silva and Oliver Bacus are compelling as Rosa and Jack, and Silva subtly reflects Cornell's movements and expressions, effectively connecting the mother and daughter as woman of the same ilk.
The supporting cast is exceptional and fully committed, pushing the drama forward and creating moments of comic relief in ways that convey a sense of a tight knit community where everyone knows everyone else's business. Rachel Fox and Holly Maffitt counter Cornell in triangulated tug of war between old and new, faith and folly. Carmen Garcia and Tony Viviano add their vocal talents to the story in ways that feel naturalistic and pleasantly in tune with the sublime realm between worlds the story inhabits. Julia Crump, Tyler White, Mitchell-Henry Eagles, Harry Weber, aerialists Annika Capellupo, Natalie Bednarski, Sage McGhee and Maggie McGinness and animal performers Belle, Junebug, Orabelle and Zest the goats and Prince, the horse, capably round out the ensemble.
Williams' play is an intricately woven exploration of grief and our species often all-too-tenuous grip on reality. Though elegantly drawn out, the play retains a feverish intensity creating a juxtaposition that enhances the sense of the surreal that permeates the show. Though less accessible than some Williams plays, the playwright's trademark examinations of love, fealty, tragedy, sanity, and feminine power are fully on display.
David Kaplan's daring vision and sharply defined direction latches onto Williams' script with a Fellini-esque eye and zeal. At the very peak of tension and conflict, two aerialists perform a stunning routine as Rosa and Jack while Silva and Bacus recite the characters dialogue. The scene is a perfect moment of breathless release that engages multiple senses and emotions. The results are mesmerizing, engaging all the senses with texture, emotion and spectacle.
Tennessee Williams' "The Rose Tattoo," continuing through August 28, sees familiar themes reflected in the experiences of Italian American immigrants in a way that resonates with mid-century sensibilities. In addition to this intriguing and surprisingly cathartic play, the Tennessee Williams Festival St. Louis events include play readings, symposiums, and a bocce tournament.
Related Articles