Theatre Reviews
Theatre Reviews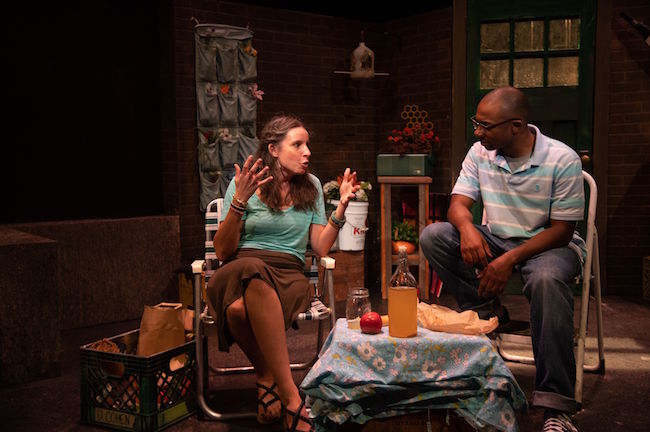 'The Bee Play' at New Jewish Theatre: Charming performances abound
By
Elizabeth Savage's "The Bee Play" delivers an environmental alarm through the commitment of a recent high school graduate with high hopes of following his dream, despite a challenging home life. Though the script is passionately ecofriendly, the New Jewish Theatre's thoughtful world premiere production succeeds best when focusing on the appealing characters.
Carver Washington is a bright young man with a passion for beekeeping, which seems unusual for an 18-year-old. This interest is all the more surprising considering he lives in an apartment in the Bronx with his grandmother and younger sister. Bookish and a bit awkward, he's carefully cultivated a rooftop garden space for his beehives that has attracted nesting birds, much to his sister's delight.
Carver spends most of his time on the roof or checking the mail. He's applied to a university program dedicated to studying and saving bees and is anxiously awaiting a reply. His friend Devora is certain he'll get in. If he is accepted to the program, he'll face a whole new set of challenges – how can he help care for his wheelchair bound grandmother and elementary aged sister from a university in Kansas, a 19-hour bus ride from home?
Miles Brenton is quiet, reserved as Carver. Always considerate of his grandmother and sister's needs, he's animated and intense about his bees. There's a sense of social awkwardness that permeates Carver's behavior and dialogue; Brenton and director Sarah Whitney manage to refrain from caricature, for the most part. Riley Carter Adams is a delight as Carver's little sister, Paris France Washington, bringing energy and light to several scenes. She's also a little annoying and petulant, as children can be. Thankfully, Adams and Whitney keep these tendencies in check, creating a character that's believable and not too over-exaggerated.
Margery A. Handy is feisty and appropriately concerned as their grandmother, Ma'Dear. While her actions and motivations are not always clear, a potential issue with the script, her attitude and opinions are freely given. Ellie Schwetye is kind, if a bit naïve, as Carver's friend and neighbor Devora, and it is exactly those qualities that enable her to help the family find hope after Carver's hives are vandalized. Devora is also a bit socially awkward, helping to ensure her romantic feelings for Carver come across appropriately. Carver is a recent high school graduate, Devora is a Yale graduate; because of this, the implied lack of social skills is important to both believability and concerns over potential predatory behavior.
Savage's script, receiving its world premier at New Jewish Theatre, is dense with detail, though it sometimes leaves us guessing as to the point. There's a plethora of information on bees and their importance, their necessity, to the survival of the human species. While compellingly informative, the depth of the information and its presentation in the production is a hurdle the show struggles with and doesn't quite overcome. Carver's frequent shifts from a teenager struggling to figure out his next steps while caring for Ma'Dear and Paris to a budding and brilliant bee expert simply don't flow. And Michael Musgrave-Perkins video projections, while complimentary to the script, are distracting both contextually and in terms of the placement on the set.
I really want to like 'The Bee Play,' continuing through September 25, the performances are well connected and convincing and the subject matter contemporary, important and interesting. For the most part, the problem with the show feels rooted in an overly long script that doesn't quite know whether it wants to be an ecological rallying cry or a coming of age and overcoming obstacles story. Both storylines feel of equal importance to the playwright, and, charming performances aside, they simply fail to blend together in a cohesive, compelling story. Tightening and shortening the play could go a long way in ensuring the playwright's messages come across most effectively, rather than feeling a bit like a character study tacked on to a lecture.
Related Articles