Music News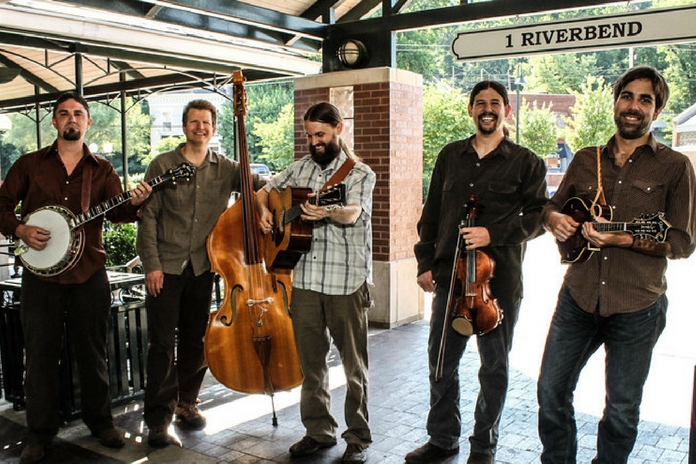 'Show me a lick': An interview with Andy Novara of River Bend Bluegrass
Andy Novara has been a staple of Folk School of KDHX for the past 5 years. An accomplished guitar, banjo, and mandolin player, Novara uses transcription improvisation and attention to fundamentals as a technique in his performance and instruction technique.
His current band, River Bend Bluegrass is playing The Stage at KDHX on Saturday, September 9.
Andy took time for a chat with Keith Dudding, host of KDHX's Down Yonder for a discussion on his history, learning and instructional style, and the foundation of River Bend.
Keith Dudding: Full disclosure, I have taught at the Folk School since they opened its doors, but this is the first time that you have been the Program Coordinator.
Andy Novara: Yes.
KD: Tell us a little bit about the Folk School and give us a little history.
AN: I started working at the Folk School about five years ago. This was great for me because it was finding that actual outlet for my interest in bluegrass and old time music, plus the teaching aspect of it. It's very rare that you can kind of find these type of two situations going together. In other words, there's a lot of teaching opportunities, but not so much in the field that I enjoy to play in, in bluegrass and old time, things like that.
KD: Well, since you bring it up, let's review your musical history and how you came to be a bluegrass ... I've heard you play many occasions. You got skills, and you share that through your teaching. What was your first instrument?
AN: It went between guitar and banjo. They're all kind of simultaneously at the same time. I went through a rock phase like anybody else did. But the main instrument, I would say, probably guitar. It was when I really started getting into music it was guitar.
KD: The first music you tried to play on guitar was rock and roll, or what was your-
AN: Oh, man. No. Well my mom actually taught me "Sunshine of Your Love" riff. I don't know if that counts as your first.
KD: Way to go, Mom!
AN: I know. I always give her credit for that, but I think when I first started out I was into Stevie Ray Vaughan. He was, in my mind, as the greatest of all time.
KD: When was your first introduction to bluegrass music that you recall?
AN: Actually, around that same time, my father was an official wildlife biologist. I was working on a refuge for summers. The first exposure to that was there was a man named Dave Prosser. I bet you know his brother, Zane.
KD: Zane, I know Zane. Of course, yeah.
AN: Dave is an outstanding banjo player and he'd always have Flatt and Scruggs going in the truck. I first heard that through him and got the inkling of this style of music. It was through him, working and hearing that music and watching him play banjo. I took a couple lessons from him and hung out at his house. The whole bit. That's really where I got started in bluegrass music, through him.
KD: Pursuing it ever since and playing at a very high level, if I may say.
AN: I appreciate it.
KD: Well, since you mentioned taking lessons, are you self-taught, essentially, on all your instruments?
AN: I would say self-taught. But I'm always seeking out other players at festivals and things, show me a lick. There's a lot of local guys that have helped me out, Cecil Tinnon, Greg Silsby. He's great. All the local guys that I've picked things up off of.
KD: Now you share that through both teaching at the Folk School and other locations.
AN: Yeah, exactly. That's the idea with me teaching, is just sharing what I've learned from other people along the way.
KD: What's your, I don't want to say a "secret" of teaching, but what have you found about ... You can play some very complicated stuff.
AN: Sure.
KD: You break down Tony Rice licks and work out solos, which that ain't easy...when people are up to a certain level of proficiency and they want to make that leap, what's the challenge? How do you help them get from where they are to where they want to be?
AN: At a higher level of proficiency, a lot of times what I like to do is just teach them how to listen to records.
KD: Really?
AN: It seems simple enough, but a lot of people don't dive to this subtleties of these old records. There's ways of repetitive listening. With today's technology you can even slow some of these things down to the point of where you can rip it and learn how to play it on your instrument. I think that's a huge thing because, I'd hear J.D. Crowe's stories of him learning all the Scruggs solos from records. Slowing the RPM down. It's nothing new.
KD: Just a little bit about the instructional approach of the Folk School--Because you were looking for an outlet, you found the Folk School 5 years ago. What's the school philosophy, or what makes it different than just taking private lessons from somebody like you?
AN: Well, the school in general is the idea being that we get other students together. The Folk School, we have group classes with all different types of age levels and abilities and get them to play together. So, that's one of the most important things about music, I would think, is the idea of playing with other people as soon as possible. Having a common vision of how to progress forward as a group. I think that helps the learning, not to sound weird, but you're almost held accountable to your buddies in the classes. You gotta hold up your end of the bargain on this tune. We have showcase sessions where they actually perform in front of the public, so that's very interesting for students to try to get all the material worked up.
KD: And the listening part, I mean one on one it's like you and an instructor, and if it ain't you it's the instructor. But here if you're playing-
AN: Right, you listen to other people and you learn from your fellow students as well, it's not just the instructor. You might hear a great mandolin lick from some guy in your class and, hey can you teach me that. That's what I enjoy about it. I learn things from my students all the time. They bring in tunes that they want to learn, or different things I haven't heard. It's definitely a kind of group environment and that's what I really enjoy about the Folk School.
KD: In addition to the lessons and the classes on individual instruments, the Folk School also offers classes in ensembles.
AN: Yes, in ensemble groups, in other words we have bluegrass ensembles, we have country ensembles, we have Beatles ensembles, John Hartford ensembles going right now. So those are specialized classes dealing with a certain subset of music. So, the Hartford class, for example, would just be doing Hartford songs.
KD: In addition to the ensemble classes you also have the jam sessions.
AN: 3 times a month. They're on Saturdays and Sundays, they're held here at the stage or over at the Folk School, which is a great opportunity to learn it's open to the public, all ages and ability levels.
KD: As fine a guitar player as you are, and you are one fine guitar player. You don't play guitar in your own bluegrass band. That's because you got the other guy-
AN: Exactly, I got the other, great guitar player Dustin Greer, to take the reins.
KD: You guys are both majorly skilled. How do you decide who's gonna play guitar. Did you, rock paper scissors. Was it a coin flip-
AN: We flipped a coin, we flipped a coin.
KD: Because you are almost interchangeable apart from your styles ... I'm sure you could point out the differences. You must be able to sit back and go, wow, to either one of you.
AN: Sure. I always feel me and Dustin are kind of birds of a feather as far as our interests and our playing styles. But, Dustin's just an incredible musician and I'm lucky to play with him, weekly. So, I'm learning stuff from him constantly.
KD: Thing I like about your band is that, you guys could play away from the music or you could go out as far out as you wanted to. But, that's not the point. You guys are really, you're tied to the traditional sound and even so you play a lot of hot licks and a lot of great stuff. But, it's not like let's stretch it out and expand, it's like, let's execute the form.
AN: Sure. The idea of being with that band is trying to execute a well thought out show. In the vein of the Monroes, the Stanley Brothers, that type of thing. Having not too many jam outs. Everything is pretty structured as far as breaks and back ups and things like that. It's just the music that we like to listen to and it's music that we like to play so, we hope other people enjoy it as well.
KD: Playing The Stage here at KDHX on, I just looked at the sign, Saturday the 9th.
AN: Yes sir.
KD: I got it right. And something else coming up after that, I'm sure there is.
AN: There's a lot going on. We're playing at Picking on the Huzzah, a festival coming down late September. So, that should be fun playing in the resort area. We're just actually finishing up an album right now, getting it mastered. Final stages of that so we're pretty excited. I probably have that coming out sometime late Fall.
KD: Cool, well looking forward to hearing that and playing it on KDHX. Thank you for the visit and-
AN: Oh thank you.
KD: Thank you for your work as program coordinator at the Folk School and also your work in River Bend. Looking forward to seeing you at The Stage here on the 9th! Go see them, they're great!
River Bend Bluegrass perform at the Stage @ KDHX on Friday, September 9 at 8:00 p.m. Tickets available online.
Related Articles