Theatre Reviews
Theatre Reviews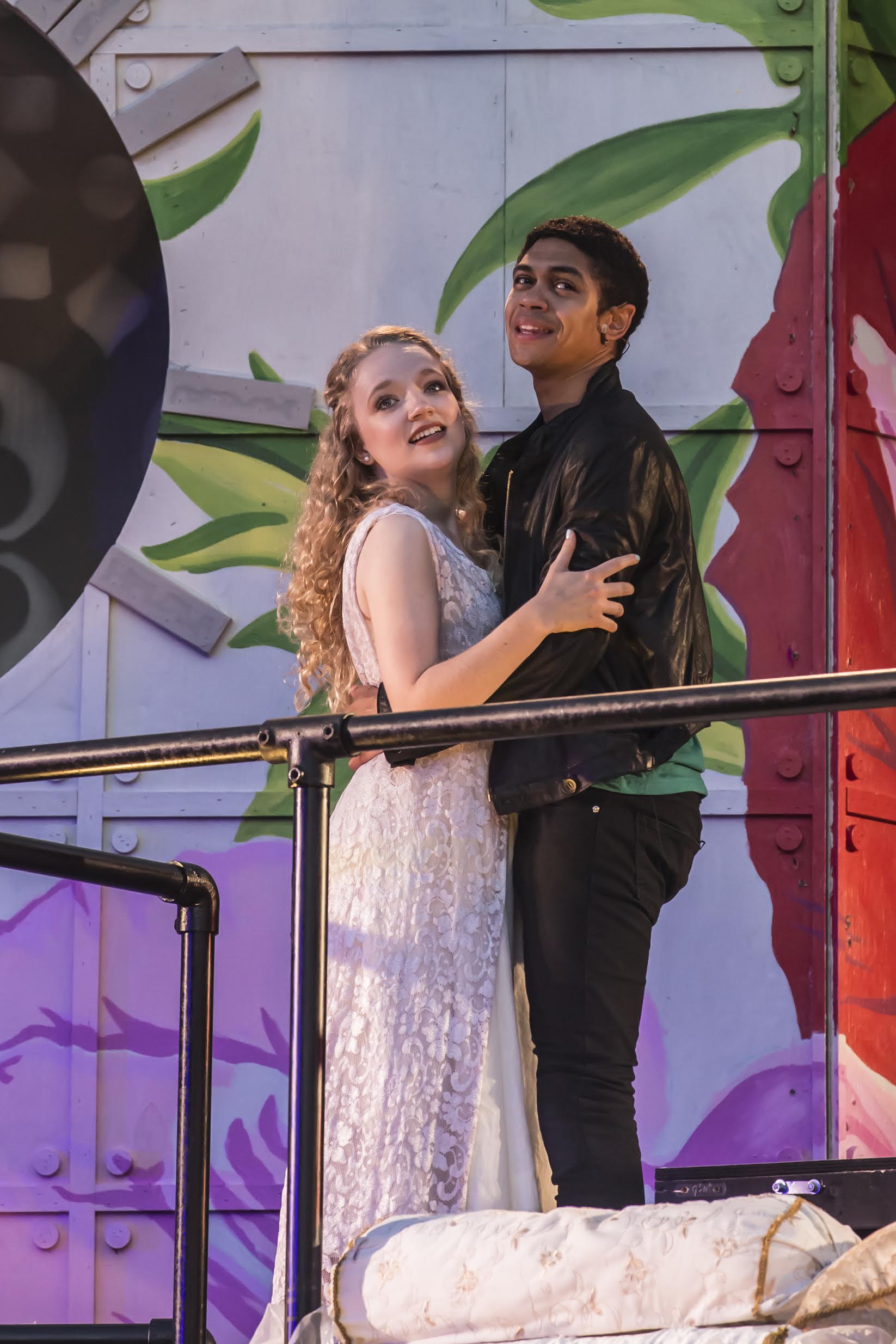 'Romeo and Juliet' is as charming as it is classic in a vibrant production with a touch of the ethereal
By
The Shakespeare Festival St. Louis turns to the much loved and often performed "Romeo and Juliet" for its 18th season and turns out a rendition of the beloved play that successfully mixes Shakespeare's dialogue, story and themes with a contemporary attitude. The mash-up works, resulting in a slightly fantastic retelling that feels a bit like a 1980's music video complete with a big, well-choreographed dance number. The dance has been a whimsical addition to recent Festival productions, and director Elena Araoz adds her touch with flair.
Poor Juliet and her Romeo, two teenagers in love whose happy union is rendered near impossible because she is a Capulet and he is a Montague. If you think of the families as two sides of a political divide and the adults in the room - petulant and stubbornly stuck in their ways with no real impetus to change - as our leaders, it's obvious that the star-crossed lovers were bound to face tragic resistance. That is to say, the root of quarrel is long forgotten, the battles both verbal and physical, and the distrust and dislike deep.
The Capulets are old school, pious and committed to order and obedience; the Montagues are brash, bold risk takers, filled with new ideas and fearless energy.  Neither side is willing to bend and the two factions frequently clash in public, leading the Prince to intervene, warning each side like a referee. Despite all of this, Romeo and Juliet manage to meet and fall in love at Lord Capulet's masquerade party and are secretly married by a priest hoping to forge peace between the families. 'Tis a pity, when all is said and done.
Sigrid Wise is exuberantly naive and radiant as the always hopeful Juliet and Reynaldo Piniella is believably morose and ecstatically revived as her slightly older, slightly more experienced love Romeo. Though each stumbled just a bit during the first few scenes opening night, it is clear the two understand the depth, breadth and youthful urgency of their characters. The balcony scene is beautifully poetic and Wise and Piniella perfectly capture the full range of their characters in this definitive moment. Wise is particularly effective in portraying Juliet's inexperience and girlish flights of fancy; Piniella delivers his rhyming couplets with a distinct twist on iambic pentameter that conveys a sense of hip hop and spoken word poetry.
Michael James Reed gives Lord Capulet contemporary likeability and David Heron imbues Lord Montague with tempered ambition and genuine concern. Cherie Corinne Rice, as Lady Capulet, and Patrice Foster, as Lady Montague, are doting and careful mothers, though each is willing to play her hand to secure the safety and future of her child. The Capulets are clearly looking to make a socially and politically profitable marriage for their daughter, while the Montagues are less fixated on tradition and hierarchy.
Terrell Wheeler shows a strong sense of verbal flow with his stylized dialogue, and the Queen Mab speech is clear and melodic. His Mercutio is tall, strong and decidedly masculine but his parting speech is bitter and broken. Pete Winfrey is the very word of prince and suitor, with crisp articulation and a kind eye. Though Lady Capulet's overt flirtation with Winfrey's Paris made me a bit uncomfortable, the character is overall a thoughtful and considerate gentleman. This interpretation creates an interesting conundrum when comparing the men vying for Juliet's affection.
As the nurse, Jane Paradise is wonderfully comic without breaking the tone of the show. She moves with determination and hopeful conspiracy, adding warmth and a sense of nurturing to the Capulet household. Dakota Granados is fierce and always on edge as Tybalt and Antonio Rodriguez is a loyal Benvolio, while Gary Glasgow, Chris Ware, Patrick Blindauer, Karl Hawkins, Harrison Farmer, Esmeralda Garza and musicians Daniel Ocanto, Sean Smith and Graham Ulicny round out the solid and always engaging cast.
The Shakespeare Festival production pulses with excitement and anticipation, a live three-piece band adding a constant rhythm that propels the emotion forward in concert with the action. The gorgeous scenic design by Margery and Peter Spack features references to the architecture and style of Verona, with modern strokes that lend the show an otherworldly yet vividly familiar sensibility. Dottie Marshall Englis' costume design employs bright color combinations and stylistic references to the 70s and 80s, with a touch of old Verona.
Director Araoz keeps the he show moving swiftly and smoothly through its paces to the final tragic conclusion and ensures the characters are likeable and the tension builds with steady determination from the opening moment to the final, tearful closing scene. Even those most familiar with the script are likely to find new and interesting perspectives in the freshly polished show.
For nearly 20 years, the Shakespeare Festival St. Louis has presented beautifully orchestrated renditions of the Bard's canon in the gorgeous, natural setting of Shakespeare Glen in Forest Park. "Romeo and Juliet," in performance through June 24, continues this tradition building on recent years' success with the addition of music and a more enveloping environment. The story is romantic and enchanting; though the conclusion is mostly sad, there's a dash of hope in the bittersweet memory of young, irrepressible love.
Related Articles