Theatre Reviews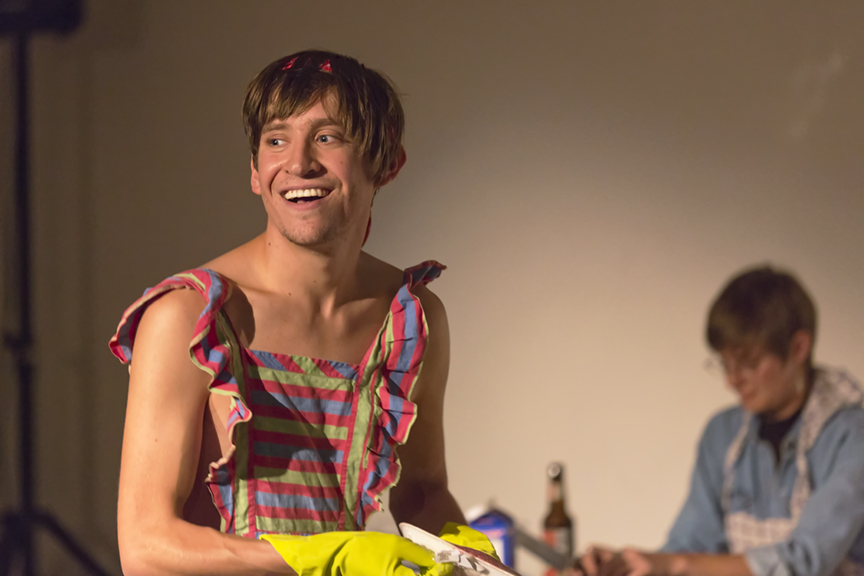 The St Lou Fringe Festival entertains with generally high-quality, absolutely heartfelt shows
Though not every show can win an award, the productions in the St Lou Fringe Festival, which ran August 17 through August 26, 2017, hit the mark in terms of quality and their ability to spur conversation and thought. The festival offers one-person shows, small and large cast productions, musicals, dance, improv, stand-up comedy, and a Fringe Family Day featuring interactive art stations and a totem parade hosted by Artica as well as performances. 
With multiple shows running in five different theaters and Strauss Park at concurrent times, it can be difficult to see every single performance though I managed to make it to most (with sincere apologies to Andrew Frank). Not every show will be to everyone's taste, but the format and thematic variety of the festival ensures that everyone can find at least a handful of productions that will entertain -- and possibly challenge -- them. Following are my reviews of the shows I saw that were not covered in my award-winning or headline act reviews.
The St. Louis Story Stitchers Artist Collective spreads positivity during their performances of Pick the City UP at Strauss Park. Kicking off the festival, the collective of teens, youth and their mentors presented an inspirational "glow" to light the community. The troupe sings and dances to a wide variety of music, including gospel, hip-hop, and original compositions, that is connected through threads of hope, faith, perseverance, intelligence, and education. Each performance is captivating for unique reasons, but all are polished and deeply personal. The troupe thoroughly entertains while shining a positive light on our city's youth and reaffirming the need to confront the violence and lack of opportunity that threatens our future.
Three shows stand out for their purity and an emotional resonance that gives me "all the feels." The Buzzer, from Mollie Amburgey's GoodPeople Theatre Co. is warm and slightly spiritual, with an interesting lesson about impermanence. Though I would like the story to get to its premise more quickly, the short play, featuring Cara Baressi as a young woman offered the chance to revisit and make different choices in her recent past, comes together well. 
Daniel Mari's Inconceivable! And Other Absurdities pulls you into the pain and efforts of a woman longing to have a child and facing fertility issues. At times almost unbearably sympathetic, Mari skillfully leads us through her story with abundant humor and insight, as well as the assistance of two vagina puppets. It's touching and funny and so relatable -- Mari's ability to build empathy creates an implicit bond.
John Michael's Meatball Séance is pure comedy with a tender heart. After his mother's death, Michael was basically desperate to find his "Mr. Right" before realizing that he was looking to fill a void in all the wrong places. Did I mention, Michael cleverly employs audience participation and real life lessons while actually preparing his mother's cherished meatball recipe? There's something that's simply likable and authentic in the story and performance. Perhaps it's the universal nature of struggling to find one's place, one's community, one's partner -- it all rings true. Michael is glibly personable, genuine, and intelligent, even when he flashes his admittedly diva side. Just like The Buzzer and Inconceivable! And Other Absurdities, the show is filled with quirky moments that only make it more endearing.
Shakespeare's Women or the Bard's Broads is engaging and thought-provoking theater tackling the difficult prospect of aligning some of Shakespeare's writing with a modern feminist perspective. The Bard's dialogue is recited by a sort of Greek chorus and then re-interpreted in modern situations with effectively challenging interpretations. A continuing character, Kit, is a transformation of Katherine the Shrew into an empowered motivational speaker providing much of the exploration in an effectively conversational style. The actress in the role is thoroughly committed and the impact is intellectually stimulating. A scene featuring a support group is comically effective; one of girls in a bathroom discussing abuse and control in an off-hand manner is disturbing and realistic; and Cammie Middleton's gaslighting scene is stunningly poignant. The structure needs a little reworking or directional thought, as the use of the Greek chorus felt overbearing and heavy handed, but the exploration of content is important and the premise genuinely entertains. 
Two original shows about zombies. Take that in for a moment, it's something you won't likely find at many festivals even if zombies are taking over our televisions. O'Fallon Theatre Works presents the cleverly constructed Please Remain Calm, which spins a cautionary tale about the impact of household chemicals into zombie fueled mayhem in an interesting premise. The short show needs condensing and a character trim to work as a 50-minute one-act, but there are a lot of interesting points and it's generally satisfying. If the company can sharpen its script, direction, and acting to match the fabulous zombie make-up, this show could really succeed.
Dan Vigger's Liberals vs Zombies vs Conservatives, is a perfect example of taking a big conceptual idea, like a zombie apocalypse, and reimagining it for the short run time and smaller theaters of a festival. The musical introduces us to three characters, played with finesse and near-perfect vocals by Sarah Porter, Matt Pentecost, and Zach Farmer, trying to save themselves from encroaching zombies. Porter and Pentecost are way liberal, Farmer is strictly conservative, and the three nearly come to blows before realizing that sometimes it is better to use your brain instead of blindly following your heart. Concisely sharp and bitingly perceptive, with strong performances and catchy songs and lyrics, the show mixes humor, common sense, and impending doom to great effect.
Didn't You See Us, presented by the Black Mirror Theatre, is a show that deserves to be seen by a much wider audience. The plight of refugees -- the war, devastation, and absolute destruction that forces people to abandon their homes and seek shelter in the unknown -- is brought to life with deceptive simplicity in the two-person show. We hear the perspective of the women and children in stories that are too often overlooked or, worse, not sought. Some attention to and reworking of the long voice over section in the middle of the play is advised, but the overall production is strong. The young women on the stage are vulnerability personified. Seeming small in the small theater space, their struggle, confusion, and pain fills the room until it becomes almost oppressive. Self-examination as well as a desire to act, to question how people can be so cruel, how governments can be so callous about their citizens, is inevitable. 
Compass Improv joins the St Lou Fringe Festival with That Really Funny Improv Show!, a warm-up for their upcoming improv festival. The interactive show conveys many of the principles of improv and relies on input from the audience for set up. The performers are all quite good on their feet, and there are very few moments when a scene dissolves into laughter or awkward silence. The artists quickly create and inhabit the characters suggested by the audience-enhanced scenarios and logically, if fantastically, convey a story of sorts. The show ends with a couple speed rounds of jokes. The performers are given the same structure, the audience provides the topic or object, and comedy ensues. Often veering into bawdy, the show is entertaining and guaranteed to be unique at each performance.
Competition-style Fringe shows are always among my favorites. This year, Alicen Moser once again delivers the goods with [Dead Gothics Society. The premise is simple. The devil has gathered many of the world's most renown dead gothic artists together, presumably in purgatory, for a storytelling competition. Naturally, Dante, Goethe, and Lord Byron are there, Bram Stoker and Mary Shelly, too. Kit Marlowe, who may also be Shakespeare, and the Brothers Grimm, who aren't even writers but collectors and editors, also take part. Horace makes an appearance at some shows, as does Edgar Allen Poe. I probably missed at least one other. Each author presents a scene, acted out by the other authors in the room, then the audience votes on their favorites with the two "winners" competing for a ticket to Heaven, or plummeting straight to Hell. Clever short stories, delightfully exaggerated impressions, and a sense of fun prevail.
The St Lou Fringe Festival would not be complete without a few acts featuring artists who strike out to tell their own story, using their craft. A veteran of multiple Fringe festivals, touring artist Jim Sea stuns audiences with his one-man show They Call Them Unredeemable. Using facts and an actual case study, the play about sexual violence in contemporary America considers the possibility of reform as a lasting outcome. The stories of three very different individuals are expertly braided together, and Sea imbues each character with gravitas and believability through subtle choices.
Stryker Spurlock examines his upbringing and finding his place in the world in the sometimes flippant but always on point stand up comedy Power and Self. With an easy, unaffected manner and sharply intelligent observations, Spurlock takes us on a journey of a twenty-something navigating the odd twists and turns of growing up and striking out on your own. Good, with in the moment quips and snappy comebacks, Spurlock draws the audience into his world and leaves them feeling like they made an odd but friendly connection. In a good way.
The Checkered Game of Life is one of the most unexpectedly original Fringe shows I've seen. Structured as lecture, the show presents the history of Milton Bradley, his development of "The Game of Life" and how it's distinguished from other games of this genre, and an overview of the purpose of games from an historic perspective. It's truly a lot of information to take in, but the presentation is replete with visual examples, a preponderance of interesting information, and an invested and animated presenter. I'm still not sure if I can comfortably call this a "performance," but I am definitely more informed after watching.
In her Aerialist show, Melissa Allen performs spectacular acrobatic dances in midair while she relates the work she put in pursuing her dreams and always remembering to stretch. The stories are personal and somewhat confessional, with a lot of everyday realities we can all relate to as expressed by a persistent artist and athlete constantly seeking challenges. Allen regularly performs in Strauss Park during the summer, her St Lou Fringe performance added storytelling and a lesson or two in entertaining fashion.
Finally, Lola Van Ella's Burlesque Circus was a one-weekend only treat combining burlesque, cabaret, and a healthy dose of sexual titillation. Van Ella, a well-respected teacher and incomparable performer, is the ringmaster of a most unusual collection of circus acts that include a focus on male burlesque. The mood is a bit raucous and the dancers, featuring performers from Chicago and Iowa, perfectly respond with sensual, teasing routines that are exemplary of the art form. The most outstanding performance of the night for me, however, is the single non-stripping piece. Incredible isolation, robotic and "pop and lock" movements, as well as a sweetly creepy tone, ensure the short piece is captivating and awe-inspiring.
Related Articles