Theatre Reviews
Theatre Reviews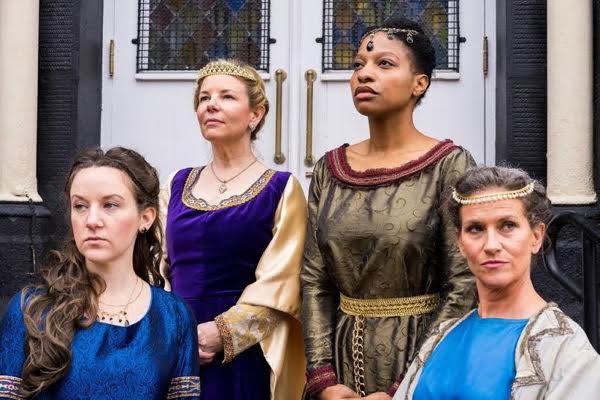 An Unabashedly devilish 'Richard III' embraces the dark side of royalty, politics, and revenge
By Tina Farmer
Directed by Suki Peters and running through April 17, St. Louis Shakespeare's current production of the Bard's "Richard III" embraces the eloquence of deceit and manipulation in a gleefully dark and riveting production that steamrolls courtly etiquette and political loyalties in pursuit of the crown.
Unbridled ambition requires a certain skewered courage, marked by an unflinching commitment to success at any cost. Richard, the Duke of Gloucester, possesses these qualities in abundance, and, as portrayed by Charlie Barron, exercises them with fiendish ferocity. Skilled in war and strategy, he employs his cunning to remove all obstacles to the throne, including his brother, nephews, and anyone he deems an impediment.
Barron infuses Richard with the swagger of a bad boy who revels in his misdeeds. His delight in the cat and mouse game he's playing with the court is apparent with every gesture and mischief-filled glance. From lies that flow trippingly from the tongue to the flippant dismissal of a friend about to be beheaded, Richard feigns nonexistent concern as he takes his next scheming step to the crown. This is a story destined to end poorly, and even a ghostly haunting fails to dim Richard's all-consuming lust for power.
Barron's performance is captivating and ably supported by a strong cast that's uniformly solid with the language, affectations, and interpretation. Michelle Hand is perceptive and protective as Queen Elizabeth, desperately trying to save her sons and, ultimately, thwarting Richard's attempt to solidify his claim through marriage. Off the battlefield, she proves to be Richard's most formidable opponent.
John Foughty is loyal, and therefore vulnerable, as Richard's closest confidant the Duke of Buckingham, while Erik Kuhn fights valiantly and speaks with winning appeal as Henry, the Earl of Richmond, future king, and vanquishing hero. Jennifer Theby-Quinn is heartbreakingly conflicted as Richard's reluctant first wife Anne Neville, and all too aware of her role as a pawn with limited lasting value. In addition, Jeanitta Perkins, Margeau Steinau, Brian Rolf, Michael Pierce, and Brennan Eller all contribute effective, moving scenes, while Alex Bollini and Riley James comport themselves well as the young, doomed princes.
Purposeful and articulate direction by Suki Peters, assisted by John Wolbers, keeps the show moving while ensuring both the dialogue and sub-context are clearly communicated. Dramaturge Elizabeth Henning and Fight Choreographer Kuhn are also to be complemented for their contributions to this highly entertaining production. The dialogue is crisp and delivered with clear intention and the fight scenes are tense, clanging, and action-packed.
The company uses the entire stage and thrust of the Ivory Theater, drawing the crowd in and giving this history play a palpable sense of urgency. Scott McDonald's sound design, filled with military drums, sets an appropriate tone for the show and is well matched by Kyra Bishop's set and Ted Drury's sound. J.C. Krajick's costumes provide an elegant finishing touch that also defines the period.
In the end, the wronged get their revenge, though Richard puts up quite a fight. Barron's interpretation of the famous "A horse. A horse. My kingdom for a horse," is a battle cry delivered with gusto and bravado. Perhaps madness has him feeling invincible? It is more likely that he simply knows no other way to exit than with a show of gamesmanship and a fight to the death.
St. Louis Shakespeare's"Richard III" is a compelling and twisted tail chronicling the rise and fall of one of England's most despised rulers. Delivered with a fast pace, sharp tongue, and delightfully dark anti-hero, the show stays true to the script and entertains with an edge.
Related Articles