Classical
Classical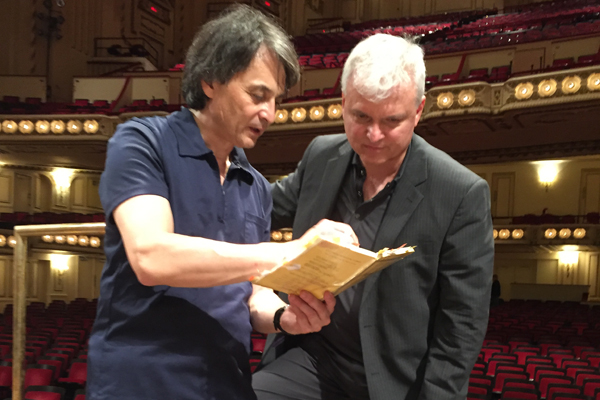 Richness of the Germanic tradition evident at the St. Louis Symphony, March 18-20, 2016
By
Of all the Beethoven repertoire, the Violin Concerto in D Major occupies a unique place. It was not designed for sheer virtuosity, although that is required, but exudes an elegant simplicity and refined melodic line that approach the sublime. Like the Ninth Symphony, its basic melodies can be hummed by children, yet they soar to lofty heights under Beethoven's careful development.
Concertmaster David Halen, long a favorite of St. Louis audiences, performed the Violin Concerto on the weekend concerts of the SLSO of March 18-20, led by guest conductor Jun Märkl, who has established a distinguished reputation as an interpreter of German music. Märkl opted for a smaller ensemble of musicians for both the concerto and the Overture to "Fidelio" that opened the program. A smaller orchestra means that all musicians must articulate very carefully, being more tonally exposed, but it also ensures a level of good balance between the orchestra and soloist. Although the resulting effect seemed a bit tightly held, both Halen and the orchestra turned in a clean and well-sculpted performance. Halen's stage presence was particularly well-suited for this concerto, since he seemed intent on remaining part of a team, striving not to be the center of attention, but rather the voice of Beethoven.  
Both Beethoven works were solidly performed, with careful attention to detail. Halen clearly knew the concerto well and understood the phrasing. However, both seemed to lack a spirit of spontaneity. Beethoven is known for his ebullience and ingenuousness. Those qualities were certainly not lost, but were not as fully expressed as one might have hoped.  
Interestingly, however, the Symphony No. 3 in E-flat Major by Robert Schumann, known as the "Rhenish," sparkled with spontaneity. A listener could easily imagine sailing up the Rhine River near Dusseldorf amidst splashing waves and bright sunlight. Schumann had characterized the river as a "majestic father" and "a German god," and its iconic status is undeniable. Hearing Schumann's bold and youthful portrayal of the Rhine, it is sobering and difficult to realize that in 1854 Schumann, in the throes of mental illness, would attempt to end his life by plunging into the river's icy winters during winter. But in 1850, when he first conceived of the symphony, the Rhine was Schumann's friend and muse.
Jun Märkl and the orchestra delivered a shining and rhythmically vivacious outpouring of Schumann's music. Listeners seemed to be captivated, and the symphony's half-hour or so of length seemed to fly by. Märkl conducted from memory, and it was evident that he knew every inch of this work. Perhaps the balance between the magnificent brass sections and the strings and woodwinds was not as carefully weighed as in the Beethoven works, but that didn't seem to matter; this symphony pealed across the hall like bells ringing from cathedrals along the Rhine.  
The works presented on this program spanned scarcely 45 years of music history, all emanating from the Germanic tradition, and yet they demonstrated just how rich and original that tradition is. 
Related Articles