Film Reviews
Film Reviews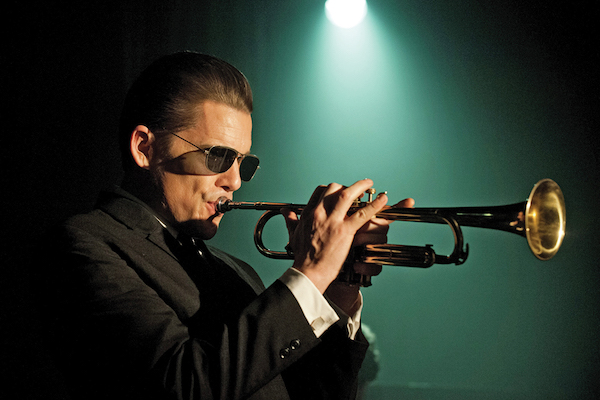 'Born to Be Blue' riffs on Chet Baker's life
By Diane Carson
In the Chet Baker biographical film Born to Be Blue, writer/director Robert Budreau honors his famous subject's improvisational music by riffing on events from Baker's life. In other words, Born to Be Blue doesn't present a straight chronology of Baker's rise and fall. Instead, Baker first appears in the late 1960s in an Italian prison cell.
A Hollywood producer offers Baker the starring role in a movie about him (a film never completed), before we move to intermittent flashbacks to Baker's brilliant trumpet playing at Birdland, 1954, with Miles Davis and Dizzy Gillespie on hand. Alternating color with black and white footage to signal different time periods, and playing fast and loose with actual details, the story follows Baker's fortunes, including the brutal beating that left him without front teeth, his love life (Jane as a composite of many lovers), his heroin addiction and his uneasy battle against it.
The loosely linked episodes work because of Ethan Hawke as Baker, Carmen Ejogo as Jane, and Callum Keith Rennie as Dick Bock, Baker's producer. With Jazzman Kevin Turcotte contributing the trumpet work, Hawke's performance is extraordinary. He shifts fluidly through Baker's moods from defiance and assertive confidence to needy vulnerability and emotional dependence. Hawke's body posture, his eyes and facial muscles relax or tighten depending on Baker's physical and psychological register. As Jane, Ejogo offers an effective counterpoint with her solid support and unwavering moral compass.
In an exquisite scene Baker visits his Oklahoma home. One short exchange with his father, a noted guitarist in his own right, illustrates how this parent drives an arrow through Baker's heart with words that boldly wound and unnerve Chet. The intention to harm is clear, and the chill lingers through subsequent scenes with his father's naked cruelty. This informs Chet's desire and need to please Dizzy and Miles at his Birdland comeback.
The pacing by editor David Freeman complements the jazz rhythms, with creative touches along the way. Steve Cosens' cinematography captures the time periods and moods with atmospheric lighting. I hope Born to Be Blue sends audiences back to that Baker song and his other great jazz. At Tivoli Theatre through Thursday, April 7.
Related Articles