Theatre Reviews
Theatre Reviews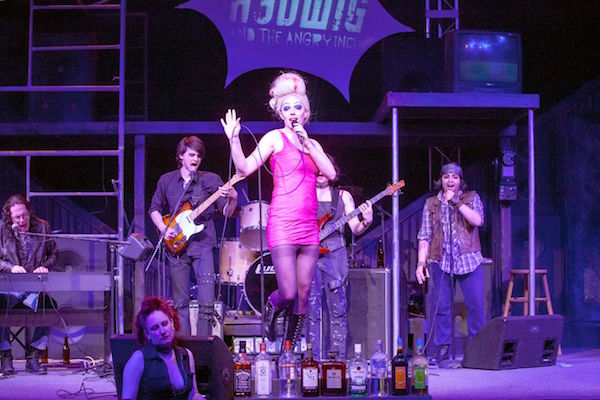 'Hedwig and the Angry Inch' gives character study a kick of punk rock self-aware smarts
By
When Hedwig brings her Angry Inch band to St. Louis, you better get ready for a punk rock throwback that's still a force to be reckoned with. This is the premise, feel, and atmosphere Stray Dog Theatre has created for their production of John Cameron Mitchell's angry ode to the downtrodden working class, running through April 16, 2016 and directed by Justin Been. This is Hedwig's story and uniquely hers, but she shares kinship with musicians, artists, and rebels -- transgender, queer, and straight -- who have stories they are compelled to tell. Fame be damned.
Hedwig, played with deteriorating confidence and swagger in a breakout performance by Michael Baird, is a hard-rocking girl who's lived a hard life. Born a boy in East Berlin, she is now a divorced cold war bride, victim of a botched sex-change operation, and spurned lover of a new famous rock star. A rock star who happens to be performing this night at Busch Stadium and may be the "other half" she needs to feel complete.
The audience is witness to a performance by Hedwig, her band The Angry Inch, and Yitzhak, her opening act, lead back-up singer, and current husband. To accommodate the show, Tower Grove Abbey, the company's home theater, has been transformed into a seedy club, with a bar at the foot of the stage. The bar is open throughout the performance, and privileged patrons in the front row have tables and wait service.
Baird is fearless in his performance -- scaling scaffolding, chugging liquor, stomping around in platform heels, and engaging the audience in casual banter. His performance feels very in the moment, with alcohol loosening Hedwig's tongue and self control. He embraces the physicality of Hedwig, brazenly strutting, climbing, dancing, and being the diva without forgetting to show every vulnerability and emotion she's feeling.
Anna Skidis Vargas, as Yitzhak, is a bit shy, a bit mischievous, and completely sympathetic. Even when Yitzhak is at wits end over Hedwig's behavior, he shows he still feels genuine affection and concern for her. The band is similarly in tune with and accustomed to Hedwig's onstage antics. They occasionally engage in friendly sparring with Hedwig, particularly guitarist Khryzhtoff who gleefully taunts and flirts back.
Hedwig's story is revealed between drinks and songs, kicking things off with the rousing "Tear Me Down," a high-energy, hard rocking number that stirs the audience. "The Origin of Love" mixes projected video, song, and storytelling to tell of Hedwig's youth, setting this strange heroine's journey in motion. "Sugar Daddy" has a honky-tonk ska feel that changes the pace as Hedwig changes countries, and is followed by the eponymous "Angry Inch," complete with rock anthem smoke effects and an audience sing along.
All the songs, from "Wig in a Box" to the "Long Grift" and "Hedwig's Lament" to the bittersweet, feel good "Midnight Radio," compliment the story and Hedwig's descent from struggling artist to fading uncertainty. The band and Skidis Vargas provide excellent backing, and though the arrangements suit Baird's voice and strengths, Skidis Vargas filling in the spaces between and betwixt the notes is a brilliant combination that takes the show to another level. The remaining song, "Wicked Little Town," is an infectious, slightly sinister pop treat that deserves the transformative encore that completes the story arc.
Hedwig and the Angry Inch, running through April 16, 2016, is part rock show, part confessional, and all character study. Baird turns in a knockout performance as Hedwig and all her rock star personalities, and his rapport with the crowd is certain to get bawdier, edgier, and more Hedwig as the show continues. So much so, I suspect, that I rather wish I had a ticket to the closing performance. Baird is supported in superb fashion by Skidis Vargas and the band, with music direction by keyboardist Chris Peterson, a fiery A.J. Lane on guitar, M. Kuba on bass and vocals and Bob McMahon on drums, with everyone providing vocals.
Performances at Stray Dog Theatre have been selling out, so check for tickets and availability soon. If you're ready for an unflinching look at a flawed character told to post-cold war punk rock soundtrack, get yourself a seat for Hedwig and the Angry Inch.
Related Articles