Theatre Reviews
Theatre Reviews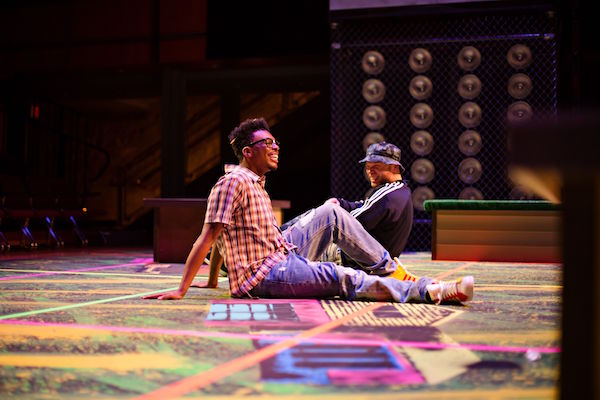 'How We Got On' finds inspiration in the heart and rhythm of early rap
By
Idris Goodwin's skillfully structured How We Got On, set somewhere in 1988 suburbia, eloquently delivers more than just the history of rap music. The play is also a story about teens caught in "the middle" who found something in rap music that compelled them to create their own stories. In the University of Missouri St. Louis production directed by Jacqueline Thompson, it is clear that "the middle" can be many things: a place, a time, a state of mind.
The roots of rap music run deep, crossing continents from Africa to the Americas and infusing myriad cultures into a cacophony of sound and lyrics. The music that we recognize today as rap traces to more contemporary ties, as it moved into popular culture during the late 1980s. Hank, played with eager enthusiasm and a brainy approach by Andre Williams, is a black teen living comfortably in the suburbs who finds a means of expression through the rhymes and rhythms of rap. His parents, and many of the kids at his school, look down on rap, but Hank is obsessed. When a teacher allows him to create a rap composition for an assignment, he fully commits.
He soon meets Julian, a student at a nearby school who's also a fan, played with a false swagger and on-point interpretation by Rob White. Hank and Julian agree to battle, but Hank is no match for Julian's well practiced rhymes. The two eventually work together, and are soon joined by Luann, a wealthy student at Hank's school with the ability to freestyle, played with impressive flow and verbal agility by Nicole Keithly. Their story is interspersed with commentary from Alexandria Johnson as Selector, providing narration and exposition while spinning tunes.
Selector gives a brief history on the musical and literary roots of rap before introducing us to the technical advances that made scratching, self-production, and beat creation widely accessible. The students work on their lyrics, figure out beat boxing, looping, and delays, and vocally demonstrate the rhythms and melodies they can create with the new technology. The embodiment of the recorder, the use of space, and the music selections work together to create an immersive exploration of an idea and an art form, told through three teens' self discovery.
Attention to detail and period, the sure hand of director Jacqueline Thompson, and the commitment to character by the four actors is apparent from start to finish. Williams is inquisitive and methodical, but passionate about his music, and he's sometimes a little shy and awkward. White plays cool and tough, but he's uncertain, confused, and struggling to please his father. Keithly effortlessly captures the spirit and language of an 80's teen girl, and her fearless approach is infectious and empowering.
There is a positivity to the show that's energetic and hopeful, with a few moments of pure bliss for added effect. These include Hank's retelling of the moment when he and his father find a connection through poetry; Hank and Luann on the water tower trying to release joy in rhymes; and the moment when Julian re-enacts his father finally acknowledging his son's interest and talent. Though I find the script overall less powerful and effective than other Goodwin plays, the show is musically engaging, entertaining, and informative. The University of Missouri St. Louis student cast creates compelling, interesting characters, and successfully delivers an enjoyable evening of rap and storytelling.
Related Articles