Theatre Reviews
Theatre Reviews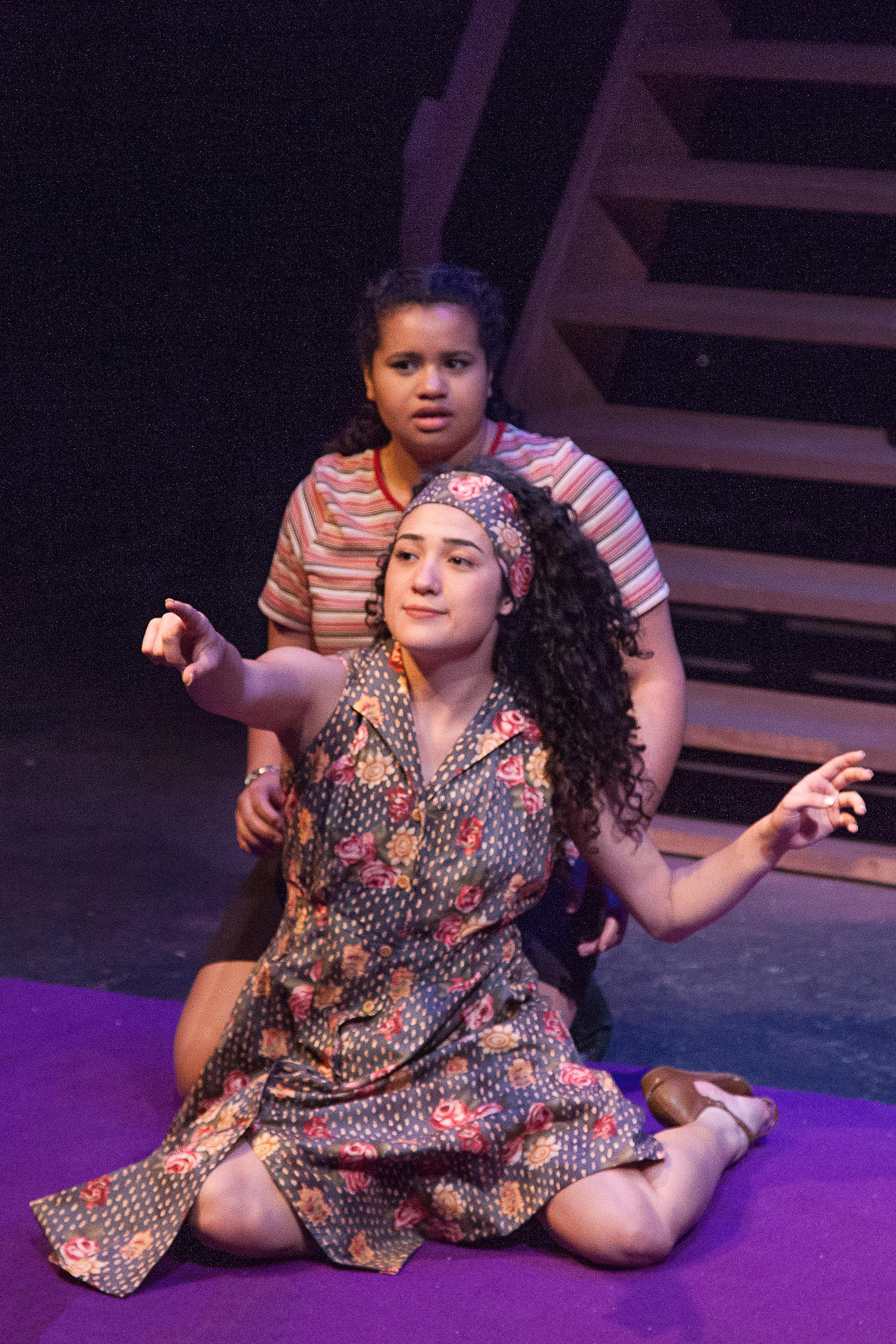 'Luchadora,' a family friendly show with a healthy girl power wallop, wrestles its way into your heart
By
The story of two young women from different generations facing familiar challenges, "Luchadora," produced by Mustard Seed Theatre Company in collaboration with Theatre Nuevo, is a completely captivating and richly layered play. The story of Lupita, a young girl who secretly trains to be a luche libre wrestler, provides courage to Vanessa, a girl who secretly trains as a boxer though her parents think she's in dance class.
Lupita and her father run a small flower shop in a dusty southern town. One day, Lupita delivers a briefcase from her father to the Mask Maker, outfitter of the best luche libre wrestlers, including current champion El Hijo. Lupita soon discovers an important secret about her father that inspires her to train and attempt to take down the champion wearing the mask of the Mascarosa, legendary foe to El Hijo. Nana's memories are vividly compelling and exciting, even with Vanessa's text alerts occasionally interrupting the action.
Thalia Cruz is strong and convincing as young Lupita, and while her wrestling moves are effectively intimidating, she wins our hearts with clear motivation, kindness and a compelling emotional arc. Carmen Garcia is sweet and sassy as Nana Lupita and Isabel Garcia is spot on as American teen Vanessa, guardedly revealing her insecurity and desires to her much loved grandmother. The connection between the two feels deep and genuine.
Cassandra Lopez is completely captivating as the Mask Maker. Part coach, part mystic and all can-do girl power positive, she knows just when to press her character and when to let her flow freely. It's a lovely turn and her bond with Lupita is built on respect and admiration. Cassidy Flynn, as Leopold, is effortlessly impressive once again; he and Ashley Skaggs, delightfully tomboyish as Liesl, are perfectly matched friends to Cruz and the three have natural chemistry. Rahamses Galvan ages surprisingly well as Lupita's father, he is gentle and quietly supportive if stubborn. Carl Overly, Jr. is a hoot and a holler as the formidable El Hijo as well as other smaller characters, Hannah Pauluhn is touching as the sister turned soldier, and the ever-changing Ryan Lawson-Maeske is entertaining in a number of roles, including the boisterous ring announcer.
"Luchadora" directed with clarity and energy by Anna Skidis Vargas, is as heartwarming and gently perceptive as it is empowering. Skidis Vargas ensures the performances and story line avoid treacle, keeping the many threads moving by letting the characters shine. Grown up Nana Lupita, grandmother to Vanessa, tells the story, which is presented in flashbacks as Nana, Vanessa and the audience look on. The stage is suggestive, featuring an oversized Luche Libre poster backdrop, flashing lights, and a porch and walkway well above the main floor where Vanessa and Nana Lupita visit and El Hijo regularly issues challenges for the upcoming fight. But the majority of the action takes place on the floor, which serves as a variety of locations, most impressively the wrestling ring for the final match.
More than just girl power, "Luchadora emphasizes the importance of friendship and of being open to people with backgrounds and stories that differ from your own. Lupita's closest friends are from a family of German immigrants and their older sister runs away to become a soldier, a very unusual occurrence in the early 1960s setting of Lupita's youth. The compelling play by Alvaro Saar Rios is, in fact, stuffed with positive life lessons, even if several of the main characters are hiding big secrets from people they love. With her mentor and an ailing father who can no longer compete, "Luchadora" feels as much "Karate Kid" as "Rocky," and there are significant parallels to both movies, with complex secondary characters and an unexpected story line about the Viet Nam war.
The plot and outcome are familiar -- a youngster overcoming the odds to compete and succeed at a higher level, however "Luchadora" remains fresh and thoroughly engaging. The positive message of this play, initially developed for young audiences, does get a little repetitive at certain times. But there are some surprising details, such as when Lupita's father tells his daughter and her friends about being a migrant worker during their drive from Texas to the Milwaukee and when Vanessa softly confesses to her grandmother that she is afraid to tell her parents of her passion for boxing. The outcome is positive and upbeat, delivered by funny and interesting characters in scenes that are easy to believe. Mustard Seed Theatre and Theatre Neuvo's production of "Luchadora," running through June 17, is truly enjoyable theater that's suitable for the entire family.
Related Articles