Theatre Reviews
Theatre Reviews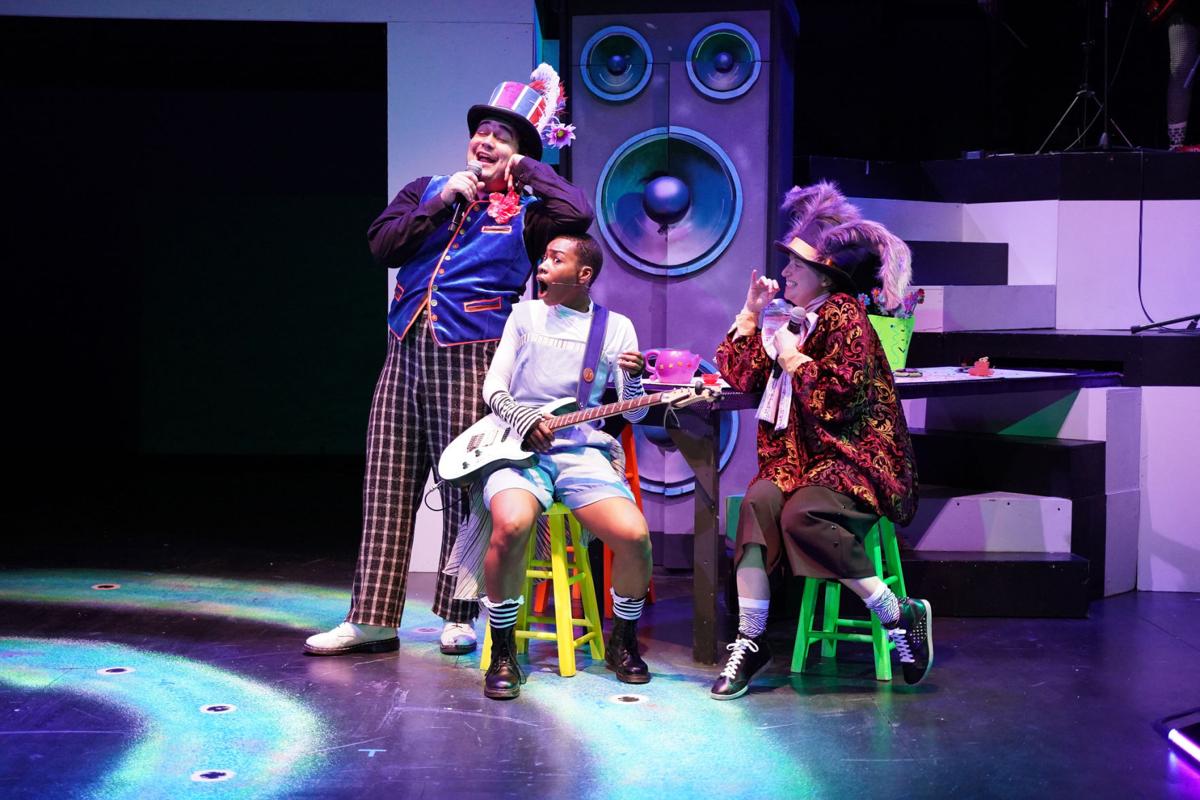 'Wonderland: Alice's Rock and Roll Adventure' is a family-friendly, musically driven retelling of a long-time favorite
By
Metro Theatre Company's spirited show is a highly entertaining musical for families and young adults that delivers an uplifting message to an upbeat pop rock soundtrack. All while staying faithfully close to the details of Lewis Carroll's imaginative, and slightly trippy, original. "Wonderland: Alice's Rock and Roll Adventure" is loud, energetic and unapologetic in a way that resonates with contemporary audiences without wavering from the beloved children's classic.
Poor Alice is stuck at home, bored as her sister takes off on another adventure with friends. At 7 and a half, she's too young for travel or time away with friends, but old enough to understand and long for the novelty of an adventure. Soon enough, the white rabbit scampers by, late as always, and Alice finds herself transported to another world. A talking, time-telling rabbit, a disappearing cat with a mysterious and inviting grin, a caterpillar philosopher, the Mad Hatter, a Tweedle Dee, a Tweedle Dum and one Red Queen to rule them all – it's everyone you remember, completely reimagined.
Positive messages and puzzles that require logic, respect and curiosity to solve present themselves in the cast of odd but familiar characters. Sankofa Soleil makes a bright and charming debut as Alice, and she's joined by a talented ensemble. Standout performances from Patrick Blindauer and Omega Jones command attention in very different ways, and the entire cast is focused and vivacious. Syrhea Conaway, Shannon Cothran, Erika Flowers-Roberts, Wyatt McCall, Jason Moore, and Alicia Revé Like complete the ensemble. Each get their moment to sparkle or be a unicorn and the atmosphere feels like a wildly themed costume party that you don't want to miss.
The show's music director and arranger Lamar Harris adds the finishing touch as DJ Nune, directing from his platform above the stage. It's nice to see him interacting in the audience's view. A few moments get overwhelmingly chaotic and may be confusing or overwhelming for sensitive children and the sound balance needs constant attention to keep from becoming muddied, but the overall quality of the performances and music distinguishes itself from the noise.
Produced by Metro Theatre Company, the musical's positive messages and self-affirming tone feel targeted to tweens, teens and young adults, but the engaging production is theatrically compelling and thoroughly enjoyable for most audiences. The story is completely familiar and absorbing, with character twists and turns that will have you laughing and a soundtrack that feels like the last 40 or so years of pop music that will keep you dancing in your seat.
Scenic designer Cameron Tesson, costume designer JC Krajicek, lighting designer Kylee Loera, sound designer Rusty Wandall and properties master Meg Brinkley each add their appropriately inspired touch. The Cheshire Cat's costume, the pop-up tea party set, the levels and nooks and hidden doors – every element adds to the visual storytelling in a way that supports the show. It's big and bold, adding texture and interest without distracting.
Though the show is completely entertaining, it could use more polish and a tighter pace. Some moments seem extended a touch too long, and there are times when the large cast moves somewhat uncertainly during transitions. Additionally, Alice's guitar created an obstacle, and was clumsily used during the show. As Alice, Soleil has enough stage business and props in the original story and the guitar doesn't add to our understanding of her character. And she certainly doesn't need the instrument to convey her inquisitive and intelligent, but rebellious spirit.
There are so many enchanting moments, recalling a fantastic dream in day-glo color, and the production is winning and optimistic, easily overcoming the few lapses. Additionally, the production seamlessly blends the Naturalism of Carroll's approach with a vibrant, hyper-real pop perspective that fits the here and now, touching visually and musically on the last few decades of pop culture.
"Wonderland: Alice's Rock and Roll Adventure," completed its run in December, but I encourage the company to keep polishing the show and to consider a reprise later in the year. The musical is a captivating, family appropriate treat that gives a favorite story a rocking twist. If you are looking for a way to introduce theater to the young people in your life, I encourage you to follow Metro Theatre Company and consider catching one of their upcoming productions.
Related Articles