Theatre Reviews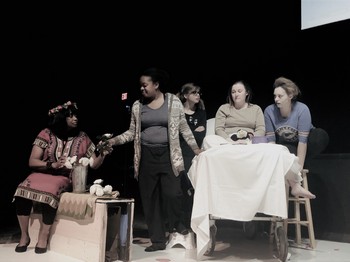 In "Facing" a young woman must reconcile her past, present and future with her diagnosis
Written by

Tina Farmer
Caitlin McCommis' new play introduces audience to Wilda, a young woman whose health and well being are significantly impacted by Crohn's disease. Affecting a person's internal digestive organs and often seriously debilitating, the disease can be difficult to diagnose and "invisible" to others. Recent medical advances and the preponderance of commercials for drugs treating the effects of Crohn's are starting to raise awareness. But there are likely tens of thousands of people like Wilda dealing with Crohn's and other invisible diseases in our region.
Directed by Madelyn Boyne, "Facing," opens just as Wilda receives her diagnosis. Laurell Stevenson effectively shows the pain, relief, anger and uncertainty that accompany her realization that this is a chronic condition, which will follow her the rest of her life. Her story is told in layers, including memory flashbacks to a childhood spent with her grandmother, in dream-like sequences featuring another Crohn's patient and actors portraying the physical embodiment of disease, and in more realistic scenes set in a hospital. The script does her no favors, but Stevenson convincingly inhabits three distinctly different sides of Wilda, and she is particularly lovely and sympathetic in the childhood scenes, with Michelle Dillard as her kind and supportive grandmother.
Tinah Twardowski provides a second perspective as a woman diagnosed as a child, and her performance becomes increasingly compelling and interesting, with some surprising emotional turns that grab notice. Lydia Aiken and Anna Drehmer personify the disease as well as each woman's current relationship with her illness. Aiken and Drehmer contrast each other well, and Drehmer's carnival barker scene is a cheerful break in a show about chronic illness. Nancy Lubowitz adds a touch of humor as the women's doctor. Her character also has Crohn's disease but not the debilitating symptoms; the inclusion is well intended, but at times clumsily written.
The subject is important and McCommis' play is an interesting exploration, but I wish more time was spent in the present, rather than in flashbacks or fantasy sequences. While well structured, these scenes distract from rather than add to our understanding of unseen chronic conditions or Wilda. Boyne ensures that each scene is conveyed with surety of time, place and character, but the transitions are abrupt and several scenes start with timidity, slowing the story's momentum. There are also moments when the actors seem to lose focus and purpose. While Boyne is encouraged to ensure that every movement propels the story forward, McCommis is urged to work on her transitions and to review the script to make certain each scene truly serves the story.
Tesseract shows are usually produced with intentionally sparse, suggestive sets and "Facing" is no exception. With three interwoven story threads, each featuring Stevenson, this can be problematic. More defined set pieces might help with the transitions, and the dream scenes simply fall a bit flat without any accompanying lights, music or props.

There's plenty of tension and an interesting subject matter in "Facing," which has completed its run, but the play doesn't quite come together. I applaud Tesseract Theatre Company, Boyne and the artistic team for their commitment to new work that explores contemporary persons and issues. The ensemble also has moments where the play vibrates with life, energy and conflict, with notable performances by Stevenson, Twardowski and Drehmer. Though the show needs real work, it is still an interesting and entertaining evening of theater.
Related Articles