Theatre Reviews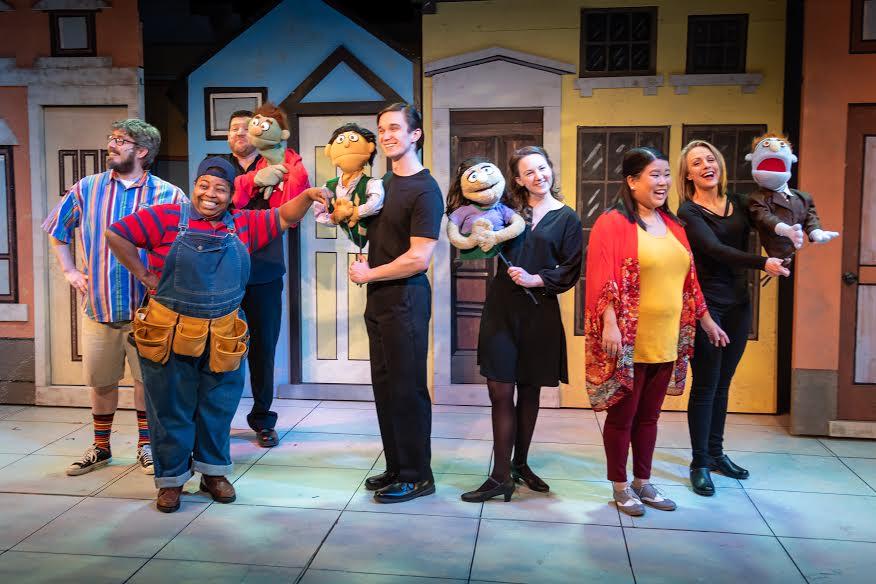 'Avenue Q' teaches universal lessons from its quirkily diverse neighborhood
Written by

Tina Farmer
"Avenue Q," a bright and cheerful musical that surreptitiously asks what acceptance really means, delivers important lessons about racism, prejudice, getting along, and what to do with a BA in English and no job prospects. The current production, on the intimate Playhouse at Westport stage, is vivacious and friendly, with proximity emphasizing the connection between the characters and audience.
The musical is oddly whimsical and fun from start to finish, and framed much like a children's TV show. Appealing characters deliver a potent message of tolerance, self-confidence and accepting people, even yourself, for who they are. In addition to the use of puppets and bright, primary colors, there are lessons delivered via video insets. Belying its sometimes sing-song, seemingly simplified presentation, "Avenue Q" is decidedly more adult in nature and its choice of topics not likely covered on a kiddie show. Ideas like finding your purpose and realizing that everyone really is a little bit racist are both as simple as and more complex and nuanced than "be kind to each other," even when stripped to their most basic meaning.
In the current production, many of the actors who inhabit this somewhat rundown neighborhood are familiar to local theatergoers, emphasizing the sense that the characters they portray really are people you might bump into during the course of your day, even the monsters, Kate and Trekkie. The theater size is integral to the overall tone and performances as well, and cannot be overlooked. Familiarity combined with the room's close seats and smaller capacity makes this production a little less splashy and brightly lit than those on the big stage. Yes, the characters are still highly stylized, but they are less exaggerated and, at times, more revealing and sympathetic on this stage.
Jennifer Theby-Quinn and Andrew Keeler are adorable as puppets Kate Monster and Preston, with an awkward attraction that might just find them together despite their insecurities. Each also portrays a second character, Theby-Quinn the va-va-va-voom songstress Lucy and Keeler the closeted, endearing Rod. Theby-Quinn's seamless shift from the sincere, gullible Kate to the sultry, take what she wants Lucy is particularly appealing, while Keeler ensures that two characters who have a lot of the same challenges - each is less confident, uncertain about embracing their true selves, and stubborn - are still unique and compelling.
Grace Langford is pointedly sarcastic and fabulously funny as Christmas Eve, with a voice that's pure gold, and comedian Brett Ambler is solid as her everyman husband. Ileana Kirven, as Gary Coleman the former TV star turned neighborhood super, seems to genuinely care about the residents, even when throwing shade, and the talented Kevin O'Brien and April Strelinger round out a thoroughly enjoyable cast. Several actors play multiple characters and it is genuinely fascinating, in a theater fangirl way, to watch them switch between strikingly different voices, personalities and attitudes.
The mash up is incredibly fun and effective, which makes audiences more receptive to the underlying themes. "Everyone's a Little Bit Racist" "If You Were Gay," "The Internet Is for Porn," and "You Can Be as Loud as the Hell You Want" keep the audience laughing even as they point out sometimes uncomfortable truths. "It Sucks to Be Me," "My Girlfriend Who Lives in Canada," and "The More You Ruv Someone" offer hilarious takes on real life conundrums. Songs like "Purpose," "A Mix Tape" and "There's a Fine, Fine Line," are more insightful and reflective, ensuring that a spectrum of emotions and relatable moments are smartly delivered in musical fashion.
Director Lee Anne Matthews keeps the show moving at a quick pace, with an assist from Ben Nordstrom's lighthearted choreography. The transitions are smooth and aided by Dunsi Dai's cleverly cartoonish set design and, in this production, costumer Rissa Crozier puts the humans and puppets in brightly colored attire while the puppet handlers are dressed in all black. The nod to tradition is smart in that it also ensures the puppets get the focus they deserve, though the puppeteers expressions add much to our interpretation of emotion and personality. With such a small stage, the choice also creates visual space between the characters, helping the audience to follow along in the fast moving show.
With music and lyrics by Robert Lopez and Jeff Marx, and based on their original concept with a book by Jeff Whitty, "Avenue Q" is no longer a new musical. But its themes and messages are still relevant and the characters retain their broad, relatable appeal. Strong performances and a true sense of camaraderie and affection between the cast, as well as generous inclusion of the audience, ensure the show entertains as it delivers messages that resonate in contemporary America. Laugh out loud funny but with a generous, good-natured heart and the desire to breakdown barriers, "Avenue Q," continuing through March 17 at the Playhouse at Westport Plaza, is an authentically uplifting and thoroughly enjoyable show.
Related Articles