Theatre Reviews
Theatre Reviews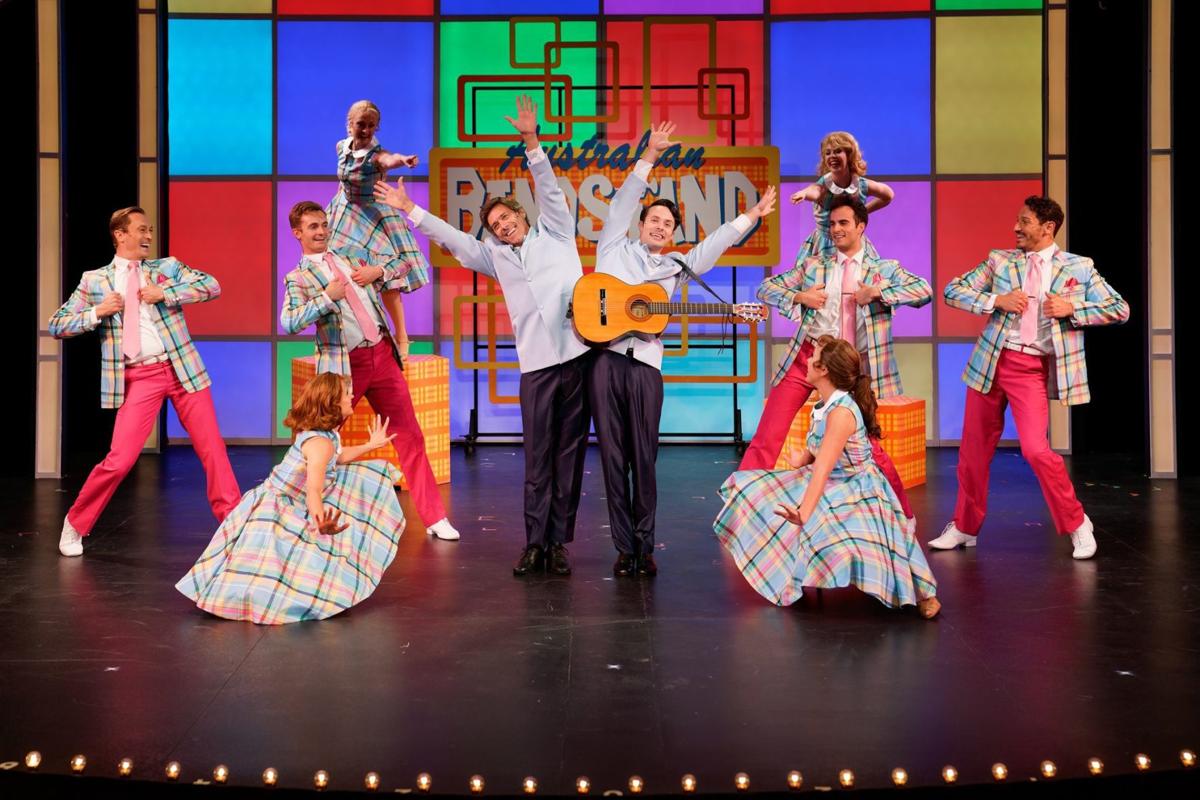 David Elder impresses in 'The Boy from Oz,' a musical revue of the life and loves of Peter Allen
By
STAGES St. Louis opens their season with a wild, slightly campy musical revue of the of Australian-born singer songwriter Steve Allen. The show gets off to a languid start, filled with boyhood memories and back story, but the light show really gets moving in the second act. That's when the show kicks into full Broadway mode, with high-energy renditions of some of Allen's most popular songs, tempered by a few seriously gorgeous ballads.
Born in Tenterfield, New South Wales, Australia and christened Peter Woolnough, Allen always had big dreams and loved to entertain. After teaching himself to play piano, he started working in local pubs as a young teenager. His drive to perform may have been influenced by a desire to get away from his alcoholic father and provide a little extra money for his beloved mom. Peter soon became musical partners with Chris Bell, under the stage name the Allen Brothers, and the two were locally popular with frequent appearances on Australia's "Bandstand."
Allen was also known for his capricious, flirtatious nature, a fact that got him into trouble more than once as he sought the company of men in addition to women. His open attitude towards sexuality resulted in the duo getting booked in a Hong Kong hotel after a scandalous episode between Allen and a local politician. It was in Hong Kong where they met the legendary Judy Garland, who took them under her wing, enabling Allen's career to take off and introducing him to his future wife, Garland's daughter Liza Minnelli.
David Elder sparkles and sashays as Allen, with an infectious spirit and charming Aussie accent. Elder revels in the big splashy dance numbers and also seems to truly enjoy the casual interactions he has with the audience. Elder is a smooth baritone with a solid range that easily handles the arrangements and he brings boundless energy to the part. A strong rendition of "The Lives of Me" kicks the show off and Elder doesn't slow down from that moment through the infectious, crowd-pleasing "I Go to Rio" encore.
Memorable songs in between include "All I Wanted Was the Dream," sang by a smoky-voiced Michele Ragusa as the inimitable Judy Garland. "Best That You Can Do," the Oscar-winning theme from the movie "Arthur," features Allen and Caitlyn Caughell's sympathetic powerhouse Liza Minnelli and "I Honestly Love You," with a tender, heartbreaking interpretation by Zach Trimmer, as the true love of Allen's life, Greg Connell. There's sharp work by the entire ensemble and STAGES mainstay Corrine Melançon has the house in the palm of her hand for her touching and tear-inspiring "Don't Cry Out Loud."
Ben Iken and Simon Desilets share the role of young Peter, with Iken filling the role the performance I attended. Iken is an eager and appealing young Peter, with solid dance skills and a pleasant voice that complements Elder. Steve Isom is notable as both Peter's father and promoter Dee Anthony and Erik Keiser is appealing and steadfast as Chris Bell, the other half of the Allen Brothers. Brad Frenette, Nic Thompson, Frankie Thams, Madison Tinder, Lydia Ruth Lawson, Bryn Purvis, Ashley Chasteen, Nathaniel Burich, Caleb Dicke and Kari Ely complete the ensemble, and Thompson keeps the corps in line as the dance captain.
Dana Lewis provides precise choreography, turning the theater into a Broadway showcase with the big splashy numbers and keeping the smaller numbers focused and intimate. Costume designer Brad Musgrove creates beautiful outfits, complete with feathery capes and extravagant headdresses, for the bit Ziegfeld Follies-like numbers at the end of the show, creating a lovely nod to Allen's childhood dreams. James Wolk wisely keeps the scenic design to a minimal, the big neon lit proscenium arches and a piano are really all that's needed for the show. Wolk uses a judicious eye to quickly add or remove pieces that enhance each scene. Musical director Lisa Campbell Albert keeps the show moving along with excellent arrangements that suit each actors voice and speed up transitions, and the audience reacts warmly as the capable orchestra strikes the first notes of familiar numbers.
Director Michael Hamilton ensures Allen's story is told with both drama and humor, and he wisely creates strong moments of dramatic tension, particularly the scene where we learn of Allen's father's death, intermixed with naturalistic acting – the scene where Allen and Chris Bell first meet Judy Garland is humorous, but also reveals much about her need for attention and Allen's ability to read both a room and an individual. The scene is telling but authentic and Hamilton sprinkles these realistic moments throughout a show that is otherwise upbeat, loud and flamboyant.
Allen may not be as well remembered as a performer today, but his prolific song writing talents ensure his legacy remains strong. As you enjoy "The Boy from Oz," continuing through June 30, you may be surprised at the number of well-known, memorable songs he wrote or touched by his determination to live his truth. David Elder expertly channels the spirit of Allen in a winning performance that showcases Elder's warm voice and ability to command attention. The snappy musical revue salutes Allen's enduring talent with a lively production that introduces new audiences to the man behind the music. Though romantic subjects and preferences are discussed, the show is purely PG and a fun time, whether you're familiar with Allen or just meeting him via Elder's fabulous portrayal.
Related Articles