Theatre Reviews
Theatre Reviews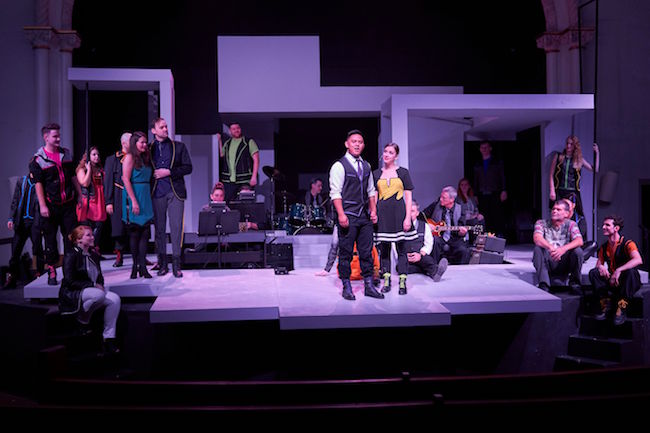 'The Who's Tommy' gets the high score with a psychedelic anti-establishment twist
By
Stray Dog Theatre brings the darkly twisted story of "The Who's Tommy" to life in a raucously infectious rock musical that absolutely satisfies without trying to emulate either the concept album or 1970s movie. Director Justin Been, music director Jennifer Buchheit and choreographer Mike Hodges strike a resonant rebellious chord with a touch of spirituality and a strong cast turns up the volume and intensity. 
Tommy was born while his father was on the battlefields if World War II. With her husband missing and presumed dead and a young child in tow, Tommy's mom moves on. But, just as she's ready to marry again, her husband returns and Tommy is witness to the primary traumatic events that leaves the boy "deaf, dumb and blind" with no apparent physical cause. Additional traumas and abuse continue, as do his parent's misguided attempts at treatment, reinforcing the wall Tommy has built. The only things he seems to respond to are rock music and pinball.
Kevin Corpuz is in top form as the misunderstood messiah Tommy, he adds a physical energy and contemporary moves to the character, they give the familiar character a unique aspect that lifts the show. Corpuz voice is well suited for the score and he brings charisma to the part that keeps his character compelling and entertaining. Director Been uses character mirroring to good effect. Corpuz remains present in nearly every scene, observing and sharing influence with Alora Marguerite Walsby and Leo Taghert, who are perfect compliments to Corpuz as 4- and 10-year old Tommy. Walsby has a frighteningly blank and intensely convincing stare. Taghert and Corpuz really connect in character and song, "See Me, Feel Me" is particularly engaging and sympathetic.
With specific choices and peculiarities, Phil Leveling as Captain Walker, Kelly Howe as Mrs. Walker, Corey Frank as Uncle Ernie and Tristan Davis as Kevin, each stand out in support. Franks and Davis artfully suggest the physical and sexual abuse while completely respecting the actors playing Tommy. There, in fact, appears to be considerable effort made to communicate the story idea in ways that may make the audience uncomfortable but are clearly safe. This attention and concern for the artists is appreciated and should be mandatory in all professional companies -- I am pleased to see so many St. Louis-based companies putting an emphasis on this important aspect of artistic creation. The remainder of the cast create an enthusiastic ensemble, and, though there are a few moments when I wish the ensemble would mug towards the audience less, their ever-changing opinion of Tommy -- from freak, to phenom, to spiritual center and, finally, to a young man -- is almost hypnotic in a way that makes the audience want to sway, clap and sing along.
Been, scenic designer Josh Smith and lighting designer Tyler Duenow work well together to create a flexible set that provides the flash and excitement of the inside of a pinball machine while accommodating memory scenes, including war footage and other thematic visual enhancements. Eileen Engel's costumes add a finishing touch that subtly reinforces Tommy's acts of forgiveness and redemption. The costumes mirror the uncertain emotions and edges of the show with a late-60s aesthetic and a few surprising trims and accessories. The only disappointing element is the actual pinball machine, but it's more of a minor note, not a distraction from Tommy's world.
"Pinball Wizard," "Cousin Kevin," and a soaring "I'm Free" are stand out numbers, "See Me, Feel Me" and "Sensation," are layered with a pleasing complexity and "We're Not Gonna Take It" is appropriately anthem-like and cathartic, with a clever directional twist that adds to the sense of spiritual inclusion that drives the show's resolution. "Eyesight to the Blind" and "Acid Queen" are not as vocally successful as other numbers, although Molly Marie Meyer's pole work and choreography as the Gyspsy is quite impressive.
Corpuz turns in his best work to date as the soul-searching, pinball savant and the band and ensemble fully commit to the driving, ever-building score, keeping audience interest and energy on edge for the entirety of the darkly themed musical. The efforts lead to an ending that is surprisingly touching, ensuring that "The Who's Tommy," a twisted little musical for mature audiences continuing through October 26, delivers hope and optimism with a hard rock beat.
Related Articles