Theatre Reviews
Theatre Reviews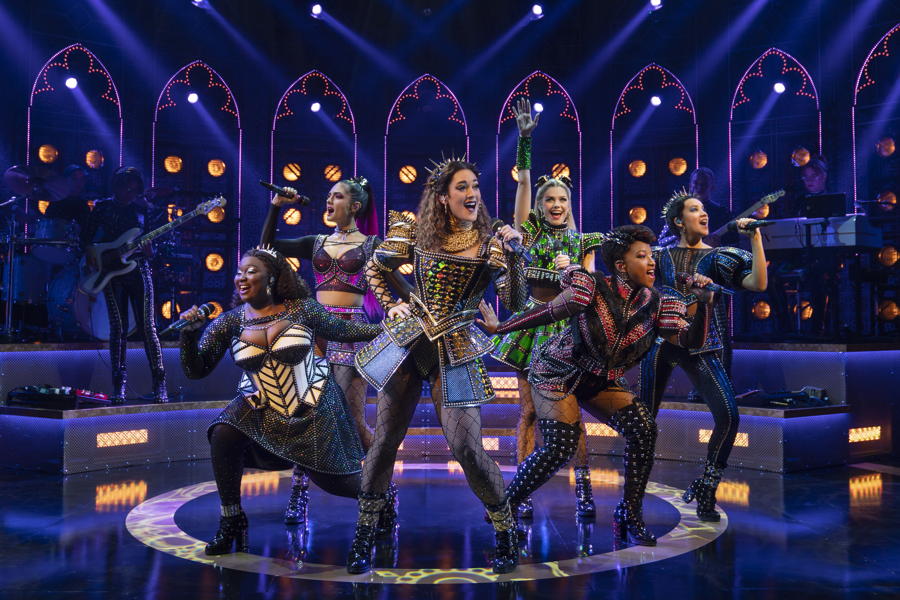 'Six' at the Fabulous Fox remixes history as her story
By Chuck Lavazzi
When Mel Brooks made his now famous comedy "The Producers" back in 1967, the central plot device of a musical comedy based on the life of Hitler was sufficiently absurd to be a joke all by itself.  Since then, though, we've had musicals based on Argentinian dictator Juan Peron and his wife ("Evita"), Presidential assassins ("Assassins"), Lizzie Borden ("Lizzie," premiered locally at New Line Theatre in 2017), and of course, the enticing mix of serial murder and cannibalism at the hands of a barber ("Sweeney Todd").
[Listen to the original Broadway cast album on Spotify.]
So these days Cole Porter and I would suggest that "Anything Goes."
Zan Berube as Anne Boleyn
Photo: Joan Marcus
Still, you might think the essentially tragic fates of the six wives of Henry VIII wouldn't be a sound foundation for a glitzy, small-cast rock musical. If so, you could hardly be more wrong.
Originally written for and performed at Cambridge University in 2017 by students Toby Marlow and Lucy Moss, the musical "Six" went on to the Edinburgh Fringe Festival, the Arts Theatre in London's West End, the Chicago Shakespeare Theatre, and finally, Broadway—where it copped multiple Tony, Drama Desk, and Outer Critics Circle awards. Now, finally, the "Boleyn" USA tour is at the Fabulous Fox through February 5th and local audiences have a chance to find out why "Six" has become an international phenomenon.
The reason why is obvious from the very start. A measure or two of "Greensleeves" (the old folk tune frequently and incorrectly attributed to Henry VIII) quickly gives way to a bass drone and ominous drum thwacks from the onstage band (the appropriately named Ladies in Waiting). Then the six ex-wives, in a moment reminiscent of "The Cellblock Tango," deliver one-word summaries of their fates: "divorced" (Catherine of Aragon), "beheaded" (Anne Boleyn), "died" (Jane Seymour), "divorced" (Anna of Cleves), "beheaded" (Katherine Howard), "survived" (Catherine Parr).
Amina Faye as Jane Seymour
Photo: Joan Marcus
Finally the lights come up on the slick, high-tech set and the Six, decked out in sparkling, mock-Tudor outfits, launch into the defiant "Ex-Wives," the first of nearly a dozen irresistible "earworms" that blend rock, hip-hop, Latin, and pop ballad elements to produce a witty, inventive, and tuneful remix of Tudor history.
The premise of "Six" is that Henry's ex-wives have returned as contemporary pop/rock divas. They can't decide who should lead their new group, though (divas are like that), so they'll tell their own stories in song and the audience will vote on who gets to lead the band based on who got the worst deal from jolly old King Henry.
The problem with that is that they're still defining themselves in terms of Henry. And that, as they triumphantly sing in the last number, stops now:
We're one of a kind
No category
Too many years
Lost in his story
We're free to take
Our crowning glory
We're SIX!
Tercia Marie as Anne of Cleves
Photo: Joan Marcus
They've come a long way, baby. And they're portrayed by six preternaturally talented performers.
Substituting for an ailing Gerianne Pérez, Dance Captain Cecilia Snow is a bold, assertive Catherine of Aragon. In "No Way," she makes it plain that Henry's annulment of their marriage is just the last in a series of outrages. "If you think for a moment / I'd grant you annulment, just hold up / There's no no no no no no no way." In a sharp contrast, Zan Berube is hilariously clueless as Anne Boleyn, who Marlow and Moss have turned into a pop punk airhead in the ironically titled "Don't Lose Ur Head."
Amina Faye's wounded but resilient Jane Seymour has one of the more emotionally powerful songs in "Heart of Stone." "You can build me up / You can tear me down" she sings, "You can try but I'm unbreakable." There's an unmistakable resemblance to "Unstoppable" by Sia who, along with Adele, is listed in the program as one of the "Queenspirations" for the character.
"The House of Holbein"
Photo: Joan M archs
"House of Holbein," a hilariously on-point parody of European techno (think Kraftwerk's "Trans-Europe Express") leads into "Get Down," in which unforgettable Tercia Marie jubilantly gloats over being "Queen of the castle" despite being cast aside by Henry. Not surprisingly, the Queenspirations for her "I'm too sexy for my crown" attitude are Nicki Minaj and Rihanna.
Aline Mayagoitia has possibly the biggest acting challenge, moving from unapologetic sexy bad girl ("I'm the ten amongst these threes") to abuse victim in the course of "All You Wanna Do." At a little over seven and one-half minutes, it's a chillingly concise mini-tragedy, and Mayagoitia could not be more convincing.
Finally, there's the inspired and inspirational Catherine Parr of Sydney Parra. Her song, "I Don't Need Your Love," begins with a heartbreaking farewell letter to love Sir Thomas Seymour (from whom she had to part because of the arranged marriage with Henry). But it ends with a ringing declaration of her independence from the king (whom she outlived) and a reminder of her individual accomplishments as a writer and education advocate.
Aline Mayagoitia as Catherine Howard
Photo: Joan Marcus
Marlow and Moss have written a score that's melodically memorable and stuffed with clever rhymes and historical references. The way in which they have recontextualized 16th-century history in a 21st-century rock concert setting is just plain ingenious. In fact, everything about "Six" is a brilliant example of old Tudor wine in new, high-tech bottles, all packaged as a short (under 90 minutes), fast-paced one-act.
Too many newer musicals, in my experience, suffer from theatrical overkill, running just a little too long with just one or two production numbers too many. "Six" is one seamless package with just the right amount of everything.
Sydney Parra as Catherine Parr
Photo: Joan Marcus
The tight, energetic music of the Ladies in Waiting (Katie Coleman, Sterlyn Termine, Liz Faure, and Caroline Moore) keeps the energy level high and Carrie-Anne Ingrouille's intricate, character-driver choreography creates a torrent of arresting visuals. It also looks demanding to perform, with the actors often moving in tightly packed formations that would give even the late Bob Fosse the fantods. But they carry it off flawlessly.
"Six" will continue to light up the stage at The Fabulous Fox through March 5th. It's a welcome change of pace from some of the bloated mega-musicals of recent years. Don't miss it. More information is available at the Fabulous Fox web site.
Related Articles