Theatre Reviews
Theatre Reviews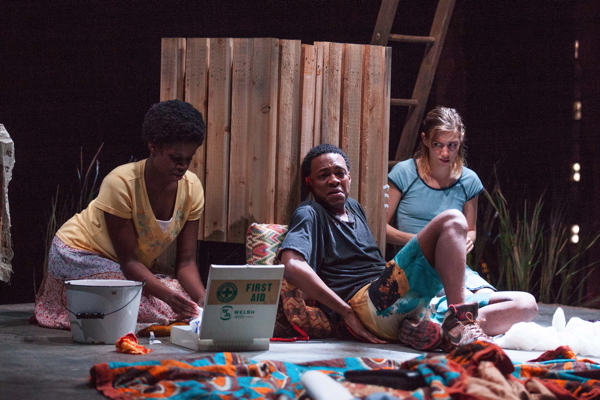 At the Humana Festival, 'Cardboard Piano' demonstrates the fragile quality of mercy
By
Dramatizing contemporary political events is a risky proposition. A story "ripped from the headlines" can have immediate impact but fade quickly as the latest outrage takes center stage. Fortunately, Hansol Jung's gripping drama Cardboard Piano manages to balance that sense of immediacy with a contemplation of deeper issues.
It's New Year's Eve, 1999, and in a church in Northern Uganda Chris, the daughter of an American missionary, and Adiel, a local teenage girl, are preparing to welcome the new millennium with a secret wedding ceremony. Their celebration is interrupted by the unexpected arrival of Pika, a child soldier in the infamous Lord's Resistance Army fleeing the brutal commander who has cut off the boy's ear for failing to carry out a sadistic command.
Chris and Adiel patch his wounds, but as subsequent events demonstrate, the damage to his soul runs much deeper. As the first act comes to a violent close, it seems that the play has nowhere to go, but when the second act opens in the same church ten years later, it's clear that Ms. Jung's concerns go beyond a simple contemplation of the horrors of war.
As Paul, the church's Ugandan pastor, rehearses a sermon on the parable of the Good Samaritan with his wife Ruth, the scene looks peaceful enough. (The Biblical resonance of the names will prove significant.) But as in the first act, that peace is shattered by the appearance of a third party -- Chris, now an adult and hoping to bury her late father's ashes in the church garden. Her arrival sets in motion a series of dramatic explosions that strike at the heart of Christian concepts of mercy and forgiveness.
Interviewed in the program book, Ms. Jung notes that "religion can do two opposite things. It can destroy, hurt, and be an instigator of violence, but it can also be the only thing capable of controlling that violence. . . . I am a Christian, but I've always interrogated what that means. That really influenced the writing of this play." Forgiveness, as the subsequent action of the play suggests, is not an easy thing to truly grant -- and may not always be justified.
Cardboard Piano uses the same cast for both acts, with the performers playing the roles of Adiel, Pika's commander, and Pika appearing in the second act as, respectively, Ruth, Paul, and Francis, a gay teenager who is leaving town to escape the rabid homophobia of the town's populace. That adds interesting resonance to the characters and gives the actors an opportunity to demonstrate their impressive range.
As Paul and Pika's commander, Michael Luwoye has perhaps the biggest challenge, since the roles are so radically different. He meets it brilliantly, creating two sharply contrasting and credible characters. Nike Kadri also makes Adiel and Ruth different enough to make suspension of disbelief easy, as does Jamar Williams as Pika and Francis. Briana Pozner very effectively differentiates the teenaged and adult versions of Chris with subtle and consistent changes in vocal inflection and body language, assisted by Ms. Jung's smartly crafted dialog.
Director Leigh Silverman guides this all with a sure hand and Scenic Designer William Boles's set makes creative use of the Jory Theatre's intimate black box space.
As our own domestic political process plays out the conflict between a version of Christianity based on mercy and compassion vs. one based on anger and judgment, the issues in Cardboard Piano feel both immediate and timeless. I'd be surprised if this play didn't have a life after Humana.
Cardboard Piano runs through Sunday, April 10 in the Jory Theatre at Actors Theatre of Louisville as part of the 40th Humana Festival of New American Plays. 
Related Articles