Theatre Reviews
Theatre Reviews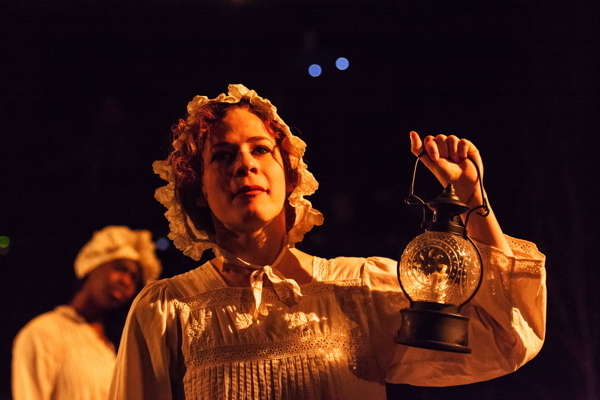 At the Humana Festival, 'Wondrous Strange' combines creepiness and comedy
By Chuck Lavazzi
Every edition of the Humana Festival features a program of short one-act plays organized around a common theme and performed by the students of the Actors Theatre of Louisville's Acting Apprentice Company. This year's show, Wondrous Strange, focuses on ghosts and the supernatural and takes its title from Horatio's exclamation of astonishment after seeing the ghost of Hamlet's father, "O day and night, but this is wondrous strange!"
"Kentucky's supernatural lore fills anthology after anthology," writes Jessica Reese in the program book, "and every year, thousands of visitors head to the state's haunted landmarks, from posh hotels and mansions to dive bars and Civil War sites. . . . This season, four fearless writers -- Martyna Majok, Meg Miroshnik, Jiehae Park, and Jen Silverman -- have been invited to venture into the spirit realm and examine the unexplained and the uncanny."
The resulting short (70 minute) collection of nine plays, sketches, and "blackouts" is a bit uneven but taken as a whole it's great fun and performed with skill and versatility by a company of 20 talented young actors. Even though we saw it at a 10:30 a.m. matinee, the show still created an appropriately spooky atmosphere, punctuated with moments of inspired comedy.
Most of the comedy comes from Jen Silverman's two contributions. "Ghost Bros" is a hilariously on-target send-up of supernatural "reality" TV and juvenile machismo as the titular "bros" (Alejandro Hernandez, Jayson Speters, and Addison Williams) blunder their way through a long-abandoned insane asylum in unsuccessful pursuit of a ghostly little girl (Walls Trimble). "The Bonnets," which concludes the show, is an enthusiastic celebration of murder and mayhem by the female members of the company, dressed in modest nightgowns and bonnets.
Martyna Majok contributes one of the best pieces, a touching little character study about an inexperienced prostitute (Glenna Brucken) who advertises herself as a psychic to stay ahead of the law, only to discover that her customer (Mr. Hernandez) is really only interested in a reading. Instead of playing this for laughs, Ms. Majok makes it a charming portrait of two troubled people looking for comfort in a cold world.
One of the creepiest entries is Meg Miroshnik's "The Holler," about a group of friends who have made the mistake of trying to turn part of a former abattoir into an apartment -- with unpleasant results. Her zombie tale "Bug" is a close second, but I thought its predictability spoiled it a bit.
Jiehae Park's "Something Like" takes the ghost story into cyberspace as a young woman (Tracey Green) becomes addicted to interacting with an artificial intelligence program (Adenike Thomas) modeled after her deceased lover. It downplays the supernatural element to deliver a moving illustration of how we deal with loss.
Directors Marti Lyons and John Rooney make good use of the Bingham Theatre's versatile space, assisted by Paul Toben's dramatic lighting and Christian Frederickson's sound, both of which go a long way towards establishing a disturbing atmosphere.
Wondrous Strange runs through Sunday, April 10 at Actors Theatre of Louisville as part of the 40th Humana Festival of New American Plays.
Related Articles