Theatre Reviews
Theatre Reviews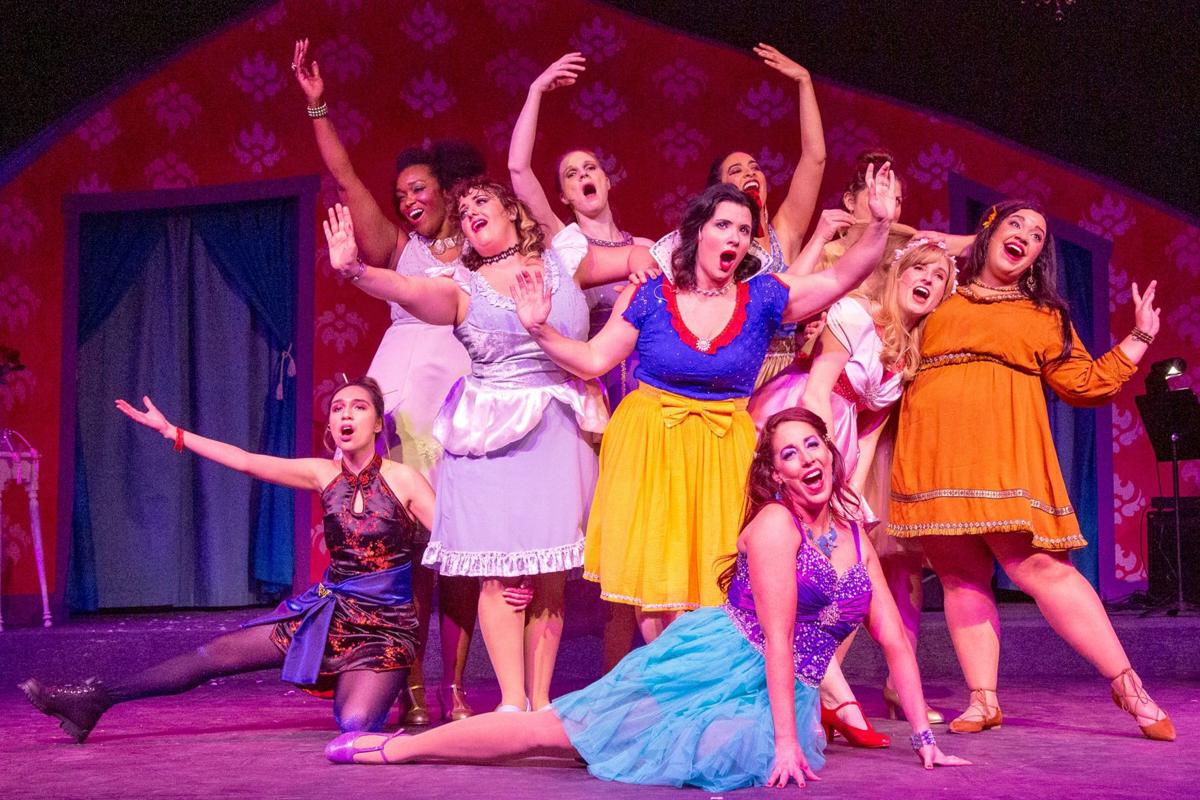 These 'Disenchanted' princesses let their girl power roar – with laughter
By
Never the one to offer up traditional holiday shows, Stray Dog Theatre spices up the season with "Disenchanted," the bitingly funny "true story" of some of the world's most recognizable princesses. Lead by Snow White and her besties, Cinderella and Sleeping Beauty, the cartoon princess are assuming control of their stories and taking their show on the road. The results are laugh out loud funny and often surprisingly relatable, in a reality TV sort of way. 
Snow White welcomes the audience and provides the necessary exposition. Just as she's about to launch into more detail regarding her general dissatisfaction with life in the wonderful world of happily ever after, Cinderella let's her know that the women only have the theater for about an hour and a half. So they, and Sleeping Beauty, launch right into "One More Happ'ly Ever After," a catchy tune with a gossipy tune, and, just like that, we're off and laughing.
Each additional princess is introduced with a song that plausibly, and humorously, presents her view on the absurdity of her movie persona. In "Insanity" Belle explains why she's certain she's completely crazy, but who wouldn't be when every inanimate object in your house talks to you? Milan thinks she might be, is actually pretty sure she is, a lesbian (a discovery that particularly intrigues Cinderella) as she explains in "Without the Guy." In "Honestly" Pocahontas confesses that she's a little creeped out at the way her storyline - and age and love interest - have been dramatically altered, she's also a little tired of all that wind. Princess Badroulbadour bemoans the fact that she doesn't even get to keep her real name in her movie adaptation in "Secondary Princess," while The Princess Who Kissed the Frog doesn't even get billing for her name, though her song "Finally" is a nice nod to the long-wait for the inclusion of an African American princess in the lexicon.
The Little Mermaid and Rapunzel aren't left out either, with "Two Legs" a rueful take on jumping too fast for the wrong reason or person, and "Not V'One Red Cent," a lament on how much money a bunch of men continue to make from the women's stories. Though they're all thankful for the smarts and assets, as in the tell-it-like-it-is number "Big T*ts," the show has the freewheeling feel of a drunken cabaret, as alluded to in "A Happy Tune," which makes for a thoroughly entertaining musical. The story is told primarily through the songs, with some short, connecting skits that connect and set up each ensuing song.
Kelly Slawson, as Snow White, leads the cast with a bawdy, bad ass attitude and, though her operatic soprano overwhelms the space at times, she's gleefully fun in an over the top way with more than a hit of sarcastic wit. Her sass and sensuality may be a touch disarming at first, but she ensures everyone in the audience understands that this is a show for adults with a suggestive wink and playful nod. Sarah Gene Dowling and Dawn Schmid are spot on as Cinderella and Sleeping Beauty, each embracing the comic potential in their perkily perfect and saccharin-sweet animated personas. The actors also benefit, in terms of sound quality, from their previous work on the company's stage. In addition, I'm fairly confident that Dowling's featured song "All I Wanna Do is Eat" is a genuinely relatable number for a large portion of the audience each night. Madeline Black as Belle, Hevan Leon as Hua Mulan, Stephanie Merritt as the Little Mermaid, Gitana Mims as Pocahontas, Selena Steed as The Princess Who Kissed the Frog, Erika Cockerham as Rapunzel, and Eleanor Humphrey as Princess Badroulbadour, portray the other princesses with a charming hiss, acid-tongue humor and uniformly strong vocals.
Scenic designer Miles Bledsoe's simple but effective set provides just enough bright color to evoke the animated world the princesses normally live in and is nicely complimented by Tyler Duenow's lighting, Mike Hodges' choreography and Eileen Engel's sparkly, referential costumes, including Dowling's humorously random blonde hair extensions. Justin Been directs the comically sarcastic show with a sure hand, keeping the pace quick and spirited, though there were a few moments that felt off. Snow White's forceful screaming at music director Jennifer Buchheit, in particular, turned a funny bit about musically stereotypical tropes into a recurring screed that felt more mean-spirited and disingenuous with each repetition. Additionally, I recommend continued work on the sound balanced and volume control as the the vocals are garbled at high decibels, confusingly muddled when the volume is too low and occasionally swallowed whole by the space. Though the program cautions audiences to be prepared for "unnecessary high notes and gratuitous runs," they're much less enjoyable when the clever lyrics are unintelligible.
Even with the sound issues, the musical is a laugh-filled romp through the secret lives of the princesses that has the talented cast delivering one-liners and digs at overblown and unrealistic expectations while the crowd laughs along. "Disenchanted" continues through December 21, and if you're looking for something to counterbalance all those Hallmark channel movies and traditional shows, this acerbically funny musical treat is more spice than sugar, which just may be the cure for too many holiday sweets.
Related Articles