Theatre Reviews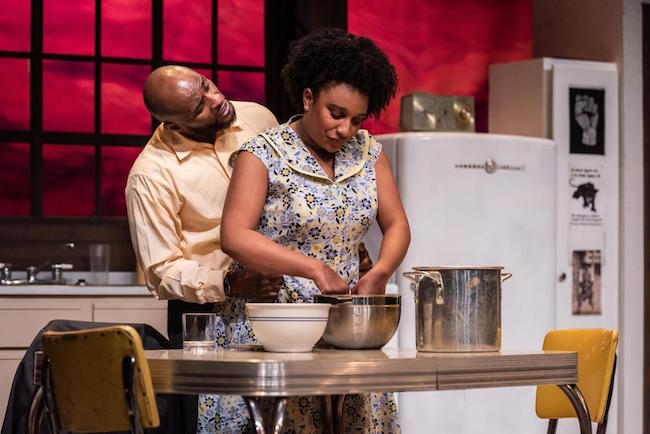 "Fireflies" lights up the sky with pain, hard truths and the fight for civil rights
Written by

Tina Farmer
The moving and affecting "Fireflies," by Donja R. Love, is a forceful exploration of self, community, and power supported by the fragile relationship between a young couple. The Black Rep continues their 45th season with this searing drama about being black and seeking your own truth in the southern United States during the early to mid 1960s.
More specifically, this is the story of Olivia, a pregnant black woman married to Charles, a black man and a preacher. Both are very involved in the Civil Rights movement. Charles travels from town to town, building the movement and raising funds. Olivia stays home, where she writes his speeches and sermons as well as letters to someone she longs to see again. Olivia also experiences debilitating mental and emotional trauma in the form of seizure-like headaches that explode like bombs in her head and nightmares she can't quite understand.
Zahria Moore is riveting as Olivia. She could have stood on an empty stage and simply spoke her story and I would be there with her. The delivery, intensity and realism of her performance are transfixing. Eric Conners, as Charles, is equally impassioned and committed to his truth and his flaws. He's a philanderer on the road. When confronted about his behavior, he throws Olivia's questions about her sexuality back at her, deflecting his actions. There's a constant power struggle in the relationship, but there's also respect and acknowledgement that each benefits from the other's strengths. The actors demonstrate chemistry and affection throughout their ups and downs that adds to the story's contextual and emotional depth.
Director Andrea Frye skillfully draws us into each scene, so that every revelation has maximum emotional impact. Olivia's various concerns, the questions and confusions that haunt her every moment, are laid bare for the world to see. Her honesty provides grace and a sense of calm even as it threatens to destroy her mental health and her marriage. When Charles retaliates with his own painful effectiveness, the impact is visceral, felt in every seat. Later, when Olivia reacts to news about Charles, we feel every emotion, every hope and sorrow, as it moves across her face in the span of a few seconds.
The entire show is set in the relatively safe space of Olivia and Charles' home, and Dunsi Dai's period set gets all the details and personal touches right. Ellen Minch's costume designs reinforce the period and suggest the couple's social status as church leaders. Behind the house, Sean Savoie's evocative light design fills the skyline in varying shades of red, with ambient and emphatic sound design by second-year fellow Christian Kitchens.
The special effects, including the increasing intensity of the lights and explosions, adds texture and the presence of the always heavy, always suspicious outside world. Ubiquitous in nature, it's always there. Always threatening the peace and comfort of the little house where Olivia's story unfolds. The impact is almost distracting, particularly in those moments where I want to know more about Olivia and Charles and their troubled world. To see them living in their reality – a segregated south, where churches were being bombed and children killed or denied education – is a compelling, heartfelt and bittersweet story.
Stunning performances and bold direction take 'Fireflies,' extended through March 6, to another level. Smart design and execution keeps the audience invested in what happens next on every level of this story. At times, I wanted to stop those interruptions and distractions and just focus on Olivia. But why should we, as an audience, be afforded a grace and comfort that she, a black women in the 1960s, never had?
As the show settles in my mind, I realize this omnipresent threat and ongoing pain only reveals the show as that much more authentic and important. The production is brilliant and deeply affecting. The cast, director and entire artistic team effectively bring the audience into the show. Into the historical context of the moment and the sense of perpetual uncertainty and discomfort. Of always waiting for the next bomb to hit because you already know it is coming.
Related Articles