Theatre Reviews
Theatre Reviews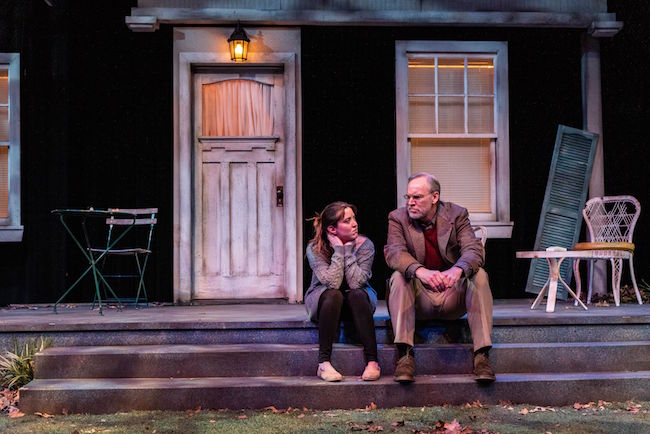 Smart casting and strong direction deliver a compelling 'Proof'
By
The inaugural season of Moonstone Theatre Company continues with David Auburn's "Proof" a riveting story of genius, mental illness and family. The emotionally resonant, multi-layered story is beautifully wrought, though it offers no easy answers.
Robert, a mathematical genius and professor with an at times tenuous grasp on reality, has recently died, leaving daughter and primary caretaker Catherine feeling lost. She gave up her own promising studies when it became clear someone needed to be home, to care for her father. Though his passing gives Catherine a new found freedom she's not sure what she wants to do, and often has deep conversations with her father about her next move. Her grieving and uncertainty about her own mental state are complicated by her father's former student, Hal, and the arrival of her very practical, very assertive sister, Claire.
Hal wants to review every one of Robert's well-scribbled notebooks, to see if he can find any work to build on. Claire wants to sell the house, move Catherine to New York City with her, and have everyone just get on with their life. The ghost of Robert can't stop prodding and poking at Catherine's insecurities. For her part, Catherine is not sure what she wants to do next; in fact she'd rather like to do nothing right now. Although, as Hal discovers, she may have developed her own mathematical masterpiece. At 25, just like her dad.
The realistically complex show touches on a lot of heavy subjects -- loss, grief, genetic influences, mental disorders, genius and the misogyny of academia -- but there's plenty of dry, arched humor. And the characters are engrossing, if at times enigmatic.
At the heart of the story is the often combustible and unpredictable synergy between genius and mania. Michael James Reed and Summer Baer shine as the father and daughter gifted with the same prodigious talent. Each is effectively fluid in their similar but varied expressions of mania, depression and paranoia; and each represents differing aspects of a profound mix of neuro-diverse genius and mental illness.
Oliver Bacus is charming, somewhat over-eager and genuinely kind as Hal. The hesitant to full-speed-ahead switch, when his character and Baer's act on their mutual attraction, is at once awkwardly cute, terrifying and exciting. However it's Bacus' calming and honestly flawed personification that keeps Hal grounded and sympathetic. Julie Amuedo ensures that Claire never loses sight of her goal or her edge while finding ways to reveal the sister's pain and fears without drawing focus. She comes in full speed and ready for action, but her aggression is as much armor as intention.
The set by Dunsi Dai, lighting by Michael Sullivan, sound by Amanda Werre and costumes by Michele Siler are well appointed and create a sense of time and place. Director Sharon Hunter and the cast use every inch of the stage to good effect. The coming and going through the front door is particularly effective, although my one big criticism is that carpeting or other sound muffling should be added just behind the door backstage. Several moments were broken by the unexpected background noise of a performer exiting or getting in place for their next entrance.
Baer and Reed face no small task in convincingly portraying mental illness in the intimate theater space. Hunter's direction gives the performers the freedom to express their experience without losing control or focus, and they both excel in creating realistic, believable moments. Reed's expression of productive but meaningless mania cuts to the bone and then lightens unexpectedly, by turns exasperating and oh-so dad-like. Baer delivers a remarkable and truly memorable breakthrough performance as Catherine. She's driven by her own brilliance and terrified by her perceived consequences. The two leads get excellent support from the persuasive Bacus and persistent Amuedo.
Captivating from start to finish, with satisfying twists and a chance for hope, Moonstone Theatre Company's "Proof" continuing through April 10th, is quite compelling theater. Baer and Reed's believable personifications of metal illness and compassionate caretaking are so perceptively accurate, they may be triggering for some. Still the plot is intriguing, the script is a thoughtful look at genius and mathematics and the show is a thoroughly entertaining and thought provoking piece.
Related Articles