Theatre Reviews
Theatre Reviews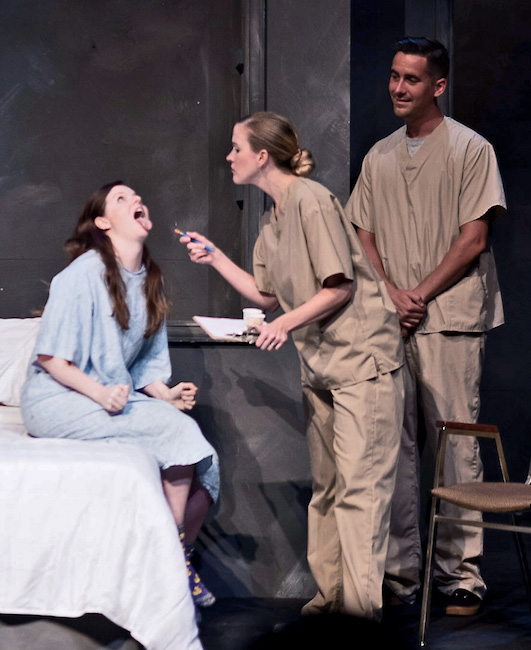 The LaBute New Play Festival, Set Two offers four intriguing and entertaining shows
By
St. Louis Actors' Studio continues its two-part summer festival of new American plays with the LaBute New Play Festival, Set Two. The festival selects its shows from a nationwide submission competition, focusing on theme and character development in its chosen scripts. As a result, some plays feel more complete and polished, while others are clearly works in progress. The four one act plays presented in Set Two feel considerably more finished than the shows presented in Set One, though I still find LaBute's entry disturbing and problematic, which I am almost certain the playwright intended.
Once again, LaBute's "The Fourth Reich," directed by John Pierson and starring Eric Dean White as an unnamed Hitler apologist, opens the set. The show is provocative and, if anything, White comes across as more distinctly creepy and determined upon second viewing. It's a strong and uncomfortable performance, with direction that shows purposeful restraint, but I still find the lack of story arc problematic. For more on this play, see my related Set One review.
"The Gettier Problem," by Michael Long, directed by Wendy Greenwood, is a thoroughly intriguing show. A Gettier Problem is a philosophical and scientific conundrum related to our understanding of knowledge. In the short one act play, we're introduced to a doctor and scientist who is determined to undergo a severe treatment for an undefined mental diagnosis for research. Or perhaps she actually needs the treatment.
Colleen Backer is mesmerizing as the patient, easily moving in and out of a thoroughly believable portrayal of an agitated patient, complete with physical and verbal ticks and unexpected movements. It is impossible not to be mesmerized by Backer as she fluidly moves from her patient to rational self, and back again. Spencer Sickmann compliments her as an attendant who fears for her safety after the two have a reasoned and convincing conversation, showing nuance as he shifts from genial attendant to flippant, then startled and fully engaged.
"The Process," by Peter McDonough, directed by Ryan Scott Foizey, is a compelling and ultimately heartbreaking play that introduces us to a young teacher dealing with an active shooter incident at her elementary school. Carly Rosenbaum and Erin Brewer turn in tragically realistic and emotionally effective performances, and there are a number of satisfying twists in the script that will have you on the edge of your seat and perhaps shedding a few tears.
Rosenbaum, as the teacher, goes through the gamut of intellectual and emotional responses to the crisis with believable authenticity. She's sympathetic and determined, if frightened, and her reactions are genuinely motivated. Initially confused by her conversation with Brewer's character, the two slowly work together to get through the incident. Though the nature of Brewer's questioning becomes clear early on, the character still manages to surprise both Rosenbaum and the audience and Brewer's performance is effectively underplayed. The sound of gunfire is heard during the performance, at first muffled but becoming more clearly and distinctly understood as the show progresses.
"Unabridged," by Sean Abley, directed by Foizey, introduces us to a dystopian and undereducated future. Here, the simplest words, like "food," "thing" and "stuff," are used to communicate almost any idea or need and books are, largely, a thing of the past. In this world, specific words with precise definitions are expensive and sold at a high price, often by shady brokers. One patron, who randomly stumbles across Dr. Seuss, is told that the children's book is too complicated, a fact he accepts without question as he hands the book to the broker.
Sickmann is completely engrossing as a man addicted to words, displaying the desperation, mood swings and physical posture of a junkie. His need is so persistent that he buys words from more than one dealer, resulting in several errant definitions. Zak Farmer is equally compelling as the suspicious, gun-toting word dealer, and at least he's honest about the meaning of the words he's dolling out. Farmer's all business, plotting to eliminate another dealer and gently shaking his head at Sickmann's misconstrued definitions, but he can't hide his soft heart. His short scene with White as a suburban dad who nervously wanders into the shop is particularly telling and the letters he offers White for his kids: PBJ, BLT are perfect. There is a gun and brief gunshot in this show, as Farmer perfectly balances words and action.
One small item of note is that the program flips the third and fourth shows. From a viewing and emotional standpoint the change significantly improves the flow and tenor of the set. The LaBute New Play Festival, Set Two, continuing through July 29 at St. Louis Actors' Studio, is an enjoyable slate of polished one acts complemented with strong performances and clear direction. Not every show will please every audience member, and LaBute's offering is particularly difficult, but the company's smart use of grouping allows audiences to get a real sense of a working playwright's process while seeing several entertaining productions.
Related Articles