Theatre Reviews
Theatre Reviews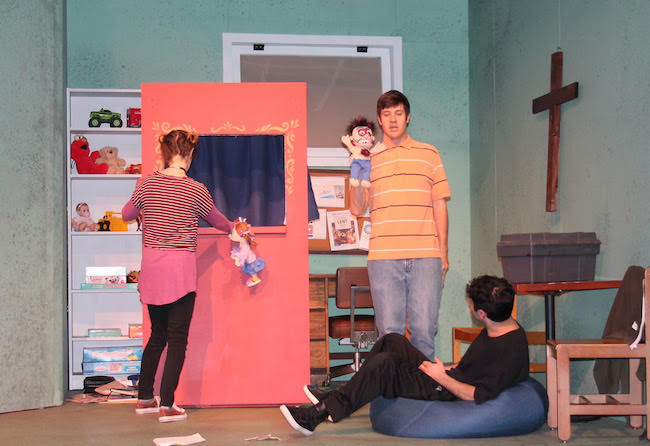 Laugh out loud funny, 'Hand to God' finds humor and empathy in unexpected places
By
Playwright Robert Askins' "Hand to God" is a twisted tale of faith, loss and the fragility of the human psyche. St. Louis Actors' Studio expertly delivers this ribald, irreverent comedy in a raw, no-holds-barred production that is as heartfelt and honest as it is funny.
Jason, an introverted teen with a powerful subconscious -- or maybe he is possessed? -- and his mom, Margery, are dealing with overwhelming loss and questions neither is willing to discuss. His father, and Margery's husband, died six months ago and they've turned to their church for solace and direction. Margery just started the church's teen puppet club. Jason is a less than enthusiastic puppeteer. The show opens with a world-setting prologue of sorts, from Jason's puppet Tyrone, and details are revealed as the play careens to its comic, chaotic conclusion.  
Fearlessly directed by Andrea Urice, the perfectly connected cast dishes up the laughter and all its twists and vagaries. There's a lot to chew on in the quick moving, but densely constructed two-act play. The performers, following impressive leads by Mitchell Henry-Eagles and Colleen Backer, are interesting and even the supporting roles are reasonably well developed. Sharp timing and finely tuned context that's at times painfully vulnerable and realistic keep audiences paying attention through the laughs, and occasional tears.
Jason, played with remarkable dexterity and just the right touch of excess by Henry-Eagles, just wants to fit in. But he knows he's not cool, as Josh Rotker's Timmy constantly reminds him. Jessica, a notable supporting turn by Phoebe Richards, seems to think he's all right and their eventual spark of interest, friendship and passionate puppetry is a beautiful, and somewhat unexpected, comic arc. Jason initially finds a voice through Tyrone, his puppet -- until the puppet seems to take over.
Margery is trying to keep the club together to fill her loss, though she's got a volcano of pain, frustration and feelings hiding just under the surface. Backer is phenomenal as the lonely, confused and angry mom who'd just like something to go her way without all the sexual harassment and innuendo. There's clearly unresolved questions about the death that both mom and son need to resolve. Instead, they project their feelings and each expects the other to make the first move, providing an unspoken anchor point for the chaos and comedy.
Pastor Greg, his desperation canceling any smooth talk, gets a just-this-side-of-creepy portrayal by Eric Dean White. He'd like to heal more than Margery's spiritual wounds but Rotker's hormonal, over eager bad boy Timmy steps in as competition. And while White's character comes across as pathetic and compromising, Backer's Margery marches right past all norms and potentially the law in an explosive, enthusiastic romp with the student.
The hilarious show gets excellent support from the company's creative production staff, helping to make the magic, from isolated puppet soliloquies to sweeping set changes that happen in real time. Patrick Huber's set and lighting design is the perfect compliment to the fast moving comedy, the puppetry is skilled and effectively employed, and stage manager Amy Paige keeps the transitions seamless.
Both flawed and endearing, the characters make it easy for the audience to set their better sensibilities aside and go along for the ride. Yes, there's an abundance of blasphemy, all played for laughs and balanced with underlying pain and truth that makes the punch lines stick. Interwoven themes of teen isolation, depression, grief and loss are centered in humor and expressed in anger and sexual longings and laughter and a few tears.
Several scenes may make audiences uncomfortable, including sexual situations and religious and anti-religious references. And, then, there's the whole poke in the eye of religion, which some my find excessive. Others may find it more reminiscent of the humor of Trey Parker and Matt Stone, the strains of intolerance and control exposed by the witty, pointedly comic play.
The excellent "Hand to God," directed with finesse by Urice, continues through April 24 at St. Louis Actors' Studio. Anchored by finely tuned performances from Henry-Eagles and Backer, with outstanding support by White, Richards and Rotker, the dark comedy is simply hilarious and surprisingly heartfelt.
Related Articles