Theatre Reviews
Theatre Reviews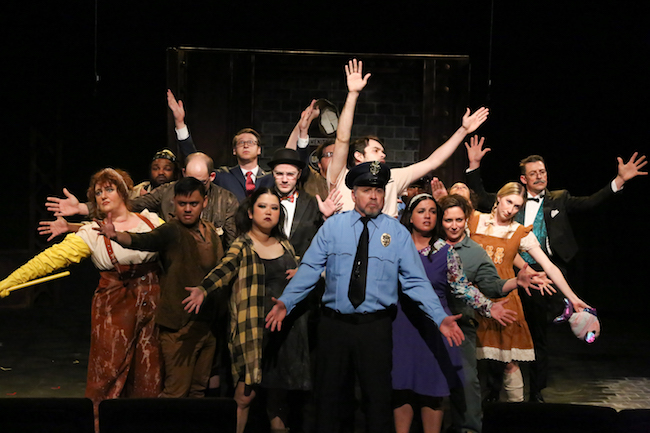 A gritty musical about an unpleasant reality, 'Urinetown' still offers glimmers of hope
By
A water shortage caused by global warming and its related day-to-day complications -- not much of a theme for a musical, yet composer Mark Hollmann and writer Greg Kotis turned it into a hit. In the capable hands of directors Scott Miller and Chris Kernan, the talented cast of "Urinetown" gives audiences an exceptional and witty production that resonates with uncomfortable truth.
New Line Theatre wraps up its 30th season with an energetic take on the unhappy, but frequently upbeat show. Kent Coffel, Jennelle Gilreath, Kevin Corpuz and Melissa Felps lead with well connected, emotionally grounded performances and engaging vocals. The talented ensemble includes familiar contributors Mara Bollini, Sarah Gene Dowling, Zachary Alan Farmer, Marshall Jennings, Grace Langford, Todd Schaeffer and Christopher Strawhun as well as newer cast members Colin Dowd, Clayton Humburg, Ian McCreary, Chris Moore and Jessica Winingham.
In a not too distant dystopian future, the earth is facing a severe water shortage and citizens must pay for the (privatized) privilege to use the toilet. There are no more private toilets in your home, unless you're very rich, and access to the public toilets is strictly controlled. The majority of the citizens are struggling to survive and can barely scrape the pennies together for a daily visit.
Young Bobby, who assists Penelope Pennywise in running one of the oldest, most broken down and most used public facilities, is torn between his job and his sympathy for everyone too poor to afford to pee. Hope Cladwell, daughter of Caldwell B. Cladwell, the operator of all the toilets and a man who keeps paying bribes and raising fees, is conflicted by family loyalty, privilege and tradition and the greed and inequities she's just beginning to notice. Naturally, the two fall in love.
Corpuz and Felps are well matched as the star-crossed lovers, creating believable chemistry without being annoying. They infuse the couple with a sense of self-awareness that plays well during the script's most outrageous moments. Additionally, Corpuz and Felps are both strong singers who instinctively "play well with others," resulting in well-layered melodies and a beautifully matching tone. The two are among an elite cadre of emerging artists making the most of their starring opportunities and watching them grow from role to role is one of the rewards of supporting local professional theater.
Gilreath and Coffel make for a comic duo as the young, but impressively educated and perceptive Little Sally and Officer Lockstock, the old, grizzled cop and narrator. The fact that Gilreath is a few inches taller than Coffel adds to the humor at times, particularly when paired with his matter-of-fact dour outlook and her sunny disposition while delivering "inconvenient" facts. Dowling, Farmer and Schaeffer are particularly compelling and committed to their characters, and Dowd is quietly but hilariously uncomfortable as a senator caught between his scruples and dollars. The ensemble comports itself well, though there were a few distracting moments. With so many cast members fully capable of playing leading roles, attention must be paid to toning down chorus reactions to avoid drawing focus from the story.
The band, under the direction of Tim Clark, keeps the plot moving along at a quick pace while underscoring humorous moments -- and there is a lot of humor in the snappy musical. Kernan's choreography is solid, not flashy, and entirely appropriate for the struggling working class tone of the show. The relatively simple set, by Schaeffer, use of a strongly defined color palette by costume designer Sarah Porter and lighting designer Kenneth Zinkl and complimentary sound design by Ryan Day enhance the tone, classism and ecological undertones of the story without distracting from the smartly pointed and compellingly performed musical.
The songs are witty, with verses that highlight the conflict and contrast between the wealthy and working classes in catchy hooks. The struggle to balance needs and means tends to resonate with a persistence that's timed to the beat. A beat that's also a constant warning about real climate concerns. "It's a Privilege to Pee," is deceptively simple and close to brilliant in its summation. "Follow Your Heart," "Look at the Sky," "Run, Freedom, Run" and "I See a River" are anthem-like, but more hopeful than wise. "Don't Be the Bunny," and "Why Did I Listen to That Man" are a surprisingly satisfying study in contrasts.
"Urinetown," continuing through June 25th, is a delightful and bouncy bummer of a comic musical. Poppy songs, potty humor, and funny double takes help deliver serious concerns about global warming as well as corporate greed and political corruption. Strong performances, pointed direction and an abundance of comedy ensure New Line Theatre succeeds in giving audiences an entertaining show with a thought-provoking edge.
Related Articles