Theatre Reviews
Theatre Reviews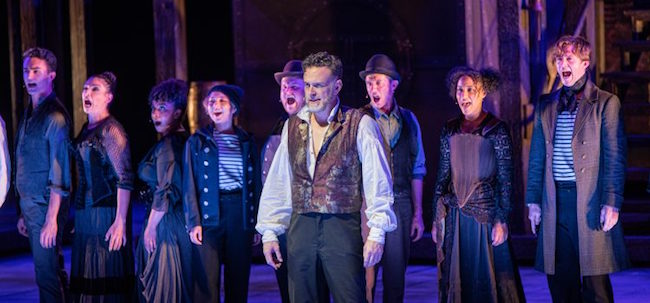 The Muny's 'Sweeney Todd, the Demon Barber of Fleet Street' is a gleefully gruesome delight
By
Stephen Sondheim and Hugh Wheeler's wonderfully dark and twisted comic tale 'Sweeney Todd, the Demon Barber of Fleet Street,' gets a spirited and beguiling production at The Muny. Excellent casting and a ghoulish joie de vivre permeate the tale of the murderous Victorian barber and his scheming accomplice.
The musical humorously delivers a story of tragedy and revenge that pits the discredited workingman Todd against the greedy Judge Turpin and his bullying henchman The Beadle. Though he's returned to London with vengeance on his mind and anger in his heart, Todd's plan comes to fruition almost by accident.
After being saved from a shipwreck by the honest, hardworking young sailor Anthony Hope, Todd quickly makes his way to Fleet Street. There he runs into Mrs. Lovett and the shop's proprietor recognizes Todd as the young barber who worked in the shop above hers 15 years ago. Though he was known by a different name at that time.
Todd's returned under his newly assumed identity to seek revenge against Judge Turpin and Turpin's henchman The Beadle for arresting Todd on false charges and sending him to Australia so the Judge could steal Todd's young wife Lucy and his infant daughter. Luckily for Todd, Mrs. Lovett secretly kept his barber tools and his former space is still available. And just like that, Todd gains a loyal partner in crime while providing a welcome boom for the pie maker Lovett's shop.
Ben Davis and Carmen Cusack as fabulous as the determined barber and his lascivious neighbor. Davis' deep, rich voice and easy range fills the space and is complimented by Cusack's strong, often teasingly suggestive vocals. As the barber's now grown daughter Johanna, a young woman kept captive by her guardian the judge, Riley Noland has a bright, lilting soprano that is particularly well matched with Jake Boyd's pleasantly upbeat Hope. Their budding romance and essential goodness are a lovely contrast to the sensual scheming of the barber, his willing accomplice and her meat grinder.
Robert Cuccioli and Stephen Wallem are wonderfully cloying and slimy as Judge Turpin and The Beadle, while I wish Julie Hanson's humble and kind beggar woman had more songs. Lincoln Clauss makes the most of his scene stealing moments as Tobias Ragg and Brandon S. Chu, Price Waldman and Hernando Umana capably fill in the remaining supporting roles. A number of local performers are members of the ensemble and both Patrick Blindauer and Omega Jones stand out for humorously memorable bits, particularly during the comic elixir scene.
The musical is played big and broad, the barber's gruesome acts emphasized by splatter projections in Caite Hevner's video design that convey the graphic brutality of each killing. Though clearly suggestive and pantomimed in the darkly comic tale, the over-the-top, enthusiastic depictions of the murders may be upsetting for younger audiences. Though the barber takes to the dirty business of death quite quickly, the sub-context suggests even that cannot lessen the depth of Todd's pain
The sparse, scaffolding-based scenic design by Michael Schweikardt sets a Dickens-like tone, particularly when combined with Alejo Vietti's dark neutral costumes. Todd's deep burgundy coat lapels, Mrs. Lovett's red, fuchsia and pink in her second act dress and the muted pastels in Johanna's dress provide bold touches of color against the neutral palette, while Pirelli's flashy peacock emerald ensemble and Judge Turpin and Beadles' garish suits seem to clash with the commoners garb. The intention is subtle, but not unnoticed.
Musically speaking, 'Sweeney Todd,' starts with a simple straightforward lyricism that becomes more complex as the show drives with intense determination to its almost operatic conclusion. "The Ballad of Sweeney Todd" starts off deep and resonant, with an excellent build. "The Worst Pies in London" introduces the show's sharp-wit. Just a few scenes later, we escape the macabre with the lovely "Green Finch and Linnet Bird," romantically paired with "Ah, Miss."
Similarly, the first reprise of "Johanna," a sad, sweet ballad, counters the carnival barker of "Pirelli's Miracle Elixir". And while the second act features "By the Sea," a surprisingly whimsical trifle, the following songs are increasingly ominous, with intricately woven harmonies and discord leading to the almost disorienting yet musically cathartic "City on Fire" and the powerful unraveling of the "Final Sequence." The resulting soundscape envelopes the audience with a delightfully dense and harmonious cacophony that compliments the show's messy but satisfying conclusion. 
There are a few surprises in the show beyond the magnificently controlled vocals and barely controlled rage. Director Rob Ruggiero leans into to innuendo and overt sexual desires of both Mrs. Lovett and Judge Turpin and the sparks between Lovett and Todd sizzle with an unexpected satisfaction. Hope and Johanna's love story is given just enough attention that it's refreshing, a clearly framed message of hope added as an afterthought to the deliciously bloody plot.
In recent seasons, the Muny has broadened its view to add variety and bring in musicals with contemporary stories and themes. This season includes several shows targeted to more adult audiences. As a fan of the breadth of theater, I welcome the company's move to offer more variety to its loyal audience. Though its lecherous appetite for murder and revenge may not suit everyone's tastes, "Sweeney Todd, the Demon Barber of Fleet Street," continuing through July 22nd, is a cleverly devilish production with an outstanding cast.
Related Articles