Theatre Reviews
Theatre Reviews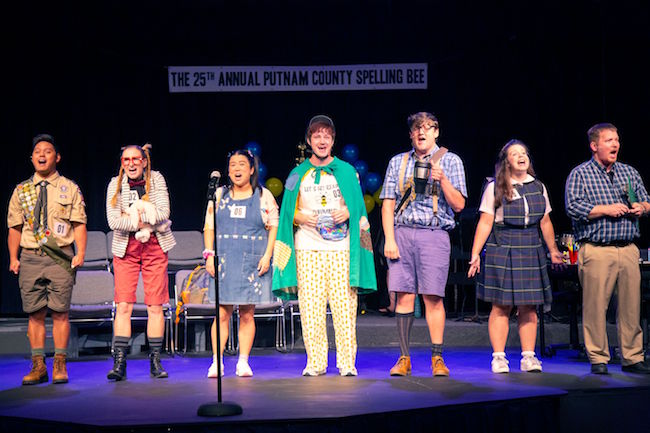 'The 25th Annual Putnam County Spelling Bee' at Stray Dog Theatre: All the feels from A to Z
By
Laughter, tears, fears and the gamut of emotions get star treatment in Stray Dog Theatre's delightful production of "The 25th Annual Putnam County Spelling Bee." The nostalgically relatable musical is a fabulously entertaining good time for audiences of all ages that delivers an uplifting message, a little wisdom and a lot of laughs.
The Putnam County Spelling Bee is about to start and spirits and tensions are high. The young competitors sign in and get ready, eyeing and assessing each other all the while. Last year's champ Chip is here already, as are the nervous runner up Barfée and tournament regular Logainne, with her two dads in tow. The returning spelling bee competitors are joined by Leaf, a home-schooler who earned his spot by default, the overachieving and already jaded Marcy, and the uncertain but excited Olive. She's anxious to ensure there's a seat for her dad, who will be there later. She hopes.
The students are joined by four additional spellers (recruited from the audience prior to curtain), Miss Rona Lisa Paretti, the host who's nearly bursting with excitement, Douglas Panch the former vice principal and ardent fan of Rona, and Mitch Mahoney, a volunteer working off some community service hours. Once everyone is in place, the bee kicks of with the reading of the rules. As the rounds continue, and with increasing stakes and laughs, we learn each of the speller's innermost thoughts and feelings as they advance or fail until only one speller remains.
As the familiar saying puts it, kids, even when convincingly portrayed by adult performers, really do say the darnedest things. They also face a lot of fear and worry and get distracted by and see the joy in and just try to understand. The clever script establishes recognizable parameters for each speller, director Justin Been and the top-notch cast gives them depth and individual personality, adding elements of their own personalities to create depth and connection. Seeing how each performer expresses the quirks and signature hallmarks of childhood through their characters is half the fun.
Grace Langford's Olive is a perfect blend of insecurity and eagerness, with a touch of sadness that gains all our sympathy. Langford brings her customary vocal virtuosity, and she's in good company as the talented cast shows over and over again. Stephanie Merritt's Rona is just this side of Mary Poppins in terms of flawless high notes and sweet delivery. Dawn Schmid's Logainne is relatable and endearingly exasperated and Sara Rae Womack keeps Marcy down to earth, allowing her go from mean girl to feeling real joy in choosing not to overachieve.
Kevin Corpuz is amiable and everyone's friend as Chip, even when he tries to boast there's a humble edge. Kevin O'Brien's much put upon Barfée has charm beyond his foot and Clayton Humburg's Leaf is kind, sweet and a little crunchy in the best way. Chris Kernan's Mitch Mahoney stops this side of creepy and finds a little sincerity. Jason Meyer's Panch is more focused in his creepily effusive praise of Rona and finds a lot of sarcasm as the bee moves along. However, even he proves to have a soft heart by the end of the cathartic and uplifting musical.
Music director Leah Schultz and the band once again feel in perfect sync with director Been, imbuing the score with its own emotional tone that compliments the singers. "My Favorite Moment of the Bee," is lilting and increasing comic in reprise. "My Friend, the Dictionary," is gently lovely, touching and apt to pull a tear or two. "I'm Not That Smart" is exuberant in tone and spirit. "Magic Foot" captures old school soft shoe cool. "Chip's Lament, "Woe Is Me," and "I Speak Six Languages" are insightfully funny, and Schmid's sustained note is spectacular. The other songs nicely complete the story and there are several smartly improvised lines, keeping the show fresh and entertaining, whether this is your first or fortieth viewing.
One of the more interesting things about "The 25th Annual Putnam County Spelling Bee," continuing through August 20, is the straightforward storytelling. Stray Dog Theatre succeeds by appearing to let the characters and story simply be themselves. To do so repeatedly is a commendable skill and the company has once again brought all the pieces together just right. The music, the script and the engaging performances work in concert to create a genuinely funny and uplifting show that's greater than the sum of its parts.
Related Articles