Theatre Reviews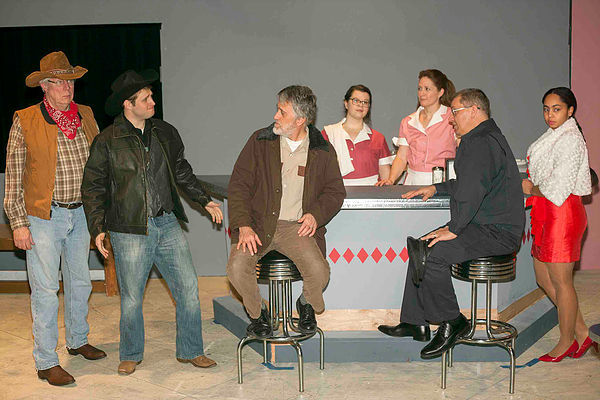 Clayton Community Theater's 'Bus Stop' explores thematic variations on the search for love
Written by

Tina Farmer
Clayton Community Theater takes a trip to small town America with William Inge's Bus Stop, directed by Sam Hack. An early spring snow has created hazardous road conditions, forcing travelers on a westward bound bus to spend the night at Grace's diner in a forgotten Kansas town. The town sheriff stops by now and again to provide an update on road conditions, but for the most part the travelers and the diner staff are stranded together for the foreseeable future. Throughout the night it becomes apparent that the majority of the individuals stuck here are looking to find love or, at the very least, the familiar comfort that love provides.
Diner owner Grace Halyard seems forlorn and of a sour disposition until bus driver Carl arrives. Her face lights up, she stands a little taller and chats brightly as the two flirt openly. The snowstorm may provide the perfect opportunity for them to get to know each other better. Grace leaves the diner in the eager hands of waitress Elma, a teen courted by a much older passenger from the bus. She's book smart but socially inexperienced. Both romances provide the backdrop for the struggle between Cherie, a nightclub entertainer, and Bo Decker, a brash young cowboy who hasn't yet learned that he can't just take what he wants. Bo's traveling companion, Virgil Blessing, scolds him on his manners and approach, but generally drinks coffee and strums his guitar, keeping to his own business.
Michael Bouchard is enthusiastic, if a bit uncontrolled, as the cowboy Bo Decker. Unaccustomed to social situations and ignorant to courtship, he swings wildly at every target he sees, often missing his mark. Britteny Henry is captivating as Cherie, the singer traveling against her will. She fully inhabits a character that is shyly coquettish, completely sympathetic, unexpectedly open to change, and perhaps a bit deeper and more perceptive than she realizes. Emotionally accessible, we see the singer's every thought and quickly recognize the lack of sophistication under the fancy wrapping; her off-key, sultry song convincingly amplifies our sympathy.
Erin and Jeff Struckhoff are comfortably paired as Grace and Carl. Grace seems perpetually stuck, cheerfully but indifferently serving the travelers and townsfolk alike. But when Carl arrives there's genuine warmth that brings her to life, leading the audience to root for the couple. Lucy Sappington proves naïve but capable as Elma. She's so eager to learn and experience life that she's easy prey for the unscrupulous professor with a penchant for seducing students.
Joe Lyman plays the old professor with too much drunken stumbling and several bits of dialogue are garbled beyond comprehension. Additionally, his antics occasionally draw attention from other important scenes. Luckily, he is much better when revealing the professor has a conscience, affording him slight redemption. Jeff Lovell and Gene Rauscher provide earnest support as the sheriff and Virgil, respectively. The two are grounded and reliably consistent in their roles, though the sheriff's uniform, which more resembled a scoutmaster's shirt, was a troublesome bit of costuming.
The set design is a smart use of resources, refreshing the diner from the company's previous show in a way that fits the story perfectly, and the costumes, props, sound, and light generally support the show. With his worldview firmly established, Inge delivers authentic characters and situations that are as relevant today as in the play's original 1950's setting. Director Hack and his cast give the layered show their best effort, but uncertain dialogue, clumsy staging, and under-rehearsed fights cause the show to stall, often just as things are really heating up.
Bus Stop, continuing through February 11 at Clayton Community Theatre includes uneven acting and awkward blocking at times, but the community company does an admirable job delivering a slice of life story with a clear plot and generally engaging performances. The production also successfully illuminates just how long it's taken to get to #MeToo and accountability for the sexual abuse of power. The story is complex and interesting, and the ensemble demonstrates a commitment to character and context, resulting in a solid if not entirely satisfying effort for a volunteer-run theater.
Related Articles