Visual & Performing Arts
Visual & Performing Arts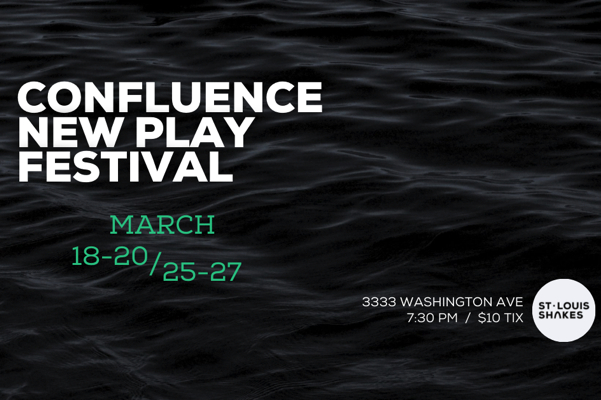 Confluence Writers Project: A Pillar for Regional Playwrights
By Chuck Lavazzi
The Confluence Writers Project, the most important festival of regional new plays, is coming up at the Saint Louis Shakespeare Festival from March 18 - 27, 2022. You might not think a Shakespeare Festival would support new plays, but for Tom Ridgely, the Festival's artistic director, supporting the creation of new work is completely in line with the theatre's mission.
"Shakespeare was creating living, breathing art during his time," Ridgely says. "His work was born in a very specific place, responding to hopes and fears of that moment, and we want to be operating in a similar way."
In 2018, Ridgely and local theatre-maker Nancy Bell recognized a need to support regional new plays. There were plenty of people writing plays in Missouri and Illinois, but, by and large, the new plays being produced were written by folks from the coasts. Ridgely and Bell saw a need to invest in Midwestern writers, particularly because, in Ridgely's words, "It's so heterogeneous here. There's north and south and east and west all mashed up together in this region, and we wanted to see those perspectives reflected in new plays." So, the Confluence Writers Project was born.
Bell was the director of the first three years and came up with the structure: playwrights would apply, and three would be given a commission to write a new play, a financial stipend, a year of monthly meetings, and artistic support culminating in staged readings meant to launch the plays into future production. The stipend to take some financial pressure off of playwrights to allow them to concentrate more on writing. The monthly meetings are dedicated to reading new pages and providing feedback. Myah Gary, a playwright from the 2020 cohort, says, "We started out meeting in person, and having that firm deadline helped with my writing progress. And even when we had to pivot during the height of the pandemic to meet via zoom, we still built a community that really helped me to create that year." The 2020 cohort decided to hold off on public presentations of their plays until they could do so in person, so their work will be a part of this year's performances. Judging from the success of the first cohort's scripts, these readings really do promote these script's continued life. By 2023, all four plays from the first cohort will have gone on to have world premiere productions.
"The mission of this program goes beyond these annual staged readings," explains Ridgely. "Our fondest hope is for these plays to find full productions and their largest and most engaged audiences, which could be at the Festival or at any other artistic home. More than anything we'd love the people in the room for the readings in March to be able to say years from now that they were in the room when these plays were born."
To that end, the Confluence Writers Project provides its playwrights with more than just support writing a commissioned script. It also affords professional development opportunities in several ways. Playwright Delaney Piggins from the 2021 cohort says having playwrights at different stages in their careers in a room collaborating helped her learn "how to juggle continuing to develop work, to continue submitting work, and to making a life in the arts. I got to learn from two playwrights who are modeling that in a really incredible way." Bell would also take the playwrights to local productions and make introductions to a variety of artists, sometimes theatremakers based in Saint Louis and sometimes artists who were traveling from New York or Los Angeles.
Piggins also points out, "We're still trying to create community in the Midwest for playwriting, and the Confluence Writers Project is modeling that in a really good way." This ties back to Ridgely and Bell's original conversation about the lack of representation of our region on the stage. Bell says of this year's six plays that are being presented, "It's stunning to experience both the depth and breadth of this brand new work being made and nurtured in our region." There's no question that our world is a difficult and complicated place right now. To create living, breathing theatre that reflects our lives is vital, and the playwriting community that the Confluence Writers Project supports is critical to that effort.
There is also another less tangible way that the Confluence Writers Project supports regional playwrights. Myah Gary confided, "When I was accepted to Confluence, I was doubting myself as an artist. To have the support and guidance of my cohort who are now lifelong friends helped tremendously." Playwriting can be a lonely, solitary experience, but, for a playwright to be successful, they ultimately need to be part of a theatre community. The Confluence Writers Project is doing crucial work creating and sustaining the region's new play ecology.
Confluence New Play Festival readings will take place on March 18, 19 and 20 and March 25, 26 and 27 at 7:30 p.m at the St. Louis Shakespeare Festival (3333 Washington Ave., St. Louis, MO 63103). Tickets for each reading are $10 or $5 for students and can be purchased online or at the door. A Festival pass can be purchased for $30. Guests must show proof of vaccination or a negative PCR test to attend. Masks are required for entry.
For more information visit www.stlshakes.org/confluence.
Related Articles