Cabaret
Cabaret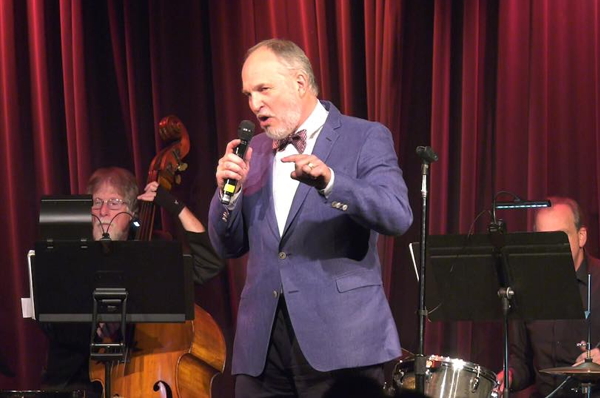 Bob Wetzel has been a lucky guy, a fact that cropped up as a recurring theme in his solo cabaret debut "Facing the Music," which had its first public performance last Saturday (May 12, 2019) at the Kranzberg Center.
The "wild winds of fortune" blew him a prosperous career in banking and then, late in life, a chance to follow the dream of public performance that he had pursued in college but was obliged to abandon for more quotidian concerns. It led to a dissolved marriage, the sheer terror of dating late in life, and finally the emergence of his inner cabaret star.
All this was described not so much in Mr. Wetzel's patter, which was minimal, as in his set list. It was a smart choice. He and his director Tim Schall--a cabaret performer and teacher with an impressive resume of his own--put together a perfectly paced show that told Mr. Wetzel's story in song rather than words, with the patter providing just the bare minimum of background to link everything together.
The evening started out with a medley of two songs closely associated with Fred Astaire, "Let's Face the Music and Dance" and "Change Partners." It was the first of a series of jazzy arrangements by music director/pianist Carol Schmidt, impeccably played by Ms. Schmidt and her fellow musicians Ric Vice (bass), Kevin Gianino (drums), and Steve Schenkel (guitar).
Taken together, the lyrics reflected on the inevitability of change and the importance of taking joy in the here and now--an idea reinforced by the following medley of "Luck Be a Lady" (from "Guys and Dolls"), "It's Today" (from "Mame"), and the Cole Porter standard "Just One of Those Things." That last song changed meaning in this context, making it more of a reflection on life's randomness than a wistful rumination on lost love.
Carol Schmidt
And so it went for the next hour or so, with a succession of individual songs and insightfully arranged sets taking us through Mr. Wetzel's transformation from straight-laced banker to unbuttoned cabaret singer. Dave Frishberg's "I'm Hip," for example, got additional parody lyrics added at the beginning ("I'm stiff") to reflect the decision to take that leap of faith. The changes in Mr. Wetzel's romantic life were illustrated in a long set beginning with the 1960 Sinatra's "Nice and Easy" and ending with a lovely mix of Simon and Garfunkel's "For Emily" and "Like a Lover," the English-language version of "O Cantador," first recorded by Sergio Mendes in 1968.
Probably the most unexpected set was a combination of Johnny Mercer's "Something's Gotta Give" and James Taylor's "Steamroller Blues." Taylor wrote the song as a parody, and Mr. Wetzel gave it just the right touch of ironic detachment, balanced by Mr. Schenkel's solidly rock and roll guitar solo. It was a delightful surprise, and much appreciated by the packed house.
Mr. Wetzel sang all of this with that same combination of suave assurance and personal charm that he displayed in his first cabaret outing "A Fine Bromance," a duet show with his long-time friend Craig Becker. It's never too late to deal yourself into the cabaret game, and Mr. Wetzel is a welcome addition at the table.
I should note, for the record, that Mr. Wetzel and I both sit on the board of The Cabaret Project, a local non-profit. I know Carol Schmidt and Tim Schall professionally as well.
"Facing the Music" was presented by Robert Breig's Mariposa Artists. A solid singer in his own right, Mr. Breig has been instrumental in recent years in bringing many local and national singers to the St. Louis scene. Check out the Mariposa Facebook page for information on upcoming shows.
Related Articles