Cabaret
Cabaret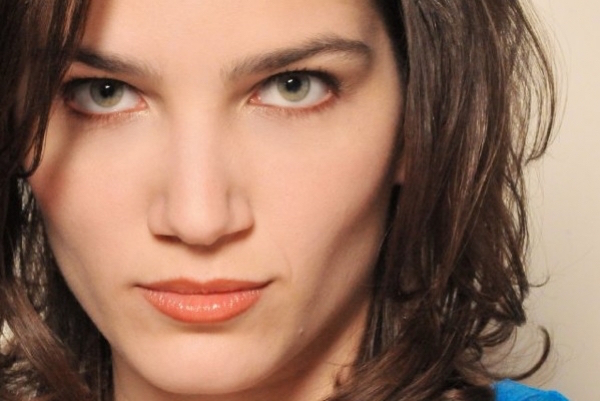 Cabaret as it should be: Taylor Pietz's '#CRAZY is the New Black' at the Monocle's Emerald Room, March 16
By Steve Callahan
The Monocle opened some five months ago and I am only now discovering it! What a wasted five months!
Taylor Pietz, a very bright talent in St. Louis, lured me down to the Grove to see her cabaret last night. And it was sheer delight. But as terrific as Miss Pietz was, I first have to rave about the Monocle and its Emerald Room. I used to refer to St. Louis' "burgeoning" cabaret scene; well, it is now in full flower thanks to the Cabaret Conference and producer Jim Dolan. But where, oh where, can cabaret be done? Over the years we've seen cabaret evenings presented at:
The Grandel: A lovely, warm venue but acoustically spotty. Its layout and size make it more suitable for concerts.
Upstairs at the Sheldon: This is really a ballroom.
The Gaslight Theatre: Nicely intimate, but it's a theater, not a boite. No tables, no drinks, no decor.
The Kranzberg: Perfect location, nice size, but zero ambience.
The Savor: This charming little micro-mini version of the Fabulous Fox had a lovely feel (with its red velour and gold) but it lived for less than two years.
But now we have the Emerald Room at the Monocle! One enters through the very comfortably and tastefully appointed piano bar. (Fancy! A piano bar! Where adults can enjoy really good music and conversation at the same time.) The night we attended we found the ivories being tickled by the great Jon Weber, whom we'd met last week accompanying Sullivan and Harnar at the Gaslight.
We pass on through to the Emerald Room at the rear, and . . . lo and behold! A Realm-of-Ideal-Forms cabaret! It has that rare (but absolutely essential) gemütlichkeit. A small room -- I counted thirteen tiny tables. A stage swagged with green velour curtains. Dark but not stumblingly dark, with soft little dots of light drifting 'round over the audience as if from a disco-ball. The gentle clink of glasses, the soft chatter of eager guests. Beautiful un-strident jazz playing -- "I'm Confessin' that I Love You," "These Foolish Things," "Someone to Watch Over Me" -- all at the perfect sound level. It's the kind of music to which one can talk -- or seduce. On the walls, framed like great art, are the undies of showgirls from some golden age. We're surely in some basement in Paris!
Drinks are sophisticated but simple -- and modestly priced.
A familiar and popular face steps to the microphone. It's Ben Nordstrom. He introduces the star of the evening, and then . . . Taylor Pietz takes the stage. She takes the room. She takes us all into the palm of her lovely hand. In a bright red blazer, jeans and boots Miss Pietz charms us with a rich variety of songs about how very crazy we all are in this age of virtual friends and online romances . . . and loneliness. She sings in a lovely and wonderfully controlled voice -- of the frustrations of having 1,204 Facebook "friends." "Oh, Please be my friend on Facebook," she pleads, desperate for us to be friend number 1,205.
Most of her songs were unfamiliar to me, though all were filled with wonderfully clever lyrics. There's an almost tragic one about postings of "pictures of people taking pictures of people taking pictures of people taking pictures . . . ." A poignant critique of social media.
Several of the songs are re-wordings of old standards. ("Try to remember, and if you remember then follow . . . follow, follow, follow, follow me on Twitter!") In bewailing the too-busy life of a free-lance singer/teacher/choreographer she does a most amusing version of "I'm Just a Girl Who Cain't Say 'No'."
Such a performer! She's far more confidant than her age should allow. Her script is superb--just enough chat to properly, cleverly introduce a song. Never any self-indulgent stories of her personal life. Like a good comic setting up a joke she gives just enough lead-in to broach the song. Is the anecdote fact? Is it fiction? Who cares?! If she makes any jokes the joke is always on her.
One especially good song, "A Beautiful Paper Life," sadly called us to "Look at all my pretty pictures." She wrote it herself.
Just when I was getting hungry for some more familiar fare Miss Pietz brought out "Eleanor Rigby" -- calm and serious and beautiful and sad. There's a song about a "brief fling" that goes romantically serious; there's a hectic, frenzied song about living in New York and searching for some "Calm."
Michael Amoroso joins her for a few songs. He brings his guitar and his lovely smooth baritone.
The keystone of the evening is her superb rendering of "If I Only Had a Brain."
The lovely Taylor Pietz fills the room with sparkling personality and a wisdom beyond her years. She finishes with an easy, smooth, sweet relaxed rendition of "Still Crazy After All These Years."
Justin Smollet at the piano provides the very perfect model of a modern accompanist: skilled, essential and gracefully invisible.
It's a superb evening of cabaret. Taylor Pietz in the Emerald Room at the Monocle on Manchester in the Grove.
I will go back to the Monocle. It offers a rich variety of entertainment -- cabaret, dance, magic, burlesque. And the guys who run it have the impeccable taste to make the venue and its offerings a rare treat indeed. 
Related Articles