Cabaret
Cabaret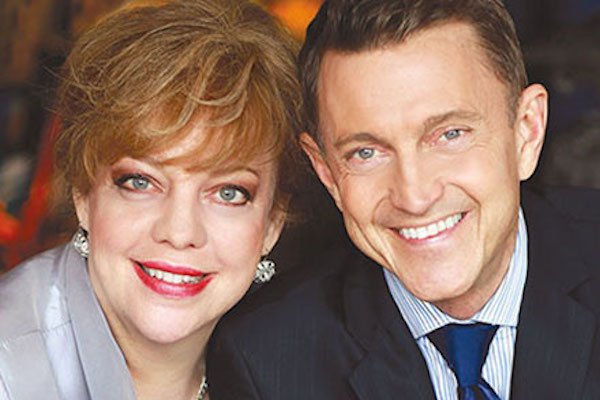 KT Sullivan and Jeff Harnar pay tribute to Sondheim at the Gaslight Cabaret Festival, March 11 and 12
By
It was just over thirteen years ago that I was first enchanted by KT Sullivan in cabaret at the Grandel. Now she's back in a splendid evening at the Gaslight, a featured star in that theater's cabaret festival. This time she brings with her a most talented and charming partner, Jeff Harnar, in an evening of pure Stephen Sondheim they call "Another Hundred Years." 
Ms. Sullivan has long been a luminary in the world of cabaret, but she also has an impressive resume in musical theatre -- on Broadway and elsewhere. The lady retains her glamour and wit, and vocally though her vibrato is a tiny bit broader she's certainly still in top form. She can be warm and lush or bright and exciting. She retains a purity of tone even when she sings in what seems to be a whisper (though it's perfectly audible). Her early training in opera has given her the technical skills that make her performance seem so effortless, but cabaret is definitely her mètier. She knows these songs, she loves them, and she makes that love contagious.
Jeff Harnar is a trim, dapper, personable youngish man. His baritone voice is as smooth as supple chamois leather. He makes a near-ideal partner for Ms. Sullivan as they lead us through a vast tapestry of Stephen Sondheim songs.
The tiny Gaslight Theater provides a wonderful intimacy. Every syllable, every tiny graceful turn of Sondheim's lyrics is clearly heard and understood; this is so important with Sondheim, who showers us with wit and intellect and vocabulary, surprising little internal rhymes, and subtle, almost subliminal references. To cite just two examples: "Nature fashioned you," a lyric occurring in a song from Follies, refers to "You Were Meant for Me" (1929). And "Every day a little death" from A Little Night Music is perhaps only an unconscious reference to the French term for "orgasm": la petite mort.
Sullivan and Harnar treat us to some forty songs from fifteen different "pure Sondheim" shows -- that is, shows in which he created both music and lyrics. These range from the vastly popular A Funny Thing Happened, Into the Woods, Company, Night Music, Sunday in the Park, Sweeney Todd and Follies to far more obscure works. Mr. Harnar does lovely work with "Live Alone and Like It" and "More" from the movie Dick Tracy and he introduces us to the gorgeous "Sand," where love is ever-shifting; it's from the never-produced 1992 show Singing Out Loud. 
Sullivan and Harnar give a lively vaudeville sense to "On My Left" and "Bounce" from Road Show which never made it to Broadway. There's a beautiful "Take Me to the World" from the 1966 TV film, Evening Primrose (based on the John Collier short-story).
The Girls of Summer is a true gem, though it was only incidental music in a straight play. We even get "So Many People" from 1954's Saturday Night, which never opened because it's lead died. And as a final encore we get "How Do I Know?" which Sondheim wrote when he was fifteen!
Harnar shows himself a past master of the lightning-fast patter song, and Ms. Sullivan is a grand delight in a number from Follies where in portraying some Bronxy chorus girls she's almost a ventriloquist to herself. Together they finish "Who Wants to Live in New York" (from Merrily We Roll Along) by blending their voices into a most convincing train whistle. And tipsily sipping cocktails, they make "The Ladies Who Lunch" both funny and intensely poignant.
Throughout the evening Ms. Sullivan uses her beautiful large features -- and her perceptive phrasing -- to reveal the real drama in many songs. "Send in the Clowns" was gorgeous.
Mr. Harnar gives us a skillful "Ballad of Sweeney Todd," and "Careful the Things You Say" (from Into the Woods), though with these I felt that a touch more rubato -- placing certain words just a fraction off the beat as is commonly done -- would have given more menace.
Several songs are sung by the not-expected gender: for example Harnar sings Little Red's "I Know Things Now" from Into the Woods and "Getting Married Today" from Company, and Sullivan sings "Pretty Women" from Sweeney Todd. I know that everything is fair game in today's gender-fluid world, but let's face it: a nervous groom is simply different from the cliché nervous bride, and male lustful musings are peculiarly male.
Sondheim is a very lyric-heavy songwriter. He rarely gives us songs with what in more conventional works is called "the chorus," where the familiar tune and words are repeated. In this evening we utterly bathe in Sondheim -- and it's a little like an evening of beautiful, cleverly rhymed recitative. This intimate venue and these articulate singers allow Sondheim's lyrics to be every bit as important as his music.
As advertised it's an evening of "pure Sondheim" -- just his songs, not even the usual banter from the performers--just Sondheim. The rule of the evening was: "No talk!" How refreshing! Unlike so many St. Louis cabaret singers these masters of the craft realize that the evening is not about them, it's about the songs.
Related Articles