Classical
Classical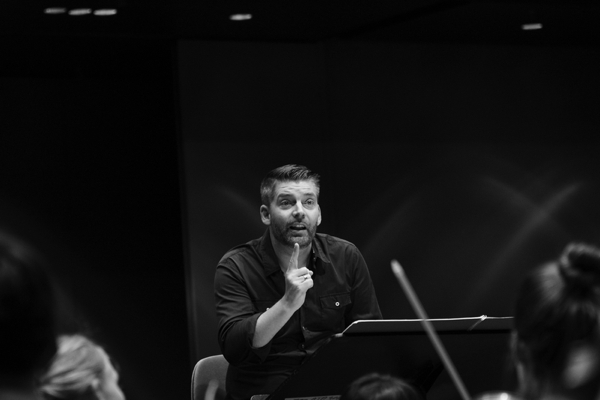 Review: Powerful and idiosyncratic classics by Matthias Pintscher and Kirill Gerstein
By Chuck Lavazzi
The Friday night (February 1) concert by the St. Louis Symphony Orchestra was notable for a pair of powerful and somewhat idiosyncratic interpretations of music by Rachmaninoff and Mendelssohn by guest conductor Matthias Pintscher along with a persuasive local premiere of Scriabin's 1897 Piano Concerto by Kirill Gerstein.
[Find out more about the music with my symphony preview.]
According to pianist Garrick Ohlsson, Scriabin's son-in-law, the pianist Vladimir Sofronitsky, once observed that the composer's music can "overthrow you emotionally" and that "[y]ou have to have ice cubes in your veins" to handle it. I don't know about the state of his veins, but there's no doubt in my mind that Kirill Gerstein brought just the right mix of steely precision and emotional warmth to his performance of the concerto Friday night.
Scriabin was still very much under the influence of Chopin when he wrote his first and only piano concerto, and Mr. Gerstein brought out that poetic sensibility even in the relatively flashy opening and closing movements. The Andante second movement was especially moving, with its lovely simple theme and four strongly contrasting variations that ran the gamut from fanciful to grave.
The orchestra played extremely well under Mr. Pintscher's direction. A special shout-out is due Associate Principal Clarinet Diana Haskell for her impressive work here. Scriabin provided the clarinet with a number of important passages, especially in the second movement, and Ms. Haskell's limpid tone and clear articulation made the most of them.
Kirill Gerstein
Photo by Marco Borggreve
The performance got an enthusiastic reception, prompting an encore of a waltz by (appropriately enough) Chopin. Taken at an unusually fast tempo, it made for a dazzling showpiece.
The concert opened with a bold and dynamic interpretation of Rachmaninoff's 1909 symphonic poem "Isle of the Dead." Inspired by a popular painting by the Swiss Symbolist Arnold Böcklin that depicts the stark landscape of an island necropolis towards which a white-robed figure is being rowed, the work is dominated by the "Dies Irae" theme that pops up in much of Rachmaninoff's work. It's a haunting and powerful work that got a sweeping and dramatic reading from Mr. Pintscher and the orchestra.
There were outstanding solos by Associate Concertmaster Heidi Harris, Principal Oboe Jelena Dirks, and Principal Flute Mark Sparks. The horn section under Roger Kaza distinguished itself both here and throughout the rest of the evening with a bold, rich sound.
Closing the concert was an unusually dark and weighty take on Mendelssohn's Symphony No. 3 ("Scottish"), a work that the composer began during an 1829 visit to Scotland and didn't finish until a decade later. Inspired strongly by a visit to what Mendelssohn described as the "broken and mouldering" ruins of Holyrood Chapel in Edinburgh, the symphony certainly has a somberness that is somewhat untypical of Mendelssohn. Even so, Mr. Pintscher's compelling interpretation gave the work more high drama and gravitas than I have heard in the past.
Version 3 of "Island of the Dead"
en.wikipedia.org
The perky second movement (which might or might not paraphrase the folk tune "Charlie is My Darling") sounded even more cheerful than usual by way of contrast, and the hymn-like finale had a bit of lingering solemnity that seems to reflect Mr. Pintscher's description of it (in a program interview with Tim Munro) as a "waving farewell" or "a tombeau" (i.e. a memorial). I wouldn't necessarily call it my favorite take on this familiar music, but it made me hear it in a different way--no small feat for a piece this well worn.
The orchestral playing was of a high order once again, with notable work by Mark Sparks and Jennifer Nitchman on flute, Jelena Dirks and Xiomara Mass on oboe, bassoonists Andrew Cuneo and Felicia Foland, and the horns under Associate Principal Thomas Jöstlein.
As the Music Director of the contemporary music group Ensemble Intercontemporain and a composer of some note, Mr. Pintscher had an interesting and novel take on the Romantic works on the program. His conducting style was active and graceful, with big, commanding gestures. The result was an impressive local debut, and I wouldn't be surprised to see him on the Powell Hall stage again in the future.
The concert repeats tonight (Saturday, February 2) at 8 pm at Powell Hall and will be broadcast live on St. Louis Public Radio. Next week Music Director Designate Stéphane Denève conducts the conducts the orchestra and chorus, along with SLSO Concertmaster David Halen, in Mozart's Eine kleine Nachtmusik, K. 525, The Lark Ascending and Serenade to Music by Vaughan Williams, and the Brahms Symphony No. 2. Performances are Friday at 10:30 am, Saturday at 8 pm, and Sunday at 3 pm, February 8-10.
Related Articles