Classical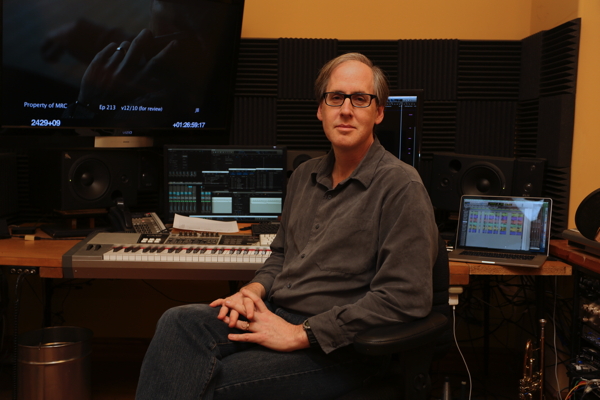 Symphony Preview: 'I'm not afraid of going for emotion,' a conversation with composer Jeff Beal
Written by

Chuck Lavazzi
St. Louis Symphony Orchestra Conductor Laureate Leonard Slatkin leads the orchestra in the second of a pair of concerts this weekend, May 3 and 4, 2019. During his tenure with the orchestra, Mr. Slatkin championed new works and infrequently heard pieces by American composers, so it's not surprising that this weekend's concerts features one of each.
The concerts will open with the Symphony No. 1 by Samuel Barber. Composed in 1935 and 1936 in Rome, the work netted him the American Prix de Rome at the ripe old age of 25. It's expansive, dramatic music with a wide emotional range--the sort of thing that made some critics dismiss him as "conservative" at a time when serialism was all the rage and actual melodies were seen as somehow déclassé. It's great stuff.
Up next is the new work: "The Paper Lined Shack," a song cycle by contemporary American composer Jeff Beal that's getting its world premiere this weekend. Mr. Beal is probably best known for his music for the TV series "House of Cards," but he also has extensive film and, more recently, concert credits. I talked with him late last week.
---
Chuck Lavazzi (CL): I'd like to start off with a little bit about your background. I know you were a jazz trumpeter before you started composing, and that you picked up the trumpet at a very early age.
Jeff Beal (JB): Yes, I was in grade school--probably third or fourth grade--and I went to a school assembly with my dad where musicians were demonstrating different instruments. This guy picked up the trumpet and I pointed and said, "that's the one!" It's funny how your fate might get sealed at an early age, but I love the trumpet. It's a vocal instrument in many ways and it has always been a big part of my voice. When I started composing, I think improvising and being a jazz trumpet player opened the doors for me to be a composer.
CL: So you came to composing from the world of jazz. What was that transition like, moving from the freer atmosphere of jazz to composing for film and the concert hall?
JB: I think when you improvise in jazz, it really is a form of spontaneous composition. Also the other childhood connection that really influenced me was playing trumpet in the Oakland Youth Symphony Orchestra, which is a really fine youth orchestra. I'll never forget, we were playing Stravinsky's "The Rite of Spring," and I was listening to that incredible music, that mind of Stravinsky's, the colorful nature of it, and the fact that it was from a ballet so it had a narrative to it--and I knew that I wanted to write all kinds of music. Not just jazz but for the orchestra, to express my musical urges through composition.
CL: I was reading that you are something of a one-man band. You compose, orchestrate, and even engineer and record your own works. How does it feel to turn your artistic children out into the wild to be performed by others?
JB: That's a great question. Having done film for so long, I really missed that chance to connect back to the world of live performance. And I think I have relaxed a little bit. I'm 55 now and I'm more forgiving of the unpredictable nature of live performance. In fact, I really quite enjoy it.
One of the things I've discovered during these years of recording and producing my own scores is that often I prefer to use the first or second take, which is more like a live performance. So the energy of a live performance is one of the ultimate ways to not only have your work done but to listen to music.
I find myself going to a lot more concerts than when I was in the darkroom writing film scores. I think when you listen to music played live in a room by people something magical happens. For me it's like flying first class, especially with Hila Plitmann singing and Leonard Slatkin conducting. I couldn't be happier.
CL: The piece they're going to do is "The Paper Lined Shack," a song cycle. It's the world premiere. What has the experience been like working on that with the orchestra?
Soprano Hila Piltmann
Photo courtesy St. Louis Symphony Orchestra
JB: I had a session with Hila several weeks ago, and that was really useful. You always have a sense in your mind of what the piece is going to feel like and I do a little mock-up with the computers when I'm writing, but there's always something I learn when it really gets played by the orchestra and the way it lives and breathes in the room. I know I'm going to understand the piece in a different way, which is an enjoyable part of the experience for me. Whenever you're doing something for the first time, it has a life of its own and you're sort of discovering it, even if you wrote it. That's the amazing thing about music for me--it's a performance medium so I'm really looking forward to that.
One of things I like about Hila is that she always memorizes her music and she really takes on the story that she's singing. What she brings to it as a performer will be a powerful part of the piece.
CL: The text for "The Paper Lined Shack" is based on a diary by your great-grandmother Della that you found while unpacking some boxes.
JB: Yes, this was 20 years ago. My wife and I discovered it and she started reading it. I knew the general outline of what her story was, but reading it we thought "this is really special." There's some really beautiful writing, especially in the way she describes that crucial moment in her life when she was in Idaho pregnant with her sixth child and her husband got sick and died suddenly. She ended up raising these six kids on a farm by herself.
It was always in the back of my mind that it would be great to do something with this. I knew I wanted to have a strong female character for Hila because of her acting ability, something that really had dramatic weight, and that's when this came back to me. I read it with my wife Joan who helped me craft parts of this diary into a libretto. We both had similar ideas about the important images and parts of her life that we wanted in the song cycle.
CL: What made you think of this as a good choice for Leonard Slatkin and the SLSO?
JB: To me the St. Louis Symphony and Leonard Slatkin represent a very American take on culture and the part of the country that's dependent on the pioneer spirit, because anybody that didn't start on the East coast was a pioneer of some sort. Even though I grew up in San Francisco, I always felt that the West was part of the mythology of how I identified.
CL: I like the way your great-grandmother Della talks about her garden as part of the cycle of life.
JB: Yes, we bring that back in the last movement. I realized that's a really important part of my story as well. There's a documentary film I scored called "The Biggest Little Farm" opening May 10th. It's about a husband and wife that took over this farm in southern California, and I realized there's something powerful about that connection to the earth. There's something spiritual and mythical about it in a way, tapping into that universal part of the story.
This is a very personal text for me, but my hope is that, as a concert piece, it won't just be about my story. I hope that everybody will find something in Della that they can relate to. She was the only girl in a family of four brothers, so she was a kind of tomboy. This is the story of how she found her identity and a woman and became who she was. It's wonderful the humility she had and the lack of self-pity. It's a sort of Midwestern, Protestant work ethic that I find quite beautiful, hopeful, and not cynical.
I think we're living in such a horribly cynical time, politically and otherwise, so to me this isn't nostalgia. It's about values and celebrating the best we can be. The best of us.
CL: I think it also touches on something we seem very blind to in this country, which is our debt to the past. Americans seem to have this belief that the past doesn't matter and that we can reinvent ourselves every day, and that's just not real.
Della's paper lined shack
JB: I think that's a great point. I think inventiveness is great, but there's a danger in that. In fact, I rediscovered myself writing this.
I came up with the title based on a description of the house. It's really startling when you live in the modern era in a relatively wealthy country, it's a reality check to be reminded how so many people had so little and got by with so little and made it work.
CL: There's a picture of it in the program, so people will see it when the come.
JB: It has a kind of Ken Burns iconic look.
CL: Let's talk about the music. What are people going to hear when they experience "The Paper Lined Shack"?
JB: The music follows the beats of Della's life. It's somewhat chronological. So you first meet her as a young girl and the music has a childlike, playful character. There's energy and a definitely American sound. I'm really honored to be on the same program as Samuel Barber because his musical language is part of what I love.
The garden movement is much more lyrical and bittersweet. When Hila and I were rehearsing it we both started crying at a certain point because those are powerful words. I love music like that, that's cathartic. That probably goes back to my roots as a film composer. I'm not afraid of going for emotion in what I do. That part of what I love about being a composer, trying to communicate the feelings of an experience with somebody.
CL: I love these final words in the text: "It was love that we planted in the garden / There our hearts bloomed, / Our hearts opened. / Carry my heart." That feels like a wonderful way to close it.
JB: Thank you. I certainly hope people are moved by it.
CL: Is there anything more you want to communicate to the listeners?
JB: Well, Leonard Slatkin has been an important mentor in my life and I'm grateful to have him as a partner. His parents were very involved with film music, so he's not afraid to reach out to a film composer to write a piece of concert music. That's very special to me.
And I really feel--and I know Leonard feels this way too--that the more we can break down the barriers between "high" art and "low" art and the more we can have the story telling drive what gets played, I think that's the way music is going. I'm not the only one doing this and it's nice that this is starting to happen.
---
The Essentials: Leonard Slatkin returns to conduct the St. Louis Symphony Orchestra and soprano soloist Hila Plitmann Friday at 10:30 am and Saturday at 8 pm, May 3 and 4 at Powell Hall in Grand Center. In addition to the Barber and Beal works, the concert features Tchaikovsky's Symphony No. 6 ("Pathetique"). In an interview with me last week, Mr. Slatkin said his interpretation "will perhaps remind audiences, sonically, of what that collaboration [with the SLSO] was like in the earlier days when I was music director. It has changed over the years, but for the next couple of weeks we old timers will show the kids how we used to play."
Related Articles