Classical
Classical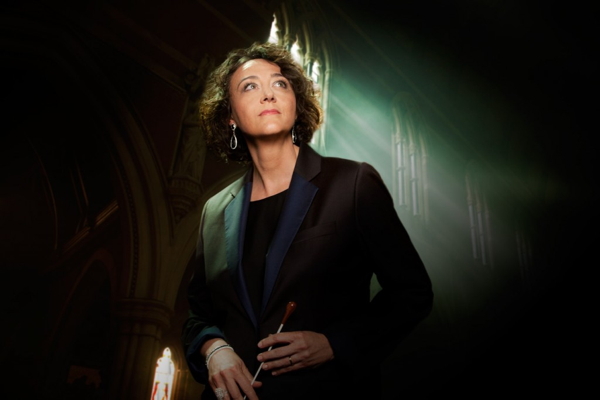 Symphony Preview, April 22-24, 2016: Familiar music, brand-new conductor
By
The St. Louis Symphony program this weekend consists entirely of well-known classics: Mendelssohn's The Hebrides (Fingal's Cave) overture, Sibelius's Violin Concerto, and one of my favorites, Dvořák's Symphony No. 7.
These pieces are popular for good reasons, not the least of which is the way each one conjures up a particular time and place. Mendelssohn's overture powerfully summons up the wild and brooding Scottish islands that the composer visited in 1829, the year before he wrote the overture. Sibelius does the same for the dark, brooding landscapes of his Finnish homeland in his concerto from over seven decades later. And for the nature-loving Dvořák, whose 1884 symphony brought him international acclaim, the Bohemian countryside is an ever-present character in his music.
This is, in short, a big weekend for musical travelogues.
While the music will be familiar, though, the figure on the podium will likely be considerably less so for local audiences. That's because this weekend's guest conductor, Nathalie Stutzmann, is not only new to St. Louis but relatively new to conducting as well. Born in 1965 in the Paris suburb of Suresnes, she showed talent as a singer at an early age, studying first with her mother, soprano Christiane Stutzmann, and then at the Nancy Conservatoire and later in Paris. Remarkably for a singer, she also studied piano, bassoon, and -- most remarkable of all -- conducting.
And she didn't study with just anyone. Her primary teachers have been the noted Finnish conductor and composer Jorma Panula (whose students include Esa-Pekka Salonen and Simon Rattle) and the legendary Seiji Ozawa. She even founded her own chamber orchestra, Orfeo 55, in 2009. The group plays both Baroque and modern instruments, and Stutzmann herself has said that, as a conductor, she feels a real affinity for "le grand repertoire" of the Romantics like Beethoven Brahms, Tchaikovsky, and Strauss.
Although Ms. Stutzmann has only been conducting professionally since 2008, she has already made quite an impression on the critics. For example, Em Skow, reviewing her US conducting debut -- Handel's Messiah with the National Symphony Orchestra -- waxed positively rhapsodic at DC Metro Theater Arts:
The evening's program notes summarized her as rigor and fantasy embodied in a conduct and I have to agree. It would do her a disservice to say she just connected to the layers of the work, or even to say that she moved others to do the same. The piece shown through her, radiating from her fingertips, dancing through her toes, bouncing through her arms, shoulders, and legs to the floor where even she had to hold on to the rail to steady herself at times. For her, three dimensions weren't enough to conduct with and her level of passion was truly an honor to witness.
"Her experience as a Romantic musician and her knowledge of older genres allow her to tackle Vivaldi and Mozart as well as Beethoven, Wagner or Brahms," writes Brian Fowler in a profile for medici.tv. "Her approach, both loose and rigourous, her science of phrasing and the emotional intensity of her interpretations, her exceptional mastery in the service of the passion she conveys: these are some of the elements that make her so popular in the eyes of her audience and the musicians she conducts."
If you'd like to experience her work before this weekend's concerts, Ms. Stutzmann has a YouTube channel with videos of her singing and conducting both Orfeo 55 and other notable orchestras.
Karen Gomyo, the soloist for the Sibelius Violin Concerto, has come in for her share of critical praise as well. "A first-rate artist of real musical command, vitality, brilliance and intensity," wrote John Van Rhein at the Chicago Tribune in 2009, while the Cleveland Plain Dealer's Zachary Lewis called her "captivating, honest and soulful, fueled by abundant talent but not a vain display of technique" in 2011.
Even more to the point, though, Ms. Gomyo has gotten some raves for recent performances of the Sibelius concerto. Reviewing her appearance with the San Diego Symphony last December, for example, the San Diego Reader noted that the audience "was locked on Ms. Gomyo from start to finish because her performance brought us into those dark woods into which Sibelius, and all of us, have wandered from time to time." A 2013 performance with the Chautauqua Symphony Orchestra under Christopher Seaman made such an impact on the audience that the end of the first movement, as Anthony Bannon wrote for the Chautauqua Daily, "pulled several in the Amp to their feet for impulsive applause, eager to affirm the miracle of what was just heard."
All of which bodes well for the weekend. These are concerts filled with vital, compelling, and wonderfully dramatic works. It will be interesting to see what Ms. Stutzmann and Ms. Gomyo make of them. Performances at Powell Hall are Friday at 10:30 a.m. (a Krispy Kreme Coffee Concert with free coffee and doughnuts), Saturday at 8 p.m., and Sunday at 3 p.m., April 22-24. Check the St. Louis Symphony website for details.
Related Articles