Classical
Classical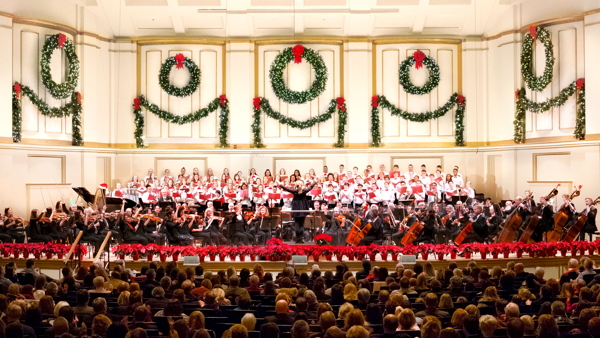 Review: The SLSO's annual 'Mercy Holiday Celebration' brings comfort and joy
By Chuck Lavazzi
No matter how much resentment, spite, and general bad behavior pollutes the Internet in general and social media in particular I always find it easier, at what Dickens calls this "kind, forgiving, charitable, pleasant time" of year, to believe that there still might be hope for some "tidings of comfort and joy."
Stuart Malina
Photo courtesy of the SLSO
That's especially true in the afterglow of the St. Louis Symphony Orchestra's annual "Mercy Holiday Celebration" with guest conductor Stuart Malina. With its thoughtful mix of sacred and secular holiday tunes (including a nod to Chanukah), a dusting of classical selections, and the concluding "Holly and Jolly Sing-Along," it's a program likely to warm the Scroogiest (is that a word?) of hearts. This year's edition, which we saw on Friday night, is certainly no exception.
While the music mix varies from year to year, some things (like the sing-along) are as reliable as the Christmas fruitcake. To begin with, there's always a featured singer who joins the orchestra and the Holiday Festival Chorus for a few numbers and some repartee with Whit Richert's jovial Santa--another reliable element of the celebration.
This year it's Rachel Potter whose career started on Broadway but has since moved to Nashville and whose warm and flexible voice does, indeed, sound a bit "country" every now and then. Past editions have featured performers with classical and musical theatre backgrounds, but I think this is the first time we've had someone with a Music City connection. It was a pleasant change of tone. I was especially taken with her "White Christmas," in which she sang the verse a cappella, and her soaring "O Holy Night" with the Festival Chorus.
I was, by the way, happy to see that David T. Clydesdale's arrangement included this often omitted verse from John Sullivan Dwight's 1885 translation:
Truly He taught us to love one another;
His law is love and His gospel is peace.
Chains shall He break for the slave is our brother;
And in His name all oppression shall cease.
It felt like a particularly important reminder these days.
Rachel Potter
Photo courtesy of the SLSO
The Holiday Festival Chorus, made up of singers from area high schools and colleges, sounded especially solid this year--a tribute to the work of long-time chorus director Kevin McBeth. They got a bit of electronic amplification as always, but it was done with a subtlety that made it almost unnoticeable. Their "Silent Night," was an elegant arrangement by the Mormon Tabernacle Choir's Mack Wilberg, was a thing of beauty. The use of harp and celesta--expertly played by Allegra Lilly and Henry Palkes, respectively--gave it a wonderfully transparent texture.
I also loved the work of this year's guest conductor. The man or woman with the baton is expected to act as MC as well as orchestra leader, and Mr. Malina excelled in both roles. His chatty and informative comments on each number were very engaging, and the choice of music was a nice blend of the familiar and the unusual. The latter included Irving Berlin's "Snow" (which appears to have been prescient, given the current weather forecast), a rarely heard number from the popular film "White Christmas," and two of contemporary composer Terry Mizesko's dances from "A Chanukah Celebration."
The latter cleverly combined traditional classical and Klezmer elements, including a wonderfully idiomatic duet by Principal Clarinet Scott Andrews and Associate Concertmaster Heidi Harris. Neither of the traditional tunes that formed the basis for the piece was familiar to me, although a brief violin passage in the second dance sounded an awful lot like the Klezmer-esque section of the third movement of Mahler's Symphony No. 1.
There's a final performance of the "Mercy Holiday Celebration" at Powell Hall tonight (Sunday, December 15) at 7 pm. Weather permitting, it's a great way to celebrate the solstice holiday of your choice. Get a glass of Poinsettia Punch at the bar and enjoy. Holiday events continue this coming week at Powell Hall with "A Gospel Christmas" on Wednesday and Thursday, December 18 and 19, a showing of the film Home Alone with the SLSO playing the score on Friday and Saturday, December 20 and 21, and the Compton Heights Concert Band's annual holiday show on Sunday, December 22.
Related Articles